MUSCLE MACHINES

Nissan 350Z - $2.49


Datsun 510 - $2.49


Honda NSX - $2.49

---
HONGWELL

Mini Cooper Monte Carlo Rally - $2.49


MGB Roadster - $2.49
---
MAJORETTE

BMW M3 Cabriolet - trade


Citroen C3 - trade

---
RACING CHAMPIONS

1941 Lincoln Continental - $2.49


1971 Plymouth GTX - $1.99
CAR OF THE MONTH


Audi R8R - Norev - trade

ADDITIONS THIS MONTH:

Any model of a car I have owned and Le Mans winners are at the top of my 'irresistibles' list. The 'Car of the Month' is one of the latter and a great addition. Audi won the 2000-2002 Le Mans 24 Hour races with their amazing R8R prototypes. Norev is the first to reproduce this beautiful racer in 1:64 scale. Actually the scale is closer to 1:55 but that's fine with me. The detail is excellent as with all the new Norev models. Of special note are the stunning chromed wheels. One curiosity is the box for this and other Norev models. It features the skyline of Seattle, Washington! Why this French company selected Seattle for it's box art is a total mystery to me.

Muscle Machines simply keep getting better. Their latest tuner models include the new Nissan 350Z, a wonderful vintage Datsun 510 and my favorite, an Acura NSX in lovely candy apple red. These are quite realistic and have excellent detail, especially in the less than $3 range. Sure they are modified but the real car still shines through.

Hongwell is doing some great cars. The winning Mini Cooper from the 1964 Monte Carlo Rally is perfect. The classic MGB Roadster provides in 1:72 scale what Johnny Lightning missed with their model in 1:64 scale.

Courtesy of a trade with a French collector that also brought the Audi R8R came two new Majorette models. The BMW M3 Cabriolet joins the earlier coupe. The Citroen C3 is a welcome model of the French company's latest small-car.

I finally opened two Racing Champions models that have been hanging on my wall for some time. The '41 Lincoln Continental is the top-down version of the earlier Mint Edition offering. The narrow white walls look wrong for this car. The '71 Plymouth GTX came from a new 'Dukes of Hazzard' 3-pack and was originally offered as a NASCAR model. It looks good in street colors.

Hot Wheels keeps getting my money for their collector models. The Corvette SR2 lost it's racing numbers but gained detailed paint and rubber tires. It makes a nice companion car to the Jaguar 'D' type, winner of the 1957 Le Mans race. The blue color is not quite dark enough to be correct but the new narrow, rubber tires vastly improve the look of this model. The Mini Cooper in British Racing Green with the Union Jack on the roof and red-stripe tires was too neat to pass up. HW has started doing collector versions of their tuner models (what a surprise). The Nissan Skyline and Toyota Celica feature better wheels and tires as well as detailed paint.

A recent trip to Canada found little new wit one exception. A selection of Pioneer models was discovered. Pioneer offers a curious mix of models that are often 'inspired' by the work of their competition. They also offer models that are more unique. The Dodge Ram race truck looks much like those produced by many NASCAR-focused toy producers. The Jeep Grand Cherokee is a decent model of a popular SUV. The three race cars are all quite close to the same models produced by Tomica but without being direct copies. Pioneer like Realtoy and others avoids licensing fees by creating new spellings for sponsor names. At first glance these models look like actual racers but the altered tampos are easy to spot close up. Most curious is when Pioneer puts the wrong altered manufacturer name on a model. The Mitsubishi Evo VIII has a blue oval with 'Food' instead of Ford. The Nissan Skyline has 'Moopar' instead of Mopar.

These are clearly toy-like and yet that have decent castings and interiors. perhaps like Realtoy and Welly, Pioneer will grow beyond this un-licensed phase and join the next level of toy car producers.
HOT WHEELS

Chevrolet Corvette SR2 - $4.84


Jaguar 'D' type - $4.84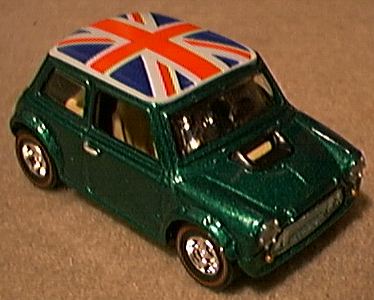 Mini Cooper - $4.84


Nissan Skyline - $2.99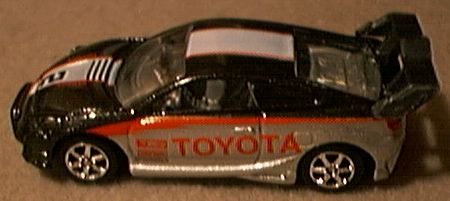 Toyota Celica - $2.99

---
PIONEER

Dodge Ram racing truck - $.70


Jeep Grand Cherokee - $.70


Nissan Skyline - $.70


Toyota Supra - $.70


Mitsubishi Lancer Evo VIII - $.70