SCHUCO


Opel Rekord - trade
---
GRELL
NSU 1200TT - trade
Wartburg 353 - trade
---
CHAMPION
Porsche 917 long tail - trade
Lotus F1- trade
Matra F1 - trade
McLaren F1 - trade
Honda F1 - trade
Tyrrell-Ford F1 - trade
---
JOHNNY LIGHTNING
1963 Studebaker Avanti - $2.97
---
TOMICA
Fiat X1-9 - trade
AMC Pacer - trade
---
UNIVERSAL
Ford GT Mk IV - trade
---
RACING CHAMPIONS
Honda S2000' - $1.99
---
JADA
Lincoln Town Car - $2.99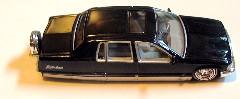 Cadillac Fleetwood - $2.99
---
BEST BOX
Mercedes-Benz 220SE - trade
---
AULDEY
Nissan Skyline custom - trade
---
HW
Marcos XP - trade
Porsche Audi 917 - trade
---
PIONEER
Suzuki - $.10
---
MATCHBOX
Siva Spider - trade
Toy Cars of the Month

1974 AMC Gremlin - Motor Max - $1.99

Chinese taxi - Auldey - trade

1954 Chevrolet Bel Air convertible - $2.99
---
Three additions deserve attention as 'Toy Cars of the Month' for very different reasons. The AMC Gremlin by Motor Max is the second example of this model to appear in 2006. Johnny Lightning also offered an excellent stock example. The production of these 'forgotten' cars of the 1970's is a bit a fresh air compared to all the muscle cars and tuners that dominate the shelves. The Auldey Chinese taxi has yet to be clearly identified but it represents the many cars now being produced outside Europe, Japan or the U.S. that are beginning to appear in small-scale. The 1954 Chevy has always been the older, chubbier sister with the 1955-57 models getting all the attention. Almost every post-war Chevy model-year is now represented in small-scale, exclusive of Corvette.

Adding any missing Schuco is a good think and this Opel Rekord is a great example. No other example of this car exists in 1:64 scale as far as I know.

Grell has yet to slow their meteoric rise in the small-scale universe and these two new models are just as unique as the rest of their line. The 1200TT is an interesting model as it has styling features that are not unlike the original Chevrolet Corvair. BMW also followed the style of the Corvair with some of their models. The Wartburg 353 is another East German model that no one ever expected to see in small-scale.

The Champion models shown here were all featured in the last issue and I am so very pleased to add them to the collection. These are very accurate for their era and seldom seen in the U.S. Once again I must thank my Belgian trading partner.

Johnny Lightning has dressed up some of their castings with more paint detail, even on the base and hard plastic boxes. At a price of $5,99 each, these could be resisted. When I found the beautiful blue Studebaker Avanti on sale for less than $3, all resistance evaporated.

Adding two great Tomica models is always a pleasure and the Fiat X1-9 and AMC Pacer are most welcome. I had been watching for the Pacer for years.

Universal's factory in Hong Kong produced Ertl castings and then offered smaller versions under their own label. I have never heard if this was approved or not. The Ford GT Mk. IV is one more example of that connection.
Far fewer new small-scale Racing Champions models are offered now that Johnny Lightning is part of the company. JL has even offered re-packaged RC models with JL on the baseplate. This Honda S2000 is a new RC casting.
Jada has learned that minor alterations to their castings provides for expanded sales. Adding continental tire kits to their big Lincoln and Cadillac sedans does just that. The restrained colors are nice too.

This Best Box Mercedes-Benz 220SE is a very early version with silver metal wheels. Best Box clearly admired the success of Matchbox and made every effort to follow the same path. I have the later version with plastic wheels but this is my first metal-wheeled Best Box.

Auldey's custom/tuned models are not licensed and do not identify a specific model on the base. That said, there are certain design elements that can be easily tied to real cars. The front of rear of the blue car shown here are clearly inspired by the Nissan Skyline. The quality of these models is excellent, almost at the level of Tomica.

While I had seen images of HW models, these are my first two actual examples. The 'HW' has no connection to Hot Wheels. These models were produced in Hong Kong and seem to have surfaced in Europe some years ago. The Marcos XP is based on the Corgi casting of the same car. The Porsche 917 CanAm may have been 'inspired' but I can't match it with another model. HW is known to have done unique castings like the rare and unique Tatra, previously shown in TofTC.

Pioneer's little Suzuki came in a bag with other models and at $.10, is priced very fair. the casting is actually a decent, although un-licensed, example of the real vehicle.

The Siva Spider is one of those Matchbox models that I keep meaning to research. I do know it represented a real car. While I had this model, this is a new color for me. The 1970's wedge shape dates this design.

Summer/Sun Toys has been churning out budget diecast for decades. Usually offered in multi-packs, these two examples came in 3-packs from a local dollar store. Both represent models that are not common to small-scale. The Honda Prelude and Nissan Mid-4 II concept are easy to recognize although un-labeled. While the earlier Mid-4 was done by Tomica, Maisto and Zylmex, this is the only example I have seen of the second concept II.

Hot Wheels continues to do what they do best, offer a wide variety of models with solid construction and a medium level of detail. The Ford Fusion model came in a cereal box. The kids ate the cereal and I kept the car. The Mercury, Chevy and Pontiac muscle cars were in colors I could not resist. I especially like the Firebird with it's red-line tires and blue color. The new Mustang is also nice in yellow with it's retro mat black hood. New colors for the Ferrari and Porsche also found their way home with me. The last model, identified as 'Spacer Racer', was found at a thrift shop and for $.10, even missing it's plastic arm, seemed more than fair.

Thanks to another generous collector, the following missing Kidco models were received in trade. The vintage cars are great fun and some are quite unique to small-scale. I especially like the Chevy and Ford stockers although the decals seem a bit too modern for this era. the Honda Accord in violet came in another trade.

Motor Max has really expanded their small-scale offerings in 2006. basic line cars like the Pagini Zonda, Dodge Viper and Chrysler Crossfire and quite nice in these simple colors. The Lamborghini is actually an old Zylmex casting and I liked the animal stripes. The Dodge Magnum and Pontiac GTO are from a new 'American Grafitti' series that seem to have nothing to do with the original movie. That said, the castings are very nice for $2.
The Lamborghini Countach was found at a toy show by my 8-year old daughter, before I could buy it. the Blue Box models of the 1980's are interesting and have a feature that makes revving sounds from the rear wheels. I plan to do a story on them soon.

The three cartoonish F1 cars from New Ray were interesting for several reasons. They represent three world champion cars from the 1960's (Clark), 1970's (Lauda) and 1990's (Haakinen). I wonder if there is another example for the 1980's, perhaps a Mansell Williams. The quality is good ant the soft rubber tires roll quite well. The colors are correct and give these very toy-like racers a vintage quality.

The Zylmex Jeep 'Bush Wacker' came in a trade and was one missing from my collection. The opening hood and engine below, give this simple model more detail and play value. Like the original VW Beetle, the Jeep is a model that has been produced by almost every toy car company at some time.
---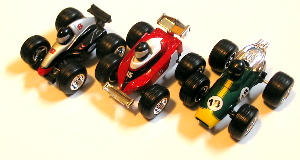 Three F1 Champions by New Ray
Mikka Haakinen - McLaren-Mercedes, Nikki Lauda - Ferrari and Jim Clark - Lotus - $1.00 each
---
ZYLMEX

Jeep 'Bush Wacker' #P350 - trade
SUMMER/SUN TOYS


Honda Prelude - $.33


Nissan Mid-4 II concept - $.33

---
HOT WHEELS

Ford Fusion - cereal promo

1968 Mercury Cougar - $.99
1969 Chevrolet Camaro cvt. - $.99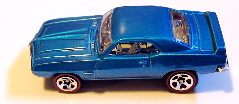 1969 Pontiac Firebird Trans-Am - $.99
Ford Mustang - $.99
Ferrari 430GT Spider- $.99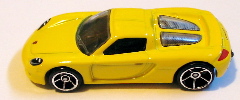 Porsche Carrera GT - $.99
Spacer Racer (1978) - $.10
---
KIDCO

1937 Chevrolet Coupe stocker - trade
1932 Ford - trade
1936 Ford Coupe stocker - trade
1929 Ford Model 'A' - trade
Honda Accord - trade
---
MOTOR MAX
Lamborghini Diablo - $.49
2005 Dodge Magnum - $1.99
Pagini Zonda - $.49
1969 Pontiac GTO - $1.99
Dodge Viper - $.49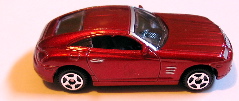 Chrysler Crossfire - $.49
---
BLUE BOX
Lamborghini Countach - (Amelia Breithaupt)