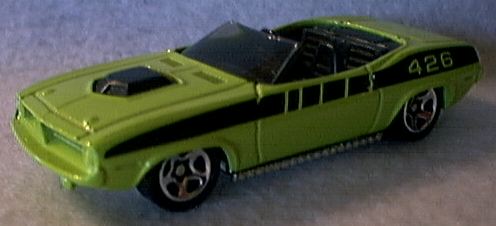 Plymouth Hemi Cuda Convertible by Hot Wheels - $.97


Plymouth Hemi Cuda by Racing Champions - $.49


Plymouth Hemi Cuda by Johnny Lightning - $.99


Plymouth Hemi Cuda by Red Box (Zee-Toys) - $.79


Dodge Challenger by Matchbox - $.98

Big-Block Bang for a Buck
by Doug Breithaupt

What can you buy for $1 today in the diecast toy-car market? To the right are five Mopar muscle cars that were all purchased recently for less than a buck. All are currently in production, offered in various colors and represent some of the most popular pony/muscle cars of the early 1970's.

The five cars shown here provide a good comparison of the quality of in-expensive diecast cars. The Matchbox model is the oldest casting, dating back to the late 1970's. It has been offered consistently since that time with a few casting variations to make it more of a drag-strip special. The blue and white color version is my favorite.

Zee Toys (now owned by Red Box) was one of the first to do a Hemi Cuda. While it is a bit on the crude side, the body shape and detail are realistic and it even came in Plum Crazy or Arrest-Me Orange.

Hot Wheels offered a Hemi Cuda convertible several years ago and the first color is the best so far. Lime green looks just right for this beast and the casting is better than many $1 Hot Wheels.
Both Johnny Lightning and racing Champions have Hemi Cuda models in their budget lines. These are simple, smaller versions of their high-end cars that sell for $1 or less. Both are available in a variety of colors. The Racing Champions Cuda carries the ugly wheels used on most of these low-priced RC cars, what a shame. The JL car is all diecast and the wheels seem a bit big for the body.

Now that Daimler-Chrysler has finally accepted reality and retired the Plymouth marque, the Hemi Cuda and all Plymouths will be looked-at in a new light. Maisto has just released the Hemi Cuda in their 1:64 line (I don't have one yet) and others will follow. For $1 or less, you can add these Mopar classics to your collection. It's nice to know that $1 can still do so much.