The Tomica Story
by Steve Shaw
The Tomica Domestic Line
The birth of Tomica diecast began in 1970 under the nurturing hand of Eijiro Tomiyama, the head of the Tomy Kogyo Company, Inc. of Tokyo, Japan.1 From the very beginning, the high level of detail, eye catching colors, quality construction, and superb craftsmanship distinguished Tomicas from many of other diecast lines. Tomica's humble start in the world of diecast began with an initial line of only six models: the Datsun Bluebird SSS Coupe, the Toyota Corona MkII, the Toyota Crown Super DL, the Toyota Crown Police Sedan, Toyota 2000GT, and the Datsun Fairlady Z432. Although Tomica models ranged from anywhere between 1/28 to 1/154 in scale, they were typically 1/65. Like Matchbox, each vehicle was sold in a small box that could accommodate a 212" model. From these modest beginnings, the number of vehicles in the Tomica line grew exponentially so that by 1976, there were 128 models. By 1979, this total grew to 180 vehicles. 1980 marked the finest hour for Tomica lovers and collectors with the total number of different models peaking at over 260. Unfortunately, due to a bad case of economic reality in the diecast marketplace, these heady days were short lived. As a result, Tomy consolidated and downsized the line to 120 different models - a number that Tomy has consistently offered since 1987. Although the number of available models hasn't changed, Tomy keeps things interesting by phasing out a few models every year and replacing them with something new and exciting.
Tomy has created around 500 different models since 1970. Of course, if you count all of the color differences and styling variations between different releases of the models, then you're talking around several thousand different Tomicas available to collect. Depending on your perspective, this can be a good or a bad thing. On the one hand, such a rich spectrum of variety provides collectors with a boundless pool from which to pursue their hobby. On the other hand, some collectors may only have so much money to devote to their obsession.... If anyone knows the total number of different Tomicas, just send a message to Super Great Tomica. (visit Steve Shaw's excellent Tomica Web site)

The Tomica Foreign Line
During the first six years of production, Tomy based their original line of superbly modeled and highly detailed Tomicas entirely on Japanese vehicles. Although this line experienced significant growth through the seventies, it lacked a strong worldwide appeal since many people outside of Japan weren't entirely captivated by such Japanese vehicles like the Nissan Laurel 2000GX or the Fuso container truck. Imagine that ! In order to appeal to the tastes of a wider world market, Tomy introduced a special 'F' series in distinctive packaging in 1976. As some of you may guess, the 'F' in 'F' series stood for foreign vehicles, albeit as in foreign to the Japanese. The debut line of foreign vehicles consisted of eighteen models based on popular English, German, and American vehicles. As a result of this release's success, 1977 saw the line expanded to thirty two models, including two vehicles from Italy, the Lancia Stratos and the Fiat X1/9. In 1978, as the number of foreign models increased to fifty two, France made its mark in the line with the addition of the Citroen SM and the Alpine Renault A442 Turbo. Ultimately, by 1979, the 'F' series grew to a healthy seventy models. Like their domestic Japanese brethren, the 'F' series were beautiful works of art - all sporting excellent attention to detail, sturdy construction, and vibrant, rich paint.
The Tomica Consolidated Line
Through 1980, things looked good for Tomy's Tomica line of diecast. In 1979, the original, or domestic, line consisted of 109 models while the foreign line included seventy. Unfortunately, the early eighties marked a time when the world's diecast industry underwent marketplace problems. Subsequently, in 1981, Tomy drastically reduced the number of models in its domestic and foreign lines to eighty and forty, respectively. By 1987, the foreign line was assimilated and consolidated into the domestic line. To the chagrin of collectors who appreciated consistent numbering schemes, this change affected the numbering of the foreign line so that the 'F' prefix of the model number was eliminated and 80 was added to the remaining number. For example, the foreign model 'F11' became #91 in the new consolidated line. Interestingly, the baseplates for the old 'F' series did not necessarily reflect the new numbering change. If you look at the baseplate of the venerable Volkswagen 1200LSE Bug, you will see that it is stamped with 'F20' even though it is now known as number 100 in the existing line. As far as packaging, Tomy abandoned the old yellow and black domestic line boxes and blue and white foreign line boxes for today's red and white box. Currently, of the 120 Tomica models available, there are only nine foreign models remaining.
Up until 1992, all manufacture of Tomicas took place in Japan. In that year, however, Tomy began producing a new line of thirty six Tomicas in China. The vehicles in this new line were based on existing models painted with new colors and additional details. The line came packaged on single and multi-car blister packs and was meant to be solely distributed in Britain. Although there were several very striking models in this line (which are eminently collectible today), Tomy pulled the plug on its production in 1994.
Other Tomica History
In addition to individually packaged diecast models, Tomy produced several other items under the Tomica moniker.
Perhaps the most ubiquitous item was the gift set. Gift sets consisted of a single, special box containing any number of vehicles, typically four or so. Since 1971, Tomy has released over 190 different gift sets. Usually, the vehicles in the set are based on existing models, but with either a different paint job or different body detailing. Gift sets are often based around a theme. For instance, you might have a racing set that consists of formula one racers, or a fire fighting set made up of various fire engines and related vehicles. Vehicle gift sets have been designed around construction, busing, safaris, the military, trucking, car races, off-road vehicles, the American highway, airlines, San Francisco....you name it and Tomy has released it....which makes for a ton of sets to collect ! Perhaps the grand-daddy of all sets was the 'Osaka Castle' set which commemorated the 400th anniversary of the Osaka Castle. This monster set contained eighty vehicles all in one rather large box. As this set was so large, you'll oftentimes see individual Osaka Castle Tomicas for sale since it has been easier for owners to sell pieces on an individual basis rather than finding one buyer who would want to buy or could afford all eighty models. Possibly, the rarest set was the Wedding set. This 8 piece set was produced in 1983 and was given to the guests who attended the wedding of the Tomy president's son. Good luck in finding one of those...
Tomy also produced the Tomica Long series. These models were typically 1/100 to 1/110 in scale and were sold in special boxes that could accommodate their long length or larger size. Vehicles that made up this series were typically tractor trailer trucks, buses, or trains - basically vehicles that could benefit from being in a box larger than the standard Matchbox sized package. This line began in 1977 with four models and continued to be produced through 1993 with a total of eighteen different models. Over these sixteen years, Tomy made approximately thirty model changes.
Around 1992, Tomy produced eight diecast Tomicas that could emit sound and light if you pushed down on the vehicle. The models generally consisted of vans or sedans of the Police or Fire sort. I don't know if this is true, but it appears that this line has been discontinued as none of these kinds of Tomicas are listed in the '98-99 Tomica catalog.
Tomy also manufactured a number of different diecast train models. Over the years, Tomy included a steam locomotive, a diesel locomotive and even an honest to goodness San Francisco cable car in their Tomica lines. Tomy eventually expanded their coverage of trains to 'Bullet' trains, carriages, and wagons that were sold in sets. Much to the dismay of diecast train collectors, they were discontinued in 1989 only to be replaced by models made of plastic.
In the early 90's, Tomy created a line of fifteen or twenty plastic, battery powered versions of their diecast models. These toys could be run on a special set of plastic road pieces called PlayRail.
Finally, Tomy produced Tomica World. Initially, Tomica World encompassed a set of plastic buildings and structures such as garages, gas stations, etc. that could be placed next to blue track-like interconnected roadway pieces that could, in turn, be formed into complex road systems. By the late '80s, the buildings were redesigned to generally include sidewalks that could surround and interlock with the building base. These building units, in turn, were designed to fit around a special set of cardboard-like interconnecting road pieces. Although Tomica World pieces are plastic, they are eminently collectible since we need to drive our little cars around on something... and if that's not fun on a rainy day, I just don't know what is. Currently, Tomy offers thirteen pieces for purchase.

Editor's Note: If you enjoyed this story, be sure to visit Steve Shaw's excellent Tomica Web site.
Credit: 'The Complete World of Tomy Diecast' by Vic Davey and Danny C.Y. Chan, published in 1997 by Northcord, served as the basis for a portion of the information on this page.
Nissan Skyline Silhouette Group C #65, 1:68 scale Tomica and #38, 1:43 scale Tomica Dandy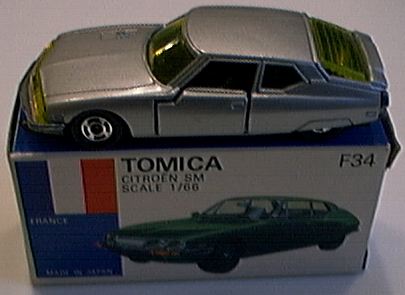 Citroen Maserati SM #F34

Mazda Savanna RX-7 Racing #74

1991 Honda NSX #78

In the U.S. many collectors became aware of Tomica through Tomy's 'Pocket Cars', discontinued when the U.S. market was abandoned in the 1980's.