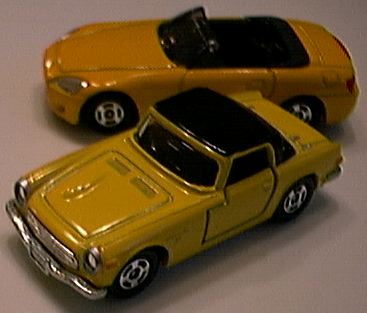 1969 Honda S800 Roadster #23 by Tomica, and
2000 Honda S2000 Roadster #34 by Tomica
---
1955 Porsche 356A Speedster #F9 by Tomica, and
1999 Porsche Boxter #91 by Tomica
Tomica Then and Now
by Doug Breithaupt
Several recent additions to my Tomica collection have made it impossible to resist the urge to offer another installment of 'Then and Now.' As regular readers know, I never resist such urges.

Hats off to Tomica for offering the new 2000 Honda S2000 Roadster even before it hit the showrooms. Diecast manufacturers are seldom able to beat their big brothers into production. Hot Wheels did it with the 1968 Chevrolet Corvette and it certainly led to future success for Mattel.

The new S2000 is a response to cars like the BMW Z3, Z Roadster and Z8, Mercedes-Benz SLK and Porsche Boxter. Of course, the Mazda Miata really gave re-birth to the roadster. The S2000, through it's name, demands comparison with Honda's roadster of the 1960's, the S800. Tomica allows us to make a side-by-side comparison of both cars. These two yellow roadsters span over 30 years of automotive design and engineering but they both share a common 'come drive me' look. The S800 was never exported in large numbers and only Playart and Tomica offered small-scale examples.

Porsche's Boxter has proved a popular model for small-scale diecast with examples from Majorette, Matchbox, Yat Ming, Maisto, Siku and now Tomica. The Tomica and Matchbox models are almost twins. I was surprised to note that a case could be made that the $1 Matchbox is actually the better casting with added detail in paint and interior. Regardless, the Tomica is an excellent example of the Boxter in German racing silver. For the 'then' side of this comparison, Tomica's great 356A Speedster makes a perfect partner. The model shown is not one of the regular issue Tomica line. It is a special edition produced for the Ikeda Miniature Car Shop. Presented in racing form, this silver 356 comes with a different interior, sporting a period roll bar and racing decals. The taped head-lights are a nice touch.

Three of the cars shown sport Tomica's trade-mark wheels with the 356 Speedster showing a five-slot variation. Some collectors have wondered if it is time for a new 'Tomica wheel' but I like classic look these wheels provide. Tomica does offer different wheel styles on trucks and racing cars but the original look is my favorite.

Several other 'Then and Now' Tomica pairs could be offered. The Nissan Fairlady Z of 1970 and the Fairlady Z of the 1990's would make a good match. The original Mazda RX-7 and current RX-7 (now a Japan-only car) would be another good set. The examples in my collection do not offer the color matches of the Honda and Porsche models shown so I'll save these comparisons for another time.

If you ar wondering where I found these great Tomica models, just click on: HobbyJapan2000.