Ertl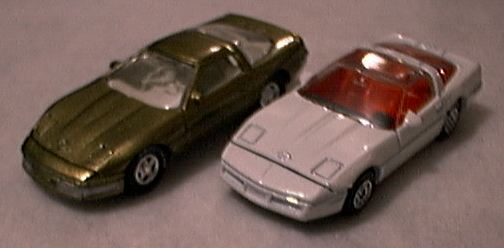 Johnny Lightning/Corgi


Road Champs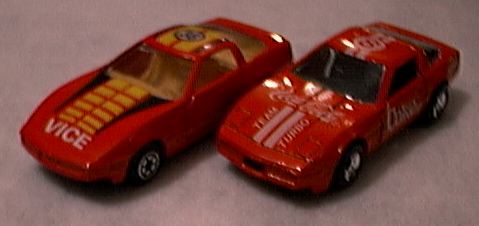 Speed Wheels/Hartoy


Yat Ming/Maisto
Favorite Subject - The Corvette C4
by Doug Breithaupt

Which car has been most often reproduced in small-scale. You have probably laid awake nights pondering just this question. I'm here to help you get a good night's sleep. With an even 20 examples from my collection, the Corvette C4 of the 1980's and '90's is the clear winner.

Perhaps most curious is the fact that six of the 14 toy car producers who did the C4, liked it so much that they did it twice! While this is not exceptional in a long-running model like the C4, it is surprising to see multiple examples from the likes of Ertl and Tootsietoy. As Mattel has now put the Hot Wheels name on the bottom of the Corgi casting, three examples can be found from this manufacturer.

Out of 20 examples here, Only Hot Wheels and Matchbox bothered to do true convertibles. Road Champs did a convertible with the top up. Several manufacturers offered targa versions including Maisto, Zee Toys and Matchbox. The Matchbox casting is basically the same for both cars except the targa and rear glass have been replaced with a convertible deck.

Three cars have opening hoods and engine detail and seven have opening doors. The black Road Champs car has a rear hatch that opens. Among major manufacturers, only Tomica, Racing Champions and Guisval failed to include the C4 in their line-up.

The success of the C4 Corvette in miniature bodes well for the ultimate collectibility of this car. While the C4 may be one of the least expensive of used Corvettes today, many future car buyers will rememeber the C4 Corvette they pushed across the floor as a child. Children who thrilled to discover Hot Wheel muscle car diecasat 30 years ago are now the primary market for full-sized muscle cars today. Of course, they are also buying back the Hot Wheels of their youth. Perhaps 15 years from now C4 Corvettes will command much greater respect and values in small or full scale.

Hot Wheels


Matchbox


Siku/Majorette


Tootsietoy


Zee Toys