Original body-style Z-car models

Hot Wheels "Z-Whiz" [Datsun 240Z]



Playart #7137 Datsun 240Z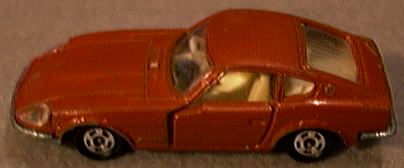 Tomica #58-A Nissan Fairlady 240ZG



Zylmex Datsun 240Z



Kidco #? Datsun 280Z




Tomica #6-A Nissan Fairlady Z-432



Matchbox #67 Datsun 260Z 2+2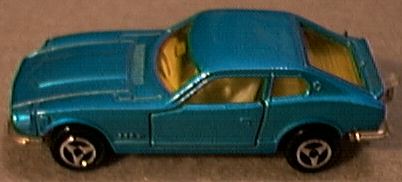 Majorette #229 Datsun 260Z 2+2



Zylmex #D75 Datsun 260Z

Not Pictured:
Mandarin #? Nissan Fairlady Z
Tomica 44-A Nissan Fairlady Z-432 Japanese Police Car
Tomica 44-B Nissan Fairlady 240ZG Japanese Police Car
My Fairlady
The Nissan/Datsun Z-Car in Small Scale
by Brian Willoughby
images by Doug Breithaupt
and Brian Willoughby

By the mid-1960s, the British cars that had for so long dominated the American sports car marketplace were precariously clinging to life. Largely due to outdated designs, high selling prices and often indifferent build quality, English sports cars were rapidly loosing market share during this time period to upstarts such as Datsun's well-made and contemporary roadsters. Concurrently, the American government was assaulting traditional British sports cars by enacting strict emission and safety regulations that few of the cars could meet without major redesigns that none of their manufacturers could afford. Consequently, some cars, such as the beloved Big Healeys, were simply discontinued.
While they continued to sell well, Datsun's roadsters were still largely based on traditional British designs which made the cars quickly grow dated in character in spite of continual changes and improvements. To remedy this problem, Nissan, with the help of Count Albrecht Goertz and Yamaha began actively working on the roadsters' replacement and what would eventually become its breakthrough product. Unlike its fierce competitor Toyota, Nissan had a history of producing sporting cars that dated back to the early post-war period; however, most of these cars were crude and of no appeal to Westerners. Undaunted, Nissan went out of house to draw up designs for its all-conquering sports car: Goertz (whose previous work had included the legendary BMW 507) was commissioned to pen the body and Yamaha was enlisted to engineer the car's running gear. For a variety of reasons, this project was terminated by Nissan, leaving Yamaha free to shop its prototypes around to other manufacturers, including arch rival Toyota. With a little more developmental work, these ex-Nissan designs eventually became Toyota's incredible 2000GT (which was documented in an earlier TOTC issue.)
Still and despite canceling its project with Yamaha and Goertz, Nissan continued developing what it envisioned as the perfect mass-market sports car (as opposed to the excessively expensive and hand-built 2000GT.) In the meantime, Nissan had acquired a small rival Japanese car manufacturer named Prince. While this might not have seemed like a significant development, consider that Prince held a license to produce Mercedes-Benz six-cylinder gasoline engines: after re-engineering the Benz motor into something of an early "modular" engine to fit Nissan's own needs, the forthcoming sports cars suddenly had a pedigreed power plant. Curiously, Nissan engineers at the time were also fascinated with fully independent suspensions and applied them to even their lowly entry level sedans such as the PL510; therefore, it should have come as no surprise that the new Nissan sports car had just such a system with MacPherson struts at the front and Chapman struts at the rear.
The body designs submitted by Goertz were obviously used in forming the final shape of the car; however, strong Jaguar E-Type and Ferrari 365GTB/4 influences were also present. Happily, the resulting mix, while derivative, was still classic, distinctive and instantly recognizable--in essence, a perfect design. Inside the car featured seating for two, ample storage for luggage and full instrumentation in a dash design that also became a classic. The overall feel was one of solidity and quality with outstanding power, balance, looks and roadmanners. With its stunning new sports car, Nissan was ready to take on the world.
The original Z-car created a sensation when introduced in America as the Datsun 240Z and it was so highly coveted in THE first few months following its introduction that buyers were willing to pay substantial premiums over the car's amazingly low list price of $3500. To many, it represented a spiritual replacement for the much lamented Big Healey: a little rough and unrefined, though fast and willing with a winning character. In all honestly, the Z was probably a better car than the Big Healey simply due to the fact that two decades separated their development: the Z was a modern car where the Healey had been something of an anachronism toward the end of its life. And where the Healey was frozen in a perpetual time warp, the Z continued to evolve with increases in engine displacement, new transmissions, ultra-high performance versions and even a 2+2 body configuration. All along its road to the top, diecast makers the world over followed the progress of the Nissan Z-car on it route to become the best selling sports car that has ever been made.

And what of all that confusing nomenclature? To start with, Datsun vehicles were always products of Nissan, much like a Dodge is a product of Chrysler or a Mercury is a product of Ford. For some reason, most Nissan vehicles sold outside of Japan were marketed under the Datsun brand name whereas Japanese home-market vehicles carried the Nissan name. Furthermore, in some countries, Datsuns were named whereas in others they were numbered and to make things even more illogical, Nissan-badged products were always named. So, in Japan the Z-car was known as the Nissan Fairlady Z; everywhere else in the world, it was simply known as the Datsun 240Z (which violated the naming conventions used in some markets on other Datsun products such as the "Bluebird.") The original 240 designation was a reference to engine displacement in litres multiplied by 10; hence the 260 of 1974 reflected a 0.2 litre increase in displacement and the American-market only 280 of 1976 referred to yet another bump upward in engine size.
To begin our survey of Z-car models, it would only seem appropriate to start with Japan's Tomica. Always a favorite in miniature car circles for its painfully accurate models, Tomica's sixth issue in its series of diecast domestic cars was a Nissan Z-432, otherwise known to the world outside of Japan as the Datsun 240Z. Early versions of the model with the #6-A type wheel are preferred for their added degree of realism, yet this particular model is probably the all-time best small-scale Z-car ever made.
While #6-A is rare and expensive enough to present most collectors a challenge in acquiring it today, #44-A, the Japanese police version, is even harder to come by. Just as Nissan offered different versions of the Z for home market consumption, Tomica responded by introducing at least one interesting variant within its line-up: #58-A, the pointed-nose Nissan Fairlady 240ZG. Never sold outside of Japan, the ZG sported mildly improved aerodynamics and a slightly higher top speed yet many felt the car's looks to have suffered. Still in limited production today, Tomica's evergreen ZG also served time with the Japanese police as #44-B which replaced the original #44-A casting that was based on the Z-432.

Strangely in Europe, the ungainly 260Z 2+2 was the favored model among diecast producers. The first model of this car to appear from a European manufacturer was Majorette's rather elongated and unsightly miniature which had little to recommend it. Offered in a variety of colors and even an emergency response doctor's version, the model featured opening doors; however, it can be very difficult to look past the model's overly long nose and too far back-set rear axle. Across the English Channel, Lesney's Matchbox also offered a Z-car model that seemed remarkably similar to Majorette's with its opening doors. However, Lesney's 260 was not a copy or clone to which it's quite accurately shaped body, properly sized wheels and well positioned rear axle can attest. Curiously, this model was introduced as a new member of the Lesney 1-75 series the same year production of the original Z-car chassis was superseded by the completely new 280ZX.

Although they are frequently viewed with disdain within the diecast world, Zylmex actually offered several very accurate and well made castings. Although it is now commonplace for manufacturers to provide its customers with a "standard" and "collector's edition models" of higher quality, Zylmex was one of the most unique toy makers of the 1970s with its dual range of 1:64 scale diecast models. In the higher quality Pacesetters range, Zylmex produced a relatively accurate model of the Japanese-market Fairlady Z (alias 240Z in America and Britain) with opening doors, factory correct color schemes and a metal baseplate that is today very rare. A few years later, Zylmex introduced a newer version of the Z, the 260, in its down-market Dynawheels lineup of models. Cruder than its older sibling, the 260 was modeled after race-bred variants of the real cars and featured covered headlamps and large front and rear spoilers. While window glazing was thick and the model had no operating gimmicks, the 260Z has proven to be a very venerable model: Redbox, the successor to Zylmex, still produces it.
Although it was not be a long-lived diecast manufacturer, Hong Kong's Kidco managed to bring a number of unique models to the marketplace during its brief tenure upon the toy shop shelves. One such model was a very handsome and accurate miniature of the American-market 280Z which captured the car's essence almost perfectly. While opening doors and hoods are probably the most common operating features found on diecast cars, Kidco opted to equip its Z-car model with an opening rear hatch--a rarity in small scale Zs. While the wheels left something to be desired, the Kidco 280Z succeeded in getting all the details that are frequently neglected (such as marker lights) just right.
Playart, another, somewhat more successful Hong Kong-based toy maker, also offered an early Z-car model labeled in the international-market nomenclature of Datsun 240Z. As was typical for Playart, their Fairlady Z was well-proportioned and nearly as svelte as the real car. On the down side, the model was somewhat static with no opening features, often carried ugly tampos and, except on early production versions, usually wore grossly oversized wheels with five rather loud spokes in chrome. Of course, its almost perfect body shape nearly compensates for these minor sins.
Perhaps somewhat unexpectedly, Singapore brought the world yet one more brand of rare and mysterious diecast miniatures known as Mandarin. Although many of its models were rather crude and lackluster, Mandarin's Z-car was probably one of the best miniatures the company offered. Obviously inspired by Tomica's outstanding work on its Z-432 model, Mandarin's Z-car had no opening features and suffered from poor paint quality yet its overall proportions were quite pleasing and accurate. While it is always interesting to speculate about what could have been, it's not too difficult to fathom that if this model had reached a wider audience during the height of the Z-car rage, Mandarin might well still be in business today.
Known for its fanciful yet well-made diecast toys, Mattel's Hot Wheels offered a refreshingly accurate model of the Datsun 240Z that was more a scale miniature than their usual cartoonish impressions of real cars. Although it went without any opening features or other gimmicks, "Z-Whiz", as the model was known, was a tough little toy with a lot of play value. Except for hideous tampos which never matched (much less complemented) the body color, Hot Wheels' Datsun was one of its best models during the mid-1970s.
For now, we will conclude our survey of Nissan's sports car. Somewhat of an instant classic, the original Z-car has finally begun to receive the recognition it has for so long deserved. Yet it always garnered a lot of respect among diecast toy manufacturers. In the future, we will take a look at the less sporting and more gran turismo-oriented ZX cars from 1978 onward.