1959 Chevrolet El Camino by Johnny Lightning #P415



1968 Chevrolet El Camino Custom by Hot Wheels




1970 Chevrolet El Camino by Matchbox #74



1971 Chevrolet El Camino by Johnny Lightning #373
The El Camino in 1:64
by Doug Breithaupt
For many years, fans of Chevrolet's El Camino have had little to collect in small-scale diecast. That has changed recently as the El Camino finally joins the 1:64 scale parade. Up until the 1990's, only one El Camino was available to toy car collectors. The original Johnny Lightning series by Topper offered a Custom El Camino, complete with surf-boards molded into the rear deck. It is no surprise that Playing Mantis chose this model for reproduction when the Johnny Lightning models were revived. In fact, the Custom El Camino was the very first re-issue, #101.

Four of the eight El Camino models to the left are from Johnny Lightning. The 1959 came out in 1997 and was part of the Trucking USA series. It represents the very first El Camino model and is a very nice casting except for the solid wing-windows. Johnny Lightning offered a 1971 El Camino in 1995 as part of their Sky Show play set. It came with track and a glider that releases from the truck-bed. The last JL El Camino is a wild mid-engine funny car/truck called the Trouble Maker. The body lifts from the rear to show a monster V8 and rail chassis.

It is amazing that Hot Wheel's first El Camino had to wait until 1999 to be produced. While the body is a 1968 El Camino, it is anything but stock. This El Camino would not be too good for a trip to the lumber store as the truck-bed is fully occupied with a huge rear spoiler and transverse V8 planted a midship.

Matchbox also waited a long time to offer an El Camino. Their 1970 models produced in 1997 and offered in the 1998 line-up. It is a well-done toy car/truck and has been a popular item on store shelves.

The last two El Camino models represent an interesting modern version of Chevy's car/truck. The 1983-86 El Camino SS was produced on the same platform as the Monte Carlo and offered a taste of the earlier muscle-trucks with an SS (super sport) edition. Majorette of France first offered this model, a surprising choice for a European diecast company. The model has proved popular and is still in the Majorette line-up today. While the casting is clearly in the toy line, it comes with decent detail and the usual good quality offered by Majorette.

A more collector-oriented version of the 1986 El Camino SS was offered by Racing Champions as part of their Mint Editions line in 1997. Complete with opening hood and engine detail, the Racing champions casting is an excellent model.

Several generations of El Caminos are still missing in small-scale. The mid-sixties and late seventies models are a likely edition to 1:64 scale diecast in future.

Custom El Camino by Johnny Lightning #101



Custom El Camino funny 'truck' by Johnny Lightning #PM310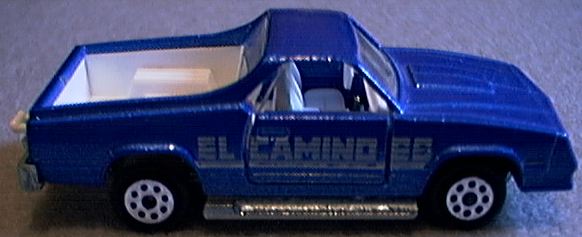 1986 Chevrolet El Camino SS by Majorette #296



1986 Chevrolet El Camino SS by Racing Champions #99