Alfa Romeo 2900 B - 1994


BMW 328 - 1994



Horch 8 cyl. Cabriolet Sport - 1994


Duesenberg SS - 1994


Alfa Romeo 1750 - 1995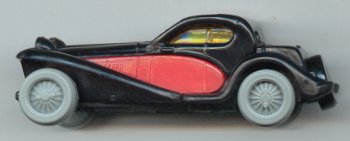 Bugatti Type 50 - 1995

Fiat - 1995


Mercedes-Benz 380 - 1995


---

Plastic Classics from Ferrero
by Doug Breithaupt
images by Mark Perring

If you are a small-scale diecast collector, chances are that you have a handful of plastic cars in this scale. Mini Lindy models are well-known and the early models are highly sought-after and expensive. Novacar and Hot Wheels have done plastic-bodied cars although with diecast bases. Recently, Mark Perring, a reader from Down Under, sent me the images you see here. These are charming little classics from the 1930's and they come from an unusual source.

Ferrero the chocolate candy maker offered these delightful miniatures in 1994 and 1995 as a promotion to buy their products. Here are Mark's comments on these cars. At the time, he only had the Duesenberg but has now purchased the entire collection. The scale is about 1:80, a bit larger than 1:87 scale cars. The imges to the left are very close to actual size.

"Interesting isn't it? I picked it up out of a small box full of similar items that are part of a sale I am negotiating at the moment. My main item of interest is a 24 piece gift pack 1:64 from the late 70's by Matchbox. I bought the piece home to do some research as I know very little (if nothing) about it. The models in the box are part of a toy give away gimmick for children when they buy a chocolate of some sort from Ferrero. I have found a little info off the web but that is about all. A couple of pieces of info are a couple of graphics I got from a site on the web. Attached for your info. There are some exotics there. The model I have dates from 1994 & at this point I intend to go ahead with the purchase as I would like the Mbox gift pack. As I said I have a love hate relationship with these plastic things. Model size as per your question of the one I have is approx. 60mm Long by 20mm high."
Fortunately, Mark found some duplicates that he is sending to me in trade. If you know more about these little classics, send me an e-mail. It would be nice to see these cars done in 1:64 diecast. The Bugatti has been done by Hot Wheels but the others have not been reproduced. While these cars are not my usual scale or in diecast, they do offer several interesting models, seldom seen in any scale. Thanks Mark for this interesting find.