Hot Wheels - 917 #6416



Ertl - 917 #1607



Guisval - 917


Norev - 917 #306854
(It says "Champion du Monde 1971 on the base with the following specs; 5000 ccm, 590 ps, 350 km/h)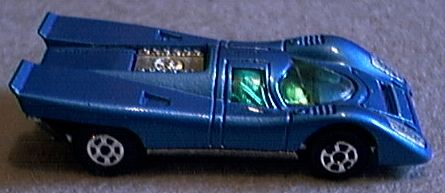 Pilen - 917 #802
Part 2
Porsche's Sports Racers - The 917
by David Cook
images by Doug Breithaupt

Now Porsche prepared an all-out assault on the world of top-level sports car racing. The factory's twin goals were to win the overall championship and take the sport's crown jewel, the Le Mans 24-hours, in the same season.
To do this, Porsche had to dig deep. The sporting authorities had decreed that entrants for the championship had to manufacture 25 examples of their cars. This was no problem for Ford and Ferrari who already had plenty of their models made. No one expected Porsche to overcome this hurdle, but of course they did, coming up with the most awesome racing weapon of that time.
The type 917 used all of the aerodynamic and weight saving technology Porsche had and matched it with their largest engine yet: the 4.5 liter flat-12 (basically 2 flat-6s mated together). But they had to get all the examples together for FIA inspection before road testing could begin. Once on the track, test drivers almost went into shock! With so much power, noses lifted under acceleration while the tail would jump around under hard braking. Names like "monster", "ulcer", and "widow maker" were hung on these cars until sufficient aerodynamic modifications made them drivable. Early models probably resembled the Ertl, Hot Wheels and Guisval versions pictured here. The Pilen, Corgi, and Yat Ming models are type 917K's (kurz, German for short), while the beautiful Norev example is a "langheck", or long tail.
Porsche dominated the 1970 sports car season, winning 9 out of 10 qualifying events. They swept both 24-hour races, Daytona and LeMans, with 1-2 finishes. They repeated again in 1971, winning 8 out of 11 events, sweeping Daytona, Sebring and Le Mans for the second time.
Having accomplished their goals in the rest of the world, Porsche moved on to the strictly North American CanAm series with its unlimited engine formula. The flat-12 engine was enlarged and turbocharged to power these "spyder" (open cockpit) versions, with something like 1300 HP.The small scale examples shown here by Galgo and Siku are excellent representations; the Yat Ming engine looks a little different, but the sponsorship markings are very true. The CanAm had been a McLaren playground for years, but Porsche changed that, winning 6 out of 9 events in 1972. With McLaren out for 1973, Porsche won all 8 events.
This worldwide domination had its price, however. Even with large sponsorship contracts from Gulf, L&M, and others, the costs of racing became burdensome for what was still a small, family owned manufacturer. The automotive landscape was changing with OPEC, rising gas prices, shrinking markets in the US and economic recessions. Factory racing was dropped while Porsche concentrated on its position as a road car producer.

Editor's note: Watch for David's next Porsche Racing story soon.

Corgi - 917 #94-A


Yat Ming - 917 #1023

Siku - 917 #1329


Galgo - 917



Yat Ming - 917 #1022
(It says Chevron on the base and Porshe on the nose. The engine is a bit fanciful.)