A Boom in Baby Buicks
by Doug Breithaupt

Up until the mid 1990's, finding Buick models in 1:64 scale was not easy. In the past five years, baby Buicks have doubled in number and we are finally seeing some of the great cars from Flint, Michigan.
It is appropriate for Buick to receive this attention as it has been the under-represented GM brand in toy cars for far too long.
---

1949 Buick Roadmaster Riviera hard-top by Racing Champions #113


1950 Buick Super Sedan by Johnny Lightning #555


1969 Buick Riviera (low-rider) by Hot Wheels


1971 Buick Riviera by Mini Lindy #D-233


1975 Buick Regal 'Kojak's Car' by Corgi #68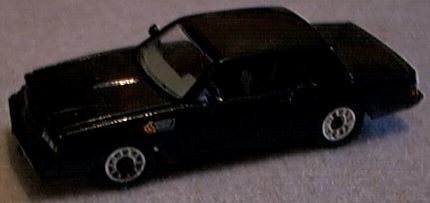 1984 Buick Grand National by Racing Champions #168


1986 Buick Le Sabre Stocker by Matchbox #221
While the selection of small-scale Buicks has improved, there are still major gaps. Where is the 1963-65 Riviera? How about the great Buick Woody Wagons of the early 1950's or Buick's 2-seater Reatta of more recent times?

Both Racing Champions and Johnny Lightning have made nice contributions to the Buick line-up. the 1949-50 models are beginning to fill in and RC's '49 Riviera hard-top is wonderful. Buick's muscle car, the
---

1949 Buick Roadmaster Fastback by Road Champs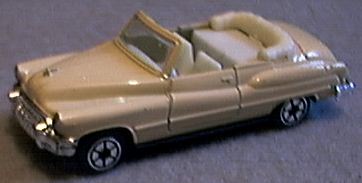 1950 Buick Convertible by Summer #8904


1970 Buick GSX by Racing Champions #180


1975 Buick Century by Johnny Lightning #464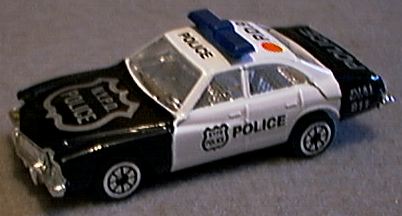 1975 Buick Regal Police by Corgi #28


1983 Buick Riviera Convertible by Road Champs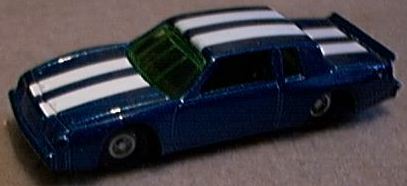 1986 Buick Le Sabre Stocker by Racing Champions
GS is also well-done with the '70 provided by both Racing Champions and Johnny Lightning. Johnny Lightning has also offered a repainted version as a '71 GS. The Grand National of 1982 has been done by both companies as well. JL also did the '75 Indy Pace Car, a Buick Century T-Top.

Corgi's evergreen casting of the 1975 Regal sedan is still in production as a Hot Wheel . Corgi offered this car in stock, taxi, police and as Kojak's car.
---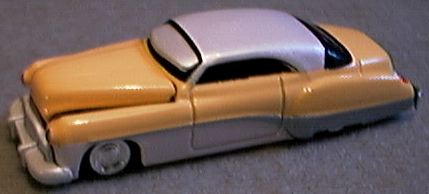 1949 Buick Custom by Racing Champions #139


1959 Buick Electra by Husky (Corgi) #7


1971 Buick GSX by Johnny Lightning #P211


1975 Buick Regal Sedan by Corgi #


1982 Buick Grand National by Johnny Lightning #PM160


1986 Buick Le Sabre Stocker by Maisto #


1993 Buick Wildcat Prototype by Hot Wheels