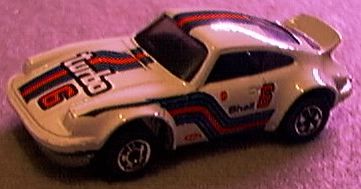 Hot Wheels - 911 RSR


Corgi - 911 RSR


Darda - 911T Paris-Dakar Rally

Matchbox - 935

Tomica - 935

Zee Toys - 935
Part 3
Porsche's Sports Racers
The 911 RSR, 935 and 936
by David Cook
images by Doug Breithaupt

With little left to prove after totally dominating sports car racing for two years with the Type 917s, Porsche decided to take a sabbatical from top line sport. Meanwhile, company accountants performed damage control on the budgets during a period of management turmoil.
When the question of racing came up again, it was decided to concentrate on the company's core product, the 911. Using the tried and true flat-6 engine, a run of 500 special lightweight Carrera RSR models were built to FIA Group 4 specifications. This car promptly went out and won its first race, the 1973 Daytona 24-Hours (all the big prototype cars were DNF). The Hot Wheels and Corgi models pictured here are great examples of this car. The Darda car pictured looks like a special one-off for that event.
Modern turbo-charging technology was now being applied to engines and Porsche led the way with a turbo 911, called the Type 930. The Ertl model, here in very correct Rothmans colors, is a very nice example of this car. For a deeper examination of this famous Porsche, see Brian Willoughby's article in an earlier issue.
With the world economy back on track after the gas crisis of 1973-74, Porsche decided to take a step back into big time racing and tackle the FIA Group 5 class. A racing version of the 930, the Type 935, was constructed for 1975. This car went on to become one of Porsche's most successful racing models and many small-scale versions were made. The Hartoy and generic models pictured here appear to be early versions of the 935. The Type 935/77 had additional aerodynamic modifications and is pictured here by ZeeToy and Corgi. The ultimate 935, the K3, is shown here by Matchbox and Kenner. The Tomica example 935 is a special long tail model built especially for LeMans. Most 935s were sold to private teams and they won consistently for years, taking World Championships for Porsche in '76 and '78 through '81. It won LeMans once in '79 and the Daytona 24-Hours 6 in a row between '78 and '83.
In parallel to the 935 effort, the Porsche factory began work on a car for the FIA Group 6 for full-on racing prototypes. The Type 936 actually used a few parts from the old 917 and it's heritage showed, winning LeMans in '76, '77 and '81. The definitive model is shown here by Tomica. I have seen this small-scale version with several different paint schemes. The Zee Toys version is still available for sale in toy stores.


Editor's note: Watch for David's next Porsche Racing story soon.

Corgi - 935

Generic - 935 (Tomica copy)
Hartoy - 935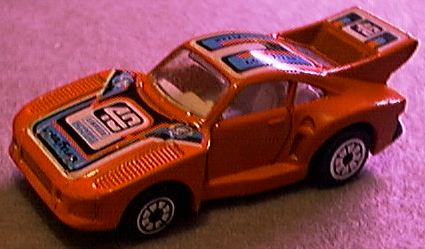 Kenner - 935


Tomica - 936
Zee Toy - 936