Tomica - Toyota Land Cruiser


Tomica - Toyota Land Cruiser Road Service



Majorette - Toyota Land Cruiser



Pioneer - Toyota Land Cruiser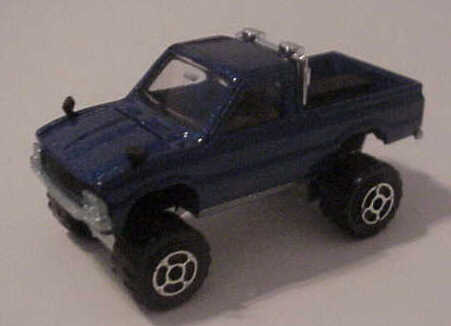 Majorette - Toyota Hilux


Tomica - Toyota Hilux 4x4



Hot Wheels - Toyota Tacoma Pikes Peak


Tomica - Toyota Hilux Surf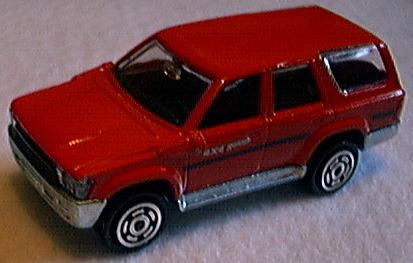 Majorette - Toyota 4-Runner


Majorette - Toyota Tercel 4WD



Tomica - Toyota RAV4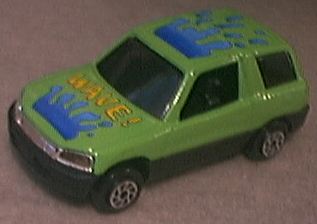 Yat Ming - Toyota RAV4


Guisval - Nissan Pick-up


Guisval - Nissan Patrol


Metchy - Suburu Impreza
Bonsai Bruisers: Japanese Four-Wheel Drive Vehicles in Miniature
by Brian Willoughby
images by Brian Willoughby and Doug Breithaupt
Although the Americans invented the sport utility vehicle with the original Willys Jeep and the British soon thereafter developed the "high end" of the market sector with the Land-Rover (which, of course, is favored by the Queen herself), the Japanese saw a marketplace with plenty of growth potential. First gaining popularity with farmers and in areas with underdeveloped road networks, four-wheel drive "field cars" somehow became fashionable accessories for city dwellers. In the meantime, the Japanese had introduced a variety of quality engineered and made vehicles that were price at levels that allowed them to conquer the burgeoning market and eventually surpass their American and British inspirations in sales. Along the way, several diecast manufacturers recorded the history of these unique vehicles in miniature.
With its ancestors first appearing during the early 1950s, the venerable Toyota Land Cruiser has been around almost as long as the two vehicles that were its inspiration: the Willys Jeep and the British Land-Rover. Although the Land Cruiser was largely a slight re-interpretation of the basic four-wheel-drive field car platform, it was, unlike later Mitsubishi products, a completely original (albeit obviously pirated) design. Styling was more Jeep-like in its execution; however, mechanically there was a good deal of similarity to Land-Rovers. Well made and engineered, the Land Cruiser soon began appearing in markets that had formerly been controlled by either Jeep or Land-Rover and soon after proving to buyers that they were every bit the equal to their American and British rivals, these modestly priced Japanese 4x4s began to outsell the established makes. In the process, the Toyota FJs (gasoline powered) and BJs (diesel powered) became hard-working legends before being moved ever more up-market. With their popularity, it was only to be expected that diecast producers would provide collectors with a wide variety of miniature Land Cruisers.
Of the many miniature Land Cruisers, Tomica's accurate model stands alone as probably the best small-scale diecast ever made of this vehicle. Still in limited production today, Tomica's #2-B continues to be a favorite among collectors. In fact, it is probably in the highest demand of any Tomica model at the moment, thanks in large part to the current popularity of sport utility vehicles. Featuring opening doors, this model has been offered in a wide array of paint schemes and variations including several different wheel types, versions with and without a light bar on the roof and a Japanese road service version with a folding sign on the roof that was assigned its own unique model number: #76-B.
Majorette of France also offered a Land Cruiser that makes a strong argument for "what might have been". Produced in standard wheel and "bigfoot" versions, this model has frequently appeared in less than agreeable colors (such as a neon green) and has often been festooned with tacky tampos of lions. Sitting too low on its standard suspension and ridiculously high with the "bigfoot" wheels, this model also features a plastic opening rear hatch that has a tendency to break off when one attempts to open it. It's truly a shame that Majorette never got this model quite "right" since the basic casting is both accurate and nicely detailed.
A generic brand found in dime stores, Pioneer's Land Cruiser is a somewhat rare find for completists. Another "bigfoot" model, the body casting is generally correct and coherent (although the roof could use a "lip" around it) and even shows minor styling cues such as the louvers and vents on the front fenders that are such a Land Cruiser trademark. Painted in garish colors, the model pictured in this article originally wore purple decals with the name "Blazer" emblazoned upon them until the author removed them and found a much more pleasant model beneath. Perhaps General Motors' Chevrolet Division would protest if it knew about this apparently unauthorized use of one of its product names on a model of a Japanese off-roader.
Another of Toyota's notable vehicles is the Hilux pickup (sold under the name Tacoma in the U.S.) For years, these robust little pickups have been proving their worth by tackling some of the harshest jobs and climates the world has to offer. Although available in a two-wheel drive version, four-wheel drive is an extremely popular option and several models of trucks so equipped have appeared over the years. Tomica's miniature of the 4x4 Hilux is yet another of Tomica's winners. Featuring opening doors and enough color variations to match almost any one available from the factory, the only real fault with this model is its lack of a rear window in the cab. Majorette's Hilux is definitely a runner-up to Tomica's: its appearance is spoiled by "bigfoot" wheels yet it does offer a couple of unique design elements such as fender-mounted rearview mirrors (as formerly required by law in Japan) and an opening hood. Color choices are not always the best, though enough different variations have appeared that there ought to be one that most collectors will be willing to live with. Hot Wheels' recently released Tacoma model is based on the 1999 Pikes Peak competition version. Although an accurate model, it is ruined by golden lace wheels and it is unfortunately becoming more and more difficult to find. It will interesting to see what the future will hold for this model as there aren't many manners in which to redecorate it that won't look ridiculous. Previously, Hot Wheels also issued the Toyota Celica all-wheel drive Pikes Peak winner from 1998.
Based on the Hilux chassis, the Fourunner (or as it is sold outside of the U.S., the "Hilux Surf") has been an immensely well-received alternative to the considerably more expensive Land Cruiser Station Wagons. Once more, Tomica has felt it necessary to best everyone else by producing what is simply the best model available of this vehicle in small scale. Yet Majorette's miniature of this vehicle is this time a winning effort that manages to come close to the Tomica with its accurate shape and detailing and refreshingly authentic colors.
Although most miniatures of Toyota 4x4s have typically been of the Land Cruiser or Hilux, there have been several other models which depict various other notable four-wheel drives in Toyota's history. Although it failed to make much of an impact at while it was in production, the four-wheel drive Tercel Station Wagon lead the way for a future generation of light-duty sport utility vehicles such as the RAV 4. One of the more bizarre models for a French-based company to produce, Majorette's Tercel is probably the only model of this vehicle ever produced in small scale. Fortunately, it is also a nicely done model with proper proportions and tolerable color choices. Yet the RAV 4 is a vehicle that has been made close to home: Tomica's cute miniature of the short-wheelbase version of this lightweight four-wheeler is excellent and captures the actual vehicle's cheeky appearance perfectly. Yatming's RAV 4, however, pales next to the Tomica with its rather dull and lifeless appearance--why didn't they produced a long-wheelbase model rather than doing another model of a vehicle that had already been done?
Toyota's bitter rival, Nissan has also quietly produced some very competent alternatives to the Land Cruiser and Hilux in it's stylish pickups and tough-as-nails Patrol. Only sold for a short time in the U.S., Nissan's Patrol has been a popular success elsewhere in the world for years. Curiously, especially considering the number of years it has been in production, only a handful of Patrol miniatures have appeared. One such model is Guisval's rather crude "bigfoot" model of the mid-1980s short-wheelbase variant of Nissan's 4x4 which features nothing: no opening doors, hood or tailgate and no interior. Somewhat difficult to find, this model is worth locating simply due to its status as one of the only miniatures of this vehicle to have ever been produced.
As is common with such models, Guisval's "bigfoot" Nissan pickup is based on an earlier, conventional model that has been modified to accept the larger diameter wheels. As with their model of the Patrol, Guisval's Nissan pickup is largely featureless except for a removable topper covering its bed. Again, this model is worth finding due to the limited number of Nissan four-wheel-drives that have been made over the years.
Although it would be refreshing to see a nice, accurate scale model of a Nissan 4x4, yet another "bigfoot" miniature appeared in the guise of Hot Wheels' Hardbody pickup. Although most of the details are correct, the typical Hot Wheels propensity toward custom (and questionable) paint schemes and tacked-on accessories is well represented on this model with its numerous color variations and a big block V8 sitting, inexplicably, in the bed that suggests it is what is powering the truck.
Tomica should be complemented for the outstanding job it has performed over the years documenting all of Mitsubishi's notable 4x4s. Beginning with its excellent model of Mitsubishi's license-built Jeep J3R which features an opening hood and folding windscreen and continuing onward to the later (and also license-built) H-J58, Tomica has covered the company's early experience in building off road vehicles. Later, Tomica introduced a model of Mitsubishi's first fully original design, the Pajero (or Montero or Shogun, depending on market) and has continued the tradition right to today with a new model of the most current generation of this popular 4x4. As with all Tomica models, every Tomica Mitsubishi 4x4 is perfectly scaled and well made--just like the real vehicles.
Not to fault Tomica's efforts in recording the history of Mitsubishi off roaders, though all of its Pajero models have been short-wheelbase versions. Therefore, it is quite refreshing to see the high quality yet cheaply priced long-wheelbase, 5-door miniature of the Pajero that Real Toy is currently offering. Paint schemes are believable for rally and safari equipped vehicles and the overall accuracy of the model is great for a toy that only costs 50 cents.
A rather unique Tomica model of a Mitsubishi 4x4 is the Pajero Jr., a new, miniature 4x4 that is currently not offered for sale in the U.S. Another cheeky vehicle, the Pajero Jr. reminds the viewer of Toyota's RAV 4. Of course, Tomica has done another remarkable job. Now if they only will produce a miniature of the Montero Sport, its documentation of Mitsubishi's 4x4 history will be complete.
As with the Toyota Fourunner (a.k.a. Hilux Surf), Isuzu's Amigo and Rodeo sport utilities are based on pickup truck platforms. Sold under a myriad of names (Isuzu, Honda, Vauxhall, Holden and Opel) these popular and competent vehicles have been well received due to their competitive prices and adaptability. Matchbox offers high quality scale models of both the Amigo and Rodeo that are very accurate models except for non-factory paint schemes. An interesting feature of the Rodeo model is that the model name is printed (rather than molded) on the bottom; depending on where the models are sold, the name is changed to fit the brand sold in that market. Siku also produces a model of the Opel Frontera, the name the Amigo was sold under in Germany. By far the best model of this vehicle, it features a removable rear roof and can be found in variations carrying an inflatable raft.
One of the most obscure models of a Japanese four-wheel drive vehicle has to be Metchy's Subaru Impreza. Rare and difficult to find outside of Europe, this miniature is a charmer not only because it depicts a successful rally version of this car yet also since it represents one of only a handful of Subaru models ever produced. Look out for this one--it's worth finding for your collection.
Finally, there are two great models of Suzuki's very competent SJ-413. Although the wheels could use improvement, Maisto's little Samuri model has serve its makers well as one of the longest produced miniatures in Maisto's 1:64 scale range. Equipped with a removable roof, the Maisto Samuri is another outstanding model considering its model selling price. Interestingly, Germany's Siku offered a diecast of this vehicle as well. Made to exacting standards and also fitted with a removable roof, it is obviously the better model of the two; however, it costs considerably more to acquire and perhaps its higher level of quality should be expected.
Perhaps the curious aspect of Japanese 4x4 models are the vehicles that are not produced: why have there been so few Nissan Patrols and Subarus and never a Daihatsu Taft or Rocky, a Mazda pickup or any of the badge-engineered Hondas? Hopefully with the current popularity of sport utility vehicles, these oversights will be corrected.

Tomica - Mitsubishi Jeep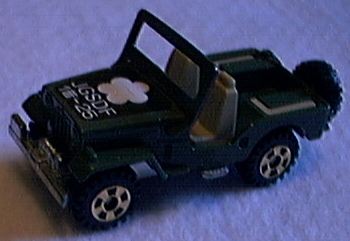 Tomica - Mitsubishi JDF Jeep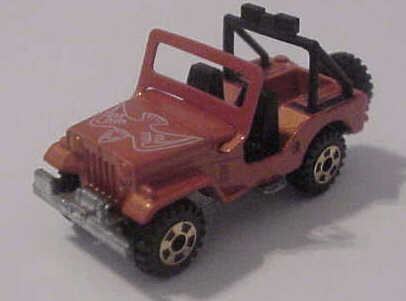 Tomica - Mitsubishi Jeep



Tomica - Mitsubishi Big Foot Jeep



Tomica - Mitsubishi Pajero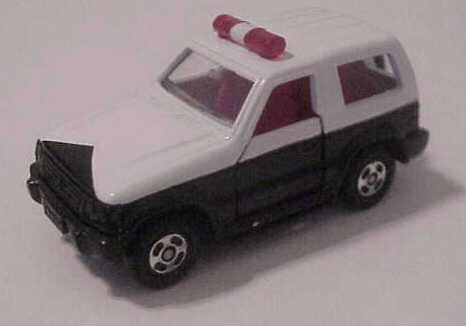 Tomica - Mitsubishi Pajaro police


Tomica - Mitsubishi Pajero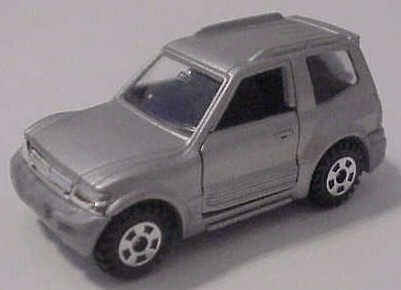 Tomica - Mitsubishi Pajero Jr.



Real Toy - Mitsubishi Montero



Matchbox - Isuzu Rodeo



Matchbox - Isuzu Amigo



Siku - Isuzu Amigo (Opel Frontera)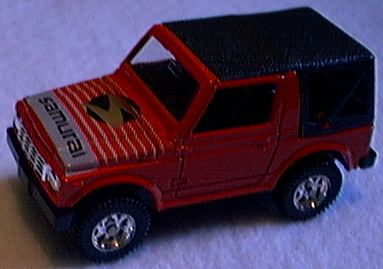 Maisto - Suzuki Samuri SJ-412


Siku - Suzuki Samuri SJ-412