Schuco 810 Ford Escort 1300GT [Mk. I]


Polistil RJ19 Ford Escort [Mk. I]

Matchbox 9 Ford Escort RS2000 [Mk. II]

Matchbox 17 Ford Escort XR3 Cabriolet [Mk. III]

Speed Wheels Ford Escort XR3 Cabriolet [Mk. III]


Matchbox 52 Ford Escort RS Cosworth [Mk. IV]


Corgi Juniors 63-A Ford Escort Rally [Mk. I]

Corgi Juniors 105-A Ford Escort [Mk. III]


Norev Mini Jets 438 Ford Escort [Mk. III]


Majorette 212 Ford Escort XR3 [Mk. III]


Majorette 275 Ford Escort [Mk. IV]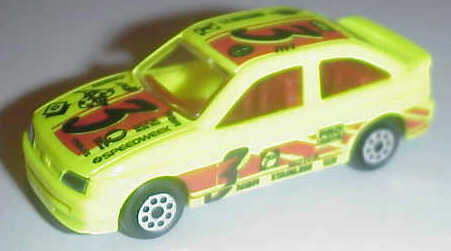 Novacar 114 Ford Escort [Mk. IV]


Siku 1048 Ford Escort GL [Mk. III]


Guisval 33 Ford Escort [Mk. III]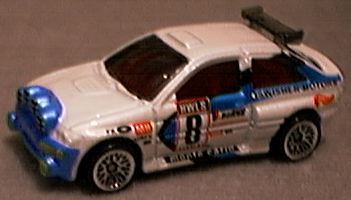 Hot Wheels 18143 Ford Escort Rally [Mk. IV]

Below is a listing of models discussed in the text, but not represented above.

Corgi Rockets 921 James Bond Ford Escort [Mk. I]
Corgi Rockets 927 Ford Escort Rally [Mk. I]
Guisval 30 Ford Escort Rally [Mk. III]
Hot Wheels 3288 Ford Escort GT [Mk. III]
Schuco 851 Ford Escort Rally [Mk. I]
Schuco 881 Ford Escort [Mk. II]
Schuco 888 Ford Escort Rally [Mk. II]
Designed and engineered in Dagenham, England by the Ford Motor Company Ltd., the all-new 1968 Ford Escort was envisioned as a modern replacement for the aged and outmoded Anglia platform. During the Escort's gestation, however, the American parent company consolidated its English and German operations into the single operating unit of Ford Europe, and, as a direct consequence, the Escort, initially intended predominately for British consumption, ended up being produced at both the Dagenham and Cologne factories. Not that it really mattered where the car was made: with the combination of a sound design philosophy that made the car imminently adaptable and Ford's marketing savvy, the Escort was an instant success throughout Europe.
With styling heavily influenced by contemporary American cars, the Escort Mk. I was built around a thoroughly conventional chassis consisting of a front engine that transmitted its power to the tarmac through a rigid, leaf-sprung rear axle. While definitely not overly sophisticated, the chassis had its advantages: it was both well-proven and rugged, meaning that when combined with the Escort's good road manners and its solid body shell, it was an almost perfect rally car from the very beginning. The base engines, of course, were not up to the job of serious competition and to address this situation, Ford had Lotus install the same engine used in the Lotus Cortina into the smaller Escort to create the first high performance variant of the car: the Twin Cam of 1968. Later developments, such as the RS1600 used Ford designed and built engines and the Escort Mk. I continued to be one of the most successful European rally champions of the early 1970s, effectively superseding several cars, such as the beloved Morris Mini Cooper, as the dominant force in the sport.
For the 1975 model year, the Escort Mk. II was introduced and while its styling was significantly freshened and modernized, it carried on in much the same vein of its famous predecessor with its front-engine/rear-drive layout and by offering a myriad of varying trim, body style and power plant options. However, the big new was, as always, that the specially prepared RS competition versions continued to win one rally after another. Yet as the second generation car was first being shown to the public, other manufacturers were already selling cars that would start a new trend in small cars centering around front-wheel-drive/transverse engine technology. Clearly, the next incarnation of the Escort would have to respond to the new rage in automotive engineering if it planned to maintain its popularity among average car buyers.
In response to complaints about how dated the Escort Mk. II was when compared to the competition (such as the recent Volkswagen Golf), the entirely new Mk. III Escort of 1980 introduced a completely new chassis that made use of a front-wheel-drive system similar to that already being championed in the popular Fiesta. Sadly, after years of being at the forefront of Ford's extensive competition campaigns, the Escort Mk. III was largely retired in favor of the bigger, rear-wheel-drive Sierras. Nevertheless, the Mk. III was yet another (and deserved) sales success for Ford and it was the first Escort to ever truly be sold internationally when an appropriately modified version was chosen by the American parent company to replace the horrid Pinto.
Despite being christened the "World Car" by Ford, sales of the shared, common chassis came to a close by the time the forth generation Escort appeared during 1990. Since Dearborn offered no true high performance versions and since Americans had little concept of the "real" Escort's long, laureled history in Europe, it was simply perceived by most in the United States as just another cheap, low quality car that was bettered by almost any Japanese small car of the period. To this end, the second-generation, American-built Escort was little more than a badge-engineered Mazda 323. However in Europe, the Escort tradition was still very much alive and even undergoing a glorious revival in competition with the Mk. IV variant of the car signaling the arrival of the stunning RS Cosworth.
As it has been so often said, nothing good lasts forever and in a recent attempt to re-invent its European product line (as well as give rise to another "World Car"), Ford laid the Escort name to rest with the unveiling of the Focus. Already meeting with considerable success, the new car bristles with potential and has even appeared in Cosworth-engined models. So while the Escort name may been retired with the passing of the forth generation car, its fine and honorable legacy continues to be maintained. In the end, the Escort was a staple in the world of European cars for more than 30 years, which, naturally, means that several diecast miniatures of the car appeared during the same time span. With that in mind, let's take time to survey what was made and by whom.
Schuco's series of 1:66 scale miniatures has been praised countless times before for its accuracy and realism; its models of the Mk. I and Mk. II Escorts provide much evidence of why these diecast cars are so cherished by collectors. The Mk. I appeared in both stock and rally versions and either miniature shows this German brand's high level of attention to detail with their perfectly shaped body castings and delicate grilles. Once more, Schuco's Mk. II was also produced in stock and rally variants and both models captured the lines of the real cars as well as any small-scale miniature ever made. The only complaints to be leveled against these fine toys would be that none of the high-performance Escorts were ever depicted (of course, the Twin Cam and RS cars were developed and built in England) and that the one-size-fits-all wheels used throughout the entire series of Schuco miniatures are of a slightly too large diameter and also a bit too wide. Yet overall, these models present a great place to begin assembling a collection of first (and subsequent) generation Escorts.
Despite the fact that there has to be a fascinating history behind Polistil's RJ series of 1:66 scale miniatures, it has submerged into a sea of obscurity. Seemingly produced as promotional models (every car Ford Europe was selling circa 1974 was depicted within the lineup), the RJ miniatures were almost up to the quality standards exhibited by Schuco save for the generic "speed" wheels employed by Polistil throughout the series. The Mark I Escort was an undeniably cute model with opening doors; however, the wheel cut-outs were oddly oversized and unlike the 1:1 scale cars which detracted from an otherwise outstandingly high quality miniature.
Somewhat curiously, Lesney Products was slow to respond to the all-conquering Escort and postponed introducing a Matchbox miniature of the car until the arrival of the Mark II chassis. Fortunately, the Escort Lesney selected to model was certainly a worthy one: the RS2000. Equipped with prototypical round headlamps, a correctly blacked-out grille and a small boot lid spoiler, the Matchbox miniature captured the real car's extroverted, "ready-to-go" essence quite well. Yet there were faults: some versions wore grossly inaccurate paint tones and tampos while the common white version of the model was decorated with printed-paper stickers that began to discolor from degrading adhesive soon after the model was brought home from the store. Nonetheless, it was refreshing to see Matchbox, always the foremost documenter of English Ford products, return to the fold with an overall quality model of a special, high-performance, limited-production Escort.
To provide customers with an intermediate step between the base model Escorts (and Fiestas and Sierras) and the all-out performance oriented RS cars, Ford introduced the XR package option which bequeathed the selected car with more a more powerful engine, crisper handling and a more "competition-oriented" appearance without making sacrifices or compromises in comfort or the ability for customers to purchase the car at a reasonable price. Perhaps in recognition of the lapse in interesting Escort models during the mid-1980s (Ford was concentrating on promoting its Sierra in competitive events at the time), Matchbox produced a miniature of what, at the time, was about the most fascinating new Escort available in England: the XR3 Cabriolet. Quite accurately depicted in small scale with several well-suited color schemes, the Matchbox model featured a built-in roll-over bar like the real car yet was strangely devoid of any other operating features or gimmicks. In an intriguing footnote to this model, it is worth noting that this casting has been crudely pirated and now appears (minus its roll bar) as a member of the "Speed Wheels" series of inexpensive diecast cars available at the Walgreens drugstore chain.
After a few more years and another change in ownership (from Universal to Tyco), a third Escort appeared under the Matchbox name during 1994. Unfortunately unknown to Ford buyers outside of Europe and religious followers of rallying, Matchbox's latest Escort was a miniature of the incredible RS Cosworth. Based on actual factory competition schemes, the paint work on the new Escort was some of the most intricate ever to adorn a Matchbox model and early versions of the model wore special gold wheels in honor of the brand's fortieth anniversary. Although the wheels were intended to denote a significant event in Matchbox's history, they were ugly and while later 5-spoke wheels types were more prototypical, they were fitted to models with new and ever more hideous paint schemes. It is truly a shame the Matchbox didn't offer this model as a member of its "World Class" series: there has hardly ever been a more worthy subject.
Like so many of its fellow early Corgi Junior brethren, specimens of the Ford Escort Rally are quite scarce due to a short production run. Obviously inspired by the RS1600 with its widely flared fenders, Corgi's model is accurate in both its shape and proportions; however, it varies from the norm by wearing metallic blue paint rather than the more standard white. Nevertheless, two separate variants of the model were also offered in the Rockets range which featured a more "typical" white color scheme along with the unique removable underpinnings unique to this series. One of these Rockets models was even a "character toy" linked to the recent James Bond film "On Her Majesty's Secret Service" in which several Escorts can be seen a memorable ice racing scene.
After the Escort Rally, a miniature of this very popular European car disappeared completely from the Corgi Juniors catalog for almost a decade until the arrival of a rather generic model of the Escort Mark III. As with its predecessor, the Mark III Escort was a well sculpted model of the European version of the first Escort platform that would be built by Ford on both sides of the Atlantic. Perhaps benefiting from several more years experience in producing small cars, the European Escort was slightly cleaner and less clumsy in its lines and general execution than its American counterpart--something that the Corgi Junior miniature of this car shows to good effect.
Also attempting to capitalize on the popularity of the new, front-wheel-drive Escort Mark III, Norev introduced what would mark a rare appearance of a Ford product within its Mini Jet range of models. Sadly, Norev's Escort did little more than roll around on its four wheels: it had no opening features and the simplistic plastic interior insert even dispensed with a steering wheel molding. Yet the model still manages to exhibit an inexplicable charm about it that will probably compel Ford fans to seek out this somewhat rare little French-made miniature for their collections.
More familiar to collectors than Norev's Mini Jets, Majorette's long running line of 1:64 scale diecasts have persevered for the better part of four decades now. As might be expected, a few Ford Escorts have been offered among the ranks of the Renaults, Peugeots, Simcas and Citroens for which this manufacturer is so well known. Like Matchbox, Majorette waited until the Escort was already something of an automotive institution before offering a model of the Mark III XR3. Unfortunately toy-like, the model left a considerable amount of room for improvement in both wheel, paint and decoration choices yet it did feature a novel opening rear hatch with an oversized spoiler.
With the introduction the Escort Mark IV, Majorette did not ignore the new chassis as it had with the Mark I and II and immediately responded with a corresponding new miniature. Outside of opening doors and competition markings, the model appears overly dull and uninteresting; however, for Escort fans it provide one of few basic Escort models that has been available in recent years.
Although it is no longer an independent toy manufacturer, the Portuguese model maker of Novacar also produced a unique and accurate model of the Mark IV Escort. Like most other Novacar miniatures, the Escort's body was molded in colored plastic while the baseplate was diecast. After being bought-out by Majorette, this former Novacar model was absorbed into the French company's 1:64 scale lineup (the Novacar's were numbered in the 100-series, whereas the traditional Majorette's retained their 200-series numbers) which meant that Majorette was concurrently selling two very different miniature versions of the same car.
While Siku can usually be counted on to conjure up some distinctive models, the only Escort this German miniature maker has produced was an austere three-door Mark III GL. Painted in dull colors that seemed appropriately well suited for this work-a-day car, the best thing that can be said for this model is that it maintained the Siku tradition for accurate and well-made toys. Not to be left out of the boring Escort model competition, Guisval also offered a miniature of the Mark III equipped with an even less sporting five door body style. Featuring opening front doors, the Guisval casting is somewhat of a rarity since it is apparently the only five-door Escort model any diecaster has bothered to make in small scale. Furthermore, Guisval's rather spotty distribution outside of its native Spain over the years translates into a toy car that can be a challenge to locate despite its built-in yawn-factor. Curiously, this same model was also offered in a "rally" version despite the fact that most cars used for competitive purposes have almost always had either two or three doors.
Perhaps the most surprising brand to offer Escort models is Mattel's Hot Wheels. Better known its miniatures of wild customs and American muscle cars, Hot Wheels has turned out a couple of Escorts that make collectors wish the company had made more. Hot Wheels first Escort was an "Americanized" Mark III "GT" which displayed the correct and somewhat aggressive stance of the actual car and well-selected paint schemes that complimented this fine miniature quite well. Sold on both sides of the Atlantic, some of the finer details that would have identified the miniature as either a European or American version of the car were deliberately "blurred", yet availability in several markets does not translate into this particular Hot Wheels car being anything less than a daunting mission to locate today.
Although its rallying success continues to remain largely unknown to most Americans, any diecast manufacturer desiring to sell its products internationally must include models that will appeal to audiences throughout the world. In recognition of this, Mattel introduced a new a new Hot Wheels model during 1998 simply named "Rally Escort". Other than the Hot Wheels' trademark of frictionless wheels, the Rally Escort is a largely static model that stands out due to its supplemental race-style lamps, darkly tinted window glazing, roof spoiler and bold graphics. Although it has not been a top seller for Mattel in the 'States and it has proven to be a difficult model for Hot Wheels designers to adapt to new (and reasonable) paint schemes (a strange 'police' version is currently available), the Rally Escort has undoubtedly been well-received in Europe and by Ford fans throughout the world.
Ford's Escort was always a best-seller and a highly successful car in a variety of challenging competitions. Fortunately for diecast collectors, its long and notable history has been well documented throughout the years.