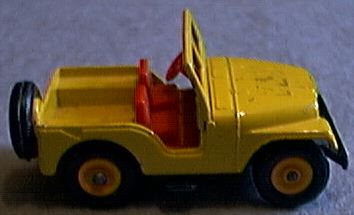 Matchbox - Willy's Jeep #72

Matchbox - 1981 Jeep 4x4 #5D/56F


Matchbox - 1983 Jeep 4X4 #37F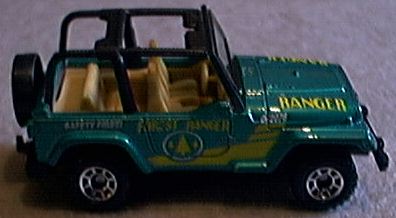 Matchbox - 1998 Jeep Wrangler
Yat Ming - Jeep CJ-7 #1603

Yat Ming - Jeep CJ-5 Golden Hawk #1608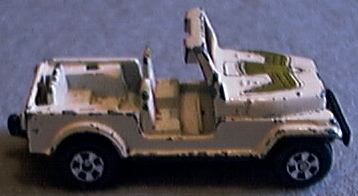 Ertl - Jeep CJ-5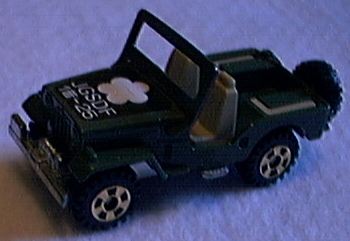 Tomica - Mitsubishi Jeep #25
Hot Wheels - Willy's Jeep 'Gun Slinger' #7664

Hot Wheels - Jeep 4x4
Hot Wheels - Jeepster Prototype
---

The Original Jeep
50 Years in Miniature
by Doug Breithaupt

One of the most-recognized of all vehicles, the original Jeep has been a popular choice for diecast producers. First built by Willys for use in WWII, it has also built under license by Ford, and later, Mitsubishi, as well as others. Willys became part of American Motors which was bought by Chrysler, now Daimler-Chrysler. The original Jeep has seen many variations as the CJ-5,6 and 7, Jeepster and Wrangler models. The popularity of the Jeep is as strong as ever with new models of the evergreen design in current production and a strong collector following for the older models.

While many Jeep models have been produced, the following summary is only focused on the small-scale CJ/Wrangler/Jeepster designs that stem from the original Jeep. Jeep pick-ups and sport-utility models will be reviewed at a later date. Some of the models shown are in less-than perfect condition but perhaps considering the way Jeeps are used, that's just fine.

Matchbox is the winner of the Jeep production award with six different castings over the years. The first is #72-B, a Willy's Jeep offered with regular wheels and later as a Superfast vehicle. A Third variation, #2-B came as a Jeep Hot Rod with and exposed motor. The Jeep CJ-6 followed, #53-C (not pictured). The next Jeep was #38-C (not pictured), offered in military and domestic form. This model was also offered as #5D, a Jeep 4X4, #20C with a soft top and as #5C, a U.S. Mail Jeep. In 1983, #37F provided an updated Jeep 4x4 model, complete with roll-cage and antenna. Most recently, a 1998 Jeep Wrangler has been released and is currently available in the Matchbox line.

Hot Wheels has done three Jeeps. The first was redline #7664, shown as the 'Gun Slinger', although the gun has gone missing. A custom 4x4 model was offered in 1990, shown in Zebra stripes. The latest Hot Wheels model is the Jeepster prototype, which may actually see production by Daimler-Chrysler.

Yat Ming has offered two Jeeps. The first, #1603 is a CJ-7 model, unique both for it's hard-top and engine detail. Model #1608 from Yat Ming provided the CJ-5 Golden Hawk.

Majorette has also done several Jeep models. The CJ-5 #268 is provided with a removable top and towing hook and trailer. The open 4x4 version of this casting is #244.

One of the more obscure Jeeps comes from Guisval of Spain and is labeled as a Jeep Willys. Maisto's Jeep is labeled as a Ford GP and also features a removable top. Ertl did a CJ-5 model as part of the 'Duke's of Hazzard' series. Tootsietoy's Jeep is currently available and may be based on the Yat Ming casting although the front grill and other features are altered.

Siku offered an excellent Jeep CJ-5 casting, #1053. Corgi also did the Jeep as a 4x4 model. Racing Champions has done the 1998 Jeep Wrangler, currently available. Tomica has done many variations of the Mitsubishi-built Jeep.

Racing Champions - 1998 Jeep Wrangler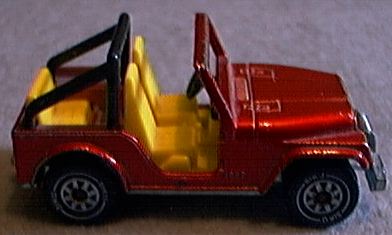 Siku - Jeep CJ-5 #1053

Corgi - Jeep 4x4


Maisto - Ford GP


Majorette - Jeep CJ-5 #268
Majorette - Jeep 4x4 #244

Guisval - Willy's Jeep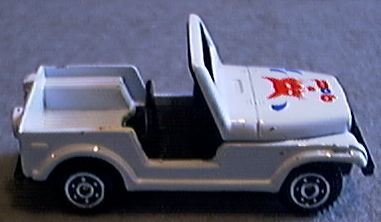 Tootsietoy - Jeep CJ-5