When Cadillac was truly
"The Standard of Excellence"

What a profile, note the actual trunk.

It is difficult to get a good image of the V16 but it is in there.

The interior is well detailed and the wing windows actually work.
Everyone loves the classics. Fans of 1:18 scale diecast cars have a two of the greatest classics of them all, available at store today. Ertl has produced the mighty Duesenberg SSJ of 1935 while Anson offers the amazing Cadillac V16 of 1932.

The Duesenberg is one of two SSJ models built, this one for Clark Gable with the other for Gary Cooper. Ertl has done a fine job reproducing this unique car. The detail is of a very high standard with actual hinges for the bonnet and doors. The powerful Duesenberg straight 8 motor is especially nice. The four side pipes meet perfectly with the exhaust system pipes below the front fender. The interior and wheels are first class.




The Cadillac V16 is in Dual Cowl Phaeton form and Anson has also produced a beautiful model. The bonnet features actual metal hinges like the SSJ and the V16 is a delight to see. Interior, wheels, grill and lights are very high quality. Two tops are offered, up and down. The wing windows are adjustable, unlike the SSJ's which are fixed.

The biggest difference between these two models is price. Anson offers their beautiful Cadillac for about $20. Ertl asks twice that amount for their Duesenberg. Is the Duesenberg twice as good as the Cadillac? Not to my eye. I had a hard time justifying the $40 for the Duesenberg but the box says limited edition and I wanted the Gable colors. The Cadillac comes in several other nice color variations. Ertl has also offered the Boat-tail Auburn Speedster of 1936 and I have yet to buy this one. Color is not so critical on the Auburn so I'll wait to see if I can find it on sale.

It is hard to resist these classic cars of the 1930's and I understand the 1937 Cord is planned by Ertl as well. Now, how about a Blower Bentley and an Aston Martin Ulster LeMans.
It's a Dusey, the lamp lenses are especially well done.
The 18 inch wheels and raked wind-screen are evident in the profile view.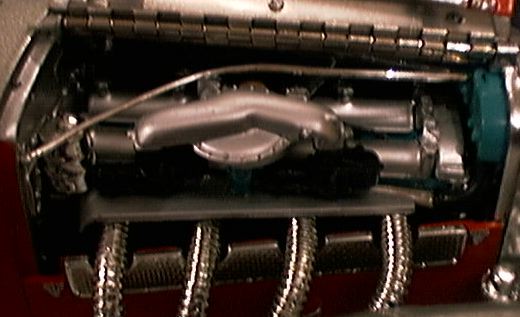 The Duesenberg straight 8 was good for 100 mph in second gear and 140 flat out. The correct shade of green is used for the motor.
Actual door hinges are a nice touch and allow the doors to open fully.