Back to the Future by Johnny Lightning


Blues Brothers 2000 by Johnny Lightning


Chitty Chitty Bang Bang by Husky


Christine by Johnny Lightning


Demolition Man by Hot Wheels


Dick Tracy by Ertl


Ghostbusters by Johnny Lightning

"That was the day I invented time travel. Actually, it was night. I remember it vividly: I got hit over the head, and when I came to I had a revelation - a vision - a picture in my head. A picture of THIS" Doc Emmett Brown points to a mechanical unit mounted behind the seats of a De Lorean automobile. "This is what makes time travel possible: the T.F.C. - Temporal Field Capacitor."
Marty McFly mimics Brown, "Temporal Field Capacitor, huh? How'd you get beaned?"
"Well, I was trying to -" Brown stops short, thinking better of it. "Well, it's not important. What is important is that it works. It's taken me over 30 years to fulfill the vision of that night." He faces the De Lorean proudly
And with that we have our introduction to the De Lorean DMC-12 sports car, albeit highly adapted for time travel, as it appeared in "Back to the Future," 1985, starring Michael J. Fox and Christopher Lloyd. My articles, spanning the next five monthly issues of "Tales of Toy Cars," will focus on all vehicles replicated in approximate 1/64 scale diecast metal from your favorite movies and television shows. So, don your touring cap and fasten your seat belts, as we explore miniatures inspired by the silver screen.
First, let's clarify certain qualifications: 1) the vehicles are 'earth-bound' cars and trucks and not planes ("Top Gun"), boats ("Jaws"), motorcycles, nor chariots ("Lost in Space"); 2) cartoons and animated series ("Flintstones," "Tom & Jerry," "Speed Racer") are overlooked here; 3) promotional pieces (such as buses or racers wearing movie or television semblance) will be addressed in the final article of the series; and 4) I could not view all these movies and TV shows to authenticate the actual vehicles featured. Because I am uncovering new material all the time, this article should serve as a foundation on which to build and add new pieces. So, please email me with your submissions and attach a picture of the vehicle if you can. The fifth and last installment will include updates, additions, and clarifications.
Often, a replica is released as being associated with a particular television series or movie when, in fact, the vehicle may not have appeared in the show. Matchbox (MBX), with its 'STAR CAR,' 'CHARACTER CAR,' and 'STAR CAR BUS' collections, is the leading offender of passing off existing castings as representing those of a movie or show. "American Graffiti," 1973, was represented in the offending MBX 1998 'STAR CAR COLLECTION' series by a seemingly suitable yellow 1933 Ford coupe from off-the-shelf. Actually, the movie Ford was a three-window coupe. Likewise, "Animal House," 1978, was represented in the same series by a 1962 Corvette, for which I cannot attest.
Not to be outdone, Johnny Lightning (JL) stated on its 1998 'HOLLYWOOD ON WHEELS' blister cards, "our castings are modeled after REAL vehicles used in the movie or TV show - not pulled out of mothballs and tried to match" Subsequently, the series imitates faithfully in miniature the cars from "Austin Powers, International Man of Mystery," 1997, and "Back to the Future," 1985. Austin's Shaguar (Jaguar XKE) and Dr. Brown's De Lorean were priced right and sold well to collectors and kids alike. The same could be said of JL's 1989 Ford LTD and 1974 Dodge Monaco from the same series representing the autos of "Blues Brothers 2000," 1998, and "The Blues Brothers," 1980, respectively.
Perhaps one of the most fantastical vehicles ever to grace celluloid appeared in "Batman," 1989, and "Batman Returns," 1992. Ertl marketed its diecast replica of the Anton Furst Batmobile at the release of the film and it is still popular today with enthusiasts. "Batman Forever," 1995, introduced yet another Batmobile and a bevy of vehicles that looked even more like comic book creations.
Ertl also produced several replicas of cars from "The Cannonball Run," 1981, starring Burt Reynolds, Roger Moore, and others. These include a 1981 Ford Econoline van, a white Rolls Royce Silver Shadow, a 2-door 1980 Chevrolet Caprice, a Porsche 930 Turbo, and an inaccurate Ferrari Dino 246 GT. The Ferrari in the movie was actually a 308 GTS. Ertl's incorrect Ferrari replica had "The Cannonball Run" logo positioned diagonally across the hood and the rear engine compartment opened up, while Ertl's regular version of this casting did not have these features. Both the Porsche 930 Turbo and the Ford emergency van approximate the actual movie vehicles driven by Burt and were issued in the regular Ertl line without the tampo. In addition to the movie title across its hood, the Caprice stock car had "Hawaiian Tropic" tampo along both sides of the car. Kidco marketed a nicely done pullback version of the black Lamborghini Countach, the winner of the 'Cannonball' movie race, in its 'TOUGH WHEELS' blister packaging.
There have been only two cars that have had their names as the titles of movies. That distinction is shared by "Chitty Chitty Bang Bang" and "Christine." Thankfully, small diecast replicas were made for each. In "Chitty Chitty Bang Bang," 1968, Dick Van Dyke plays Potts, a well-meaning father who buys an old vehicle, restores it, and concocts tales of its magical powers, such as floating on water and flying through the air. Therein starts the mayhem. In 1970, Husky Extra made a diecast version at just under three inches in length with four seated passengers and operating wing flaps. Corgi, after abandoning the Husky name, used the casting in its 'Corgi Juniors' line and later replaced the original wheels with Whizzwheels.
In "Christine," 1983, the young new owner of a 1957 Plymouth Fury gets a little too cozy with his ride and vice-versa. It was a novel idea for a movie and some of us had wished that the owner, played by actor Keith Gordon, and his car could have triumphed over love and adversity. Anyway, JL made a reasonable likeness of Christine for about $3 retail in its 'FRIGHT'NING LIGHTNINGS' series of 1997. Of all the JL colors offered, however, only the black (charred?) and hot pink (molten metal?) imitations came close to the genuine car during its many transformations throughout the horror flick.
Stanley Kubrick directed Malcolm McDowell, Patrick Magee, and the joy riding "Droogs" in a political satire entitled "A Clockwork Orange" based on a novel by Anthony Burgess. Both Corgi and Yatming made replicas of the stolen Adams Probe 16 vehicle in the ultraviolet 1971 motion picture. Unfortunately, my disappointing Yatming copy of the sleek one-of-a-kind Adams Probe lacks detail and quality of materials. I have never seen up close the Corgi Juniors version.
"Days of Thunder," 1990, a formulaic auto racing movie starring Tom Cruise and Robert Duvall, featured a quintet of race cars replicated by RCI in their embryonic days of diecast car making. The five cars shared the same Chevrolet Lumina casting with blacked-out glass areas, but sported different colors and tampo according to their sponsors: "City Chevrolet #46," "Mello Yello #51," "Superflo Motor oil #46," "Hardee's #48," and "Exxon #51." Available only at Exxon stations, they came packaged in either individual blue blister cards or a single black & white checkered box. Coordinated with the blue card set was a boxed 'race-car transporter' (truck) with a flatbed for one racer.
Sylvester Stallone starred in a movie in which the cars garnered more accolades from fans than did his acting from the critics. Warner Brothers, through Hot Wheels, released nine vehicles featured in its "Demolition Man," 1993, sci-fi action flick. This assortment, the most attributed to any single film in my research, included four futuristic show cars, an experimental 3-wheel motor bike, and a brand new sports/luxury release - all from General Motors. The vehicles were the Corvette Sting Ray III, Pontiac Banshee, Pontiac Salsa, Buick Wildcat, GM lean machine, ACC Camaro, Olds Aurora, Oldsmobile 442 W-30, and GM Ultralite S.A.P.D. cruiser.
Ertl produced several delightful cars from "Dick Tracy," 1990, starring Warren Beatty and Al Pacino. Fine castings, suitable wheels, and excellent paint finish characterize the black and white 1936 Ford Police car, red 1938 Plymouth coupe, black 1936 Ford Roadster, and orange 1939 Chevrolet 4-door sedan. All have the 'Dick Tracy' tampo across their back trunk lids.
Some of you may have seen the 'Macabre Mobile' from "Elvira, Mistress of the Dark," 1988. JL produced its likeness, a customized 1958 Ford Thunderbird convertible, in several colors in the 'FRIGHT'NING LIGHTNING' series. Moreover, JL's Fireball 500 from its 1999 'SHOW RODS' series is an excellent replica of the George Barris racer in "Fireball 500," 1966, starring Tex Armstrong and Frankie Avalon, among others. I should note that most JL releases also come as 'WHITE LIGHTNINGS,' sporting special tires bearing that name in white letters and a white base or other 'white' peculiarity. As with the 'TREASURE HUNT' series from Hot Wheels, these series command a higher price on the collector's market since special limited releases are few in number and difficult to find in stores.
Absent-minded professor Phillip Brainard inadvertently created a miraculous "goo" that when applied to anything enabled the object to fly through the air at remarkable speeds. One of those 'objects' in Disney's "Flubber," 1997, was a red 1963 Ford Thunderbird convertible, aptly duplicated by Johnson Grossfield, Inc., This splendidly done miniature was handed out in a clear plastic bag at theaters showing the Robin Williams comedy.
JL closely reproduced the fabulous Ecto-1 and Ecto-1A, 1959 Cadillac custom ambulances from "Ghostbusters," 1984, and "Ghostbusters II," 1989, respectively, with Bill Murray and Dan Aykroyd. These and other vehicles in the first and second releases of the 'FRIGHT'NING LIGHTNING' edition appear, also, as 'WHITE LIGHTNINGS' or in especially marked 'Halloween' blister cards sold exclusively through Target retail stores.
"Gone in 60 Seconds," 2000, featured vehicles stolen in that amount of time. I did not see the movie and cannot verify the accuracy of the pricey Hot Wheels boxed set with the same name. However, since the 1938 Ford C.O.E. tow truck (Elwoody), 1949 Mercury Passion, and Dodge Viper GTS castings were already part of the Hot Wheels line-up, it is probably not a coincidence but, rather, a recycling of accessible die-molds. The fourth vehicle in the set, a 1967 custom Mustang, also, with questionable acting credits, is a brand new casting for general marketing and we can expect it to be used, typically, over and over again in other Hot Wheels offerings.
Matchbox took its existing Willys coupe diecast and slapped on the appropriate moniker for its recent 'STAR CAR COLLECTION' version of "Grease," 1978, a successful musical starring Olivia Newton-John and John Travolta. Was it one of the many cars in the movie? I do not know, but George Barris drastically modified a 1946 Ford coupe to make 'Greased Lightning', the signature dream car in the movie and I have yet to uncover a 1/64 version of this finned hot rod. Kidco produced from an existing casting a 1957 Chevrolet convertible for "Grease 2," 1982, starring Michelle Pfeifer and Maxwell Caufield.
That ends Part I. Next month we will explore the remainder of movie star cars (H-Z), including the entire assortment of star cars from the ever-popular James Bond 007 movies, grouped under his name for simplicity. The following month I will reveal the first half of the television star cars, which are numerous and almost as entertaining as the shows they help symbolize.

Batman diecast by Hasbro


Cannonball Run by Kidco


Cannonball Run by Ertl


Days of Thunder by Matchbox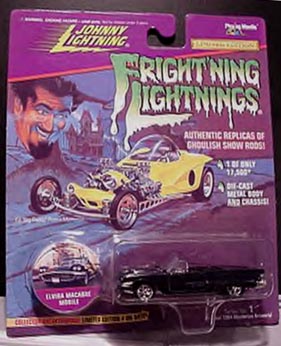 Elvira by Johnny Lightning


Fireball 500 by Johnny Lightning


Flubber by Johnson Grossfield


Gone in 60 Seconds by Hot Wheels


Grease 2 by Kidco