Despite the fact that it had gone through five different generations and body styles, each time Ford would introduce a new Cortina, the car seemed to grow progressively more staid, upright and tradition-bound than the model that proceeded it. In fact, by the time the Mark III Cortina appeared, it was so bland and generic that it had have the least amount of personality of any car sold in the United Kingdom. In Germany, much the same could be said for the Taunus (which, over time, had lost its separate identity and chassis and had become indistinguishable from the English car except for the name on the trunk lid); however, its dull styling managed to blend well within the German market where most of its competitors, although sometimes more stately, were equally conservatively styled. Nevertheless, these solid and reliable, albeit unexciting, Fords were perfectly suited for their intended purpose and despite the automotive critics' loud cries for something less mundane and a bit more adventurous, were consumed in great numbers by the car buying public. Yet the complaints lodged by automotive journalists had not gone completely unheard by Ford and when design work commenced on a replacement for the Cortina and Taunus lines, Ford decided to surprised everyone.
After actively consolidating all of the other English and German product lines into unified, single models offered in both markets, it only seemed only logical to retire both the Cortina and Taunus names in favor of a common name to be worn by both Dagenham and Cologne-built cars. In keeping with the "place name" tradition initiated by such models as the Cortina, Capri and recent Granada, the moniker selected for the new mid-size Ford chassis was "Sierra." Power-plants in the new car were carried over from the final Cortina and Taunus models and, somewhat interestingly considering the public's fascination with front-wheel drive and the recent introduction of the front-drive Escort Mark III, a traditional front-engine, rear-wheel drive layout was retained. When compared to its predecessors, handling was greatly improved by employing a fully independent suspension system consisting of MacPherson struts at the front and semi-trailing arms at the rear, the first time that a fully-independent system had been seen in a mid-size Ford since the early (and troubled) IRS Lotus Cortina Mark I almost 20 years before.
Of course, the most dramatic thing about the new Sierra was its cutting edge styling: smooth, aerodynamic and flowing, it looked like no Ford product had ever looked before. Out of all of the Sierra models, the most outrageous was the V6 powered XR4i with its grill-less nose, divided rear side windows, "cratered" alloy wheels and twin spoilers on the rear hatch a la the American Ford Mustang SVO. The XR4i was a car that people either loved or hated as it gave them little choice in between; however, the press loved its power and handling and quickly proclaimed the new Ford a viable competitor to some of Europe's more performance oriented brands. Believing that they had a BMW beater on their hands, Dearborn took an interest in bringing a modified version XR4i to the United States that would tempt yuppies to look at a car built somewhere other than Munich.
The Americanized Ford Sierra XR4i arrived in the United States as the questionably named "Merkur XR4Ti" (Merkur being German for "Mercury"--the dealership network through which the car was to be sold.) The cars were not made at the main Ford plant in Cologne; rather production was farmed out to Karmann who did its best to assemble cars from a variety of pieces sourced from a number of different Ford divisions throughout the world. At first, the differences between the Merkur and the Sierra actually looked like advantages: the Brazilian-built, turbocharged 2.3. litre in-line four installed in the car was more powerful than the German V6 that it replaced yet it proved highly unreliable in both the Merkur and the Ford Thunderbird Turbo Coupe. Marketing of the car was also misguided to say the least and popular options were frequently unobtainable on the cars in stock on the dealer's lot due to research that suggested that those very options would not be specified by most buyers. In the end, the car was restyled to the point where it lost all of its character (for many Americans, it was simply too radical) and remaining vehicles were sold at large discounts to move them out and close another sad chapter in Ford history.
In Europe, development of the Sierra continued and three Cosworth-powered models were made available that were nearly super-cars. Though most sales centered around the more pragmatic Sierras that could be used for day-to-day transport. That is what most diecast manufacturers also produced and with this in mind, let's have a look at what was made in the way of small scale Sierras.
After producing a thoroughly boring model of the Cortina Mark IV, Matchbox thankfully selected a more enticing car to be its next miniature Ford offering: the Sierra XR4i. An interesting model due to the turmoil the Matchbox brand was undergoing at the time, early versions were among the very last of the 1-75 series models to be made in England by Lesney while later castings were produced in both Macau and China by Universal and Tyco. Probably the best small scale model of the unconventional XR4i coupe, this casting has witnessed a very long life for a diecast toy and has been sold in a wide array of paint and wheel variations along with battery-powered Police versions that provide flashing lights and a realistic sounding siren sound effect. Despite the fact that it never had much in the way of gimmicks, it more than made up for the lack of opening apertures with its spot-on accurate body shape and correctly sized wheels.
Apparently, collector's and children were not the only people who were impressed with Matchbox's Sierra as two obvious copies of the model appeared not long after the original. Of the knock-offs, M.C. Toys' (later Maisto's) XR4i nearly rivaled the Matchbox release in its accuracy and quality of manufacture. Like the model that inspired it, M.C.'s Sierra offered no operating features and made use of more plastic in its chassis. As might be expected, versions of this model sold in the U.S. (and perhaps elsewhere) were tampoed with "Merkur XR4Ti" markings on their bonnets while the baseplate displayed an odd mix of the car's original European designation combined with that of the American-market Merkur: "Ford Sierra XR4Ti." While Maisto has graduated to producing grander things than Matchbox imitations, the Welly-produced "Speed Wheels" series of miniatures offered by the Walgreens drug store chain has soldiered on for years by marketing a wide variety of counterfeits than can be readily identified. One such model is a Sierra XR4i that is a straight ahead copy of Matchbox's original. Always cheaply made and typically poorly painted, this miniature is to be congratulated for presenting a relatively well-done scale version of the actual car's trademark double rear spoilers. Although it is nowhere identified as a Ford, Welly's Sierra did sport the letters "XR4i" emblazoned upon a blue oval on the model's bonnet.
Perhaps one of the most obscure Sierra XR4i models to be produced came from the Argentinean Buby concern. Although the majority of Buby's models are well-proportioned miniatures of cars that other manufacturers have almost always neglected to cast, their Sierra leaves room for improvement; while the overall shape is accurate, the front axle is set too far back from the car's nose, thereby destroying the model's entire continuity of line.
Strangely and almost as if an underground conspiracy had swept through the industry, no less than five diecast manufacturers produced miniatures of the 5-door hatchback Sierra rather than the rakish XR4i. Corgi Juniors' Sierra is one such example and despite Swansea's attempts to make the model more interesting with racing and rally graphics, opening front doors were the most exciting aspect of this otherwise lifeless model. Of course, the little Sierra did come equipped with a tow hook, allowing a variety of other more interesting forms of transportation (such as motorboats and motorcycles) to be dragged behind. Curiously, this model was one of a limited number of castings from the old Corgi Juniors range to be incorporated into the Hot Wheels line-up when Mattel acquired the rights to these miniatures from Corgi. Presented in silver and again with racing decorations and blue ovals, the "new" Hot Wheels Sierra rode on slightly larger 5-spoke wheels than its predecessor that helped to improve the model's appearance.
Widely known for its well-made and accurate miniatures, Germany's Siku produced what was undoubtedly the best model of the Sierra 5-door in their standard scale of 1:55. Stout and heavy, Siku's Sierra exhibited two rare qualities: it was both an outstandingly crafted toy that kids could spend hours "driving around" while concurrently being a perfectly scaled model that was at home in any collector's collection. The only unfortunate aspect of the miniature was that failed to be different from all the other 5-door models and begged the question of why it couldn't have been patterned after the 3-door hatchback or 5-door estate Sierra variants.
In France and Spain, Majorette and Guisval, respectively, also felt that an insufficient number of 5-door hatchback Sierras had been produced and each unveiled their own interpretations in miniature. Like the Corgi Junior version, Guisval's Sierra often wore racing decals and offered opening front doors. Conversely, Majorette's Sierra was more similar to Siku's in that its paint-work was more reserved. And, coincidentally, it also had operating front doors.
Perhaps proving its almost universal appeal to model makers, two further renditions of the Sierra have also been provided by Tai Cheong and an unknown diecaster in China. As pictured above, the Tai Cheong Sierra is a blue XR4i with a plastic base, amber-tinted window glazing and no interior. Yet in spite of its "economical" build, this model somewhat compensates with an accurately shaped upper diecast body casting that incorporates the mandatory dual rear spoilers. The other model is completely generic with no manufacturer's name listed on the base; however, it is worth noting that this miniature is unique as apparently the only 3-door Sierra casting made in small scale that is not an XR4i. Constructed similarly to the Tai Cheong, this cheaply built miniature has been appearing at Big Lots stores in promotional Pepsi Cola packaging for a $1, that, when compared to the quality available for the same amount of money in a number of other brands, is far too expensive.
And here we end our review of small scale Ford Sierras. Upon its introduction, this new Ford was a bold step into the stylistic future and while it would take some time and further development for it to become a true performance car, the Sierra served both its maker and owners well for many years. However, it is difficult not to note how oddly skewed the miniatures of this car were: either XR4i coupes or 5-door hatchbacks and almost nothing else. While the XR4i is an obvious choice for a model, one has to question why no one bothered to turn out a diecast version of the fire-breathing Cosworth variants. Perhaps the only explanation is that they appeared late enough in the life of the Sierra that most manufacturers were more interested in offering models of completely new cars as opposed to heavily re-engineered pre-existing ones.
Matchbox 15 Ford Sierra XR4i
Matchbox Superfast 15 Ford Sierra XR4i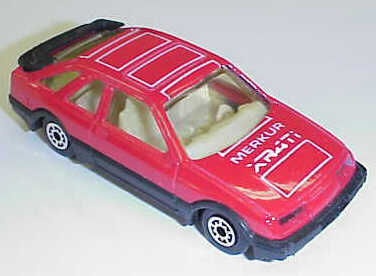 Maisto/M.C. Toys 8441 Ford Sierra XR4i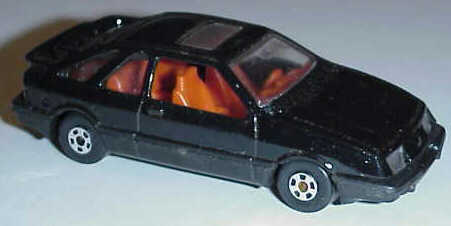 Buby 1250 Ford Sierra XR4i

Corgi Juniors 129-A Ford Sierra


Hot Wheels Ford Sierra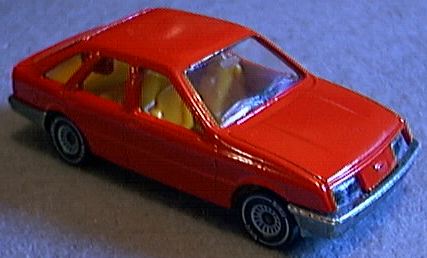 Siku 1056 Ford Sierra 2.3 Ghia


Guisval Ford Sierra

Majorette 272 Ford Sierra

Welly Speed Wheels 8376 Ford Sierra XR4i

Tai Cheong 8834 Ford Sierra XR4i
Generic Ford Sierra 3-door Hatchback