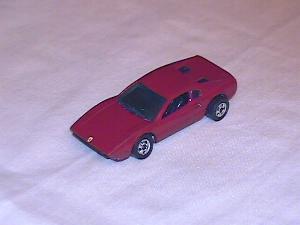 Ferrari 308


Stock Cars


Ferrari Testarossa targa


Pontiac J2000
As a child I grew up with toys (like most kids), and like every young boy I started to be creative in modifying my cars to be more attractive and appealing. But as a child you end up making a mess and your cars look so bad that they end up in the trash or sent to some unfortunate kids across the word (through charity) and here is where my story starts!!.
I live in Amman, Jordan, in the Middle East, and here it is very hard to find any good quality toys and die cast cars! Because it is to expensive (average yearly income is $1650.00), for me as mini collector, I go to extremes to get some nice die cast cars. I look some time for old toy stores if they have some on the shelve and most of the time I go to the swap meets were every thing used and old is sold, and I start looking for my little cars. They sell for about $.15-$.75 depending on who is selling and the condition.
Most of the cars I get are older Hot Wheel, Matchbox and Corgi models, so these beaters make a good starting point to make a nice car. It all started with a Hot Wheels VW Bug, The roof was smashed but the rest of the car was in good condition. With simple tools and paint, I removed the rest of the top and painted the car with a Mercedes-Benz touch up paint I had and I liked the end result. From this point I started taking the cars apart, sand them and paint them with different colors. One step further, I started modifying the cars like using "fat" wheels from Majorette cars on Matchbox models like the Charger and the Ferrari 456 which became "GOLD NUGGET" models. Take a look at the Ferrari 308. I not only repainted it, I also tried to draw the black horse on the nose and I made the chrome shifter inside the car too!
One step further was making one of a kind cars. Take a look at the HW Pontiac J2000. It became white with tented side windows and best of all a "red line" look alike wheel (no way I can afford a nice red line). Or consider the poor Jaguar XJ from Corgi, it became a 4 door convertible. To top it all, I just finished the HW Ferrari TR that is a convertible with a hard top. I love this car.
Now you my say, well it is not the best rebuilding or painting, but remember that all this was done with almost no tools or good quality paint. As I was making a research on the internet about this topic I was stunned to see what the pro's do and now I am in the process of getting an air brush because I have seen some beautiful work done by them.
.

One final note to my friends who reads this story, before throwing your beaters take a second look at them. You just might have a few cars worthy to be "BORN AGAIN".
Porsche 910


Gold Nugget Models


VW Beetle cabriolet


Jaguar XJ6 cabriolet