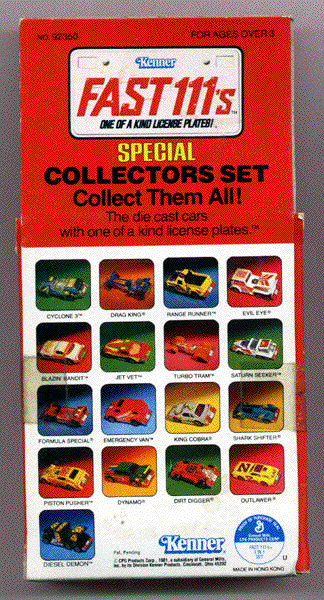 Back of 3-pack (courtesy Dan Flarida)


Blazin' Bandit

Cruiser Bruiser

Cyclone 3

Drag King


Dynamo
Most major toy makers have had a diecast toy car line at some time. Some have been short-lived and over time, that makes them collectible. Twenty years ago, Kenner, was one of the key players in the toy industry. Kenner had not been active in the diecast car market and decided to offer a product that would compete with Hot Wheels, Matchbox and other 1:64 scale models.

Kenner's new product was called Fast 111's and they offered a gimmick that was new. Each model had an extended rear bumper with a tiny license plate sticker that actually had numbers and the name of a U.S. state. In theory, each model could have 50 license plate variations although it may be that not all models received plates for each state. Perhaps these toy cars could even cross-over and appeal to license plate collectors.

In 1980, 16 cars were produced with 39 different models by 1982. All 39 models had the rear plates. All of the models had plastic bases but some were black and some were chromed. The wheels are very basic and similar to those used by Yat Ming. The metal bodies are reasonably well-detailed but few are examples of actual vehicles. No automotive makes or models are noted on the base and while each vehicle has a name (see below), these only appear on the bases of a few models. The bases do credit CPG prod. Corp and Kenner Prod. of Cinty, Ohio, 45202. Curiously, all the models bear the No. 1027. The extended rear bumpers do not improve the looks of the cars and perhaps for this reason, Fast 111's never posed a serious challenge to the industry leaders.

By 1983, Kenner pulled the plug. Today, a small number of collectors are beginning to seek out these curious cars and it is getting more difficult to find them in top condition. Several Web sites are dedicated to the Fast 111's models. One excellent site is provided by Dan Flarida and can be found at <http://www.flarida.com/Fast111s/>. His site was particular helpful in preparing this article and provided the list of models shown below.

Values for Fast 111's are not too high with mint-in-package models going for $5-7 and loose models in the $1-2 range. The trick is finding all the models. My collection features 13 of the 39 models however I did trade one of the models, a Triumph TR7 and have not found a replacement. The following is a list of model names, showing the type of vehicle represented where information is available.

1. Blazin' Bandit - 1980 Pontiac Firebird Trans Am with side-pipes
2. Blue Monday
3. Cam Rammer - Porsche 917
4. Cruiser Bruiser - 1981 Chevy Blazer in police decals with lights
5. Cyclone 3 - fantasy car with 'NA217' on sides and top
6. Diesel Demon - Semi-Truck racer
7. Dirt Digger - dirt-racer
8. Dizzy Lizzy - fantasy car with checked fins
9. Drag King - dragster
10. Dynamo - 1980 BMW 320i in GT/racer form with rear wing
11. Emergency Van - Emergency Van
12. Evil Eye - Semi-Truck racer
13. Formula Special - race car
14. Gravel Grinder - Jeep CJ5
15. Hurricane
16. Jet Screamer
17. Jet Vet - 1980 Chevrolet Corvette with side-pipes
18. King Cobra - 1980 Ford Mustang Cobra with side-pipes
19. Master Blaster - 1981 Ferrari 512BB GT/racer
20. Mighty Mule
21. Outlawer - Chevrolet Camaro Z28 estate wagon hot rod
22. Pipe Dreamer - 1981 Oldsmobile Cutlass 442 drag-racer
23. Pipe N' Hot
24. Piston Pusher
26. Rallye Champ - Audi Quattro
27. Range Runner - Pick-up Truck
28. Saturn Seeker - fantasy car
29. Shark Shifter - shark-like fantasy car
30. Shiftin' Chevy
31. Shooting Star
32. Sporty Shifter - 1981 Porsche 935 GT/racer
33. Stock Shocker
34. Street Boss
35. Super Coupe
36. TR Terrific - 1980 Triumph TR7/8
37. Turbo Tram - 1980 salt-flats racer
38. Turbo Turret - 1981 finned fantasy car
39. Twin Tank Turbo

If you can help with the descriptions of the models shown above, please send an e-mail.

Are Fast 111's ever going to compete with Hot Wheels or Matchbox in the hearts of collectors? Don't bet on it. Their short shelf life and distracting rear bumpers are unlikely to make these toy cars very popular. Still, as we hit the 20 year mark, it is fun to look back at Kenner's early-1980's bid for a slice of the diecast market.
Formula Special


Pipe Dreamer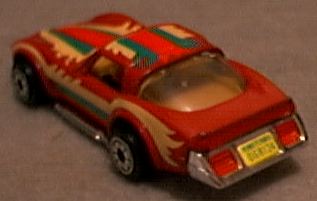 Jet Vet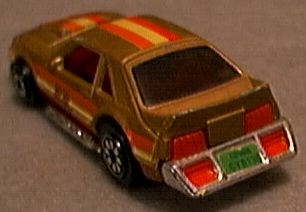 King Cobra


Master Blaster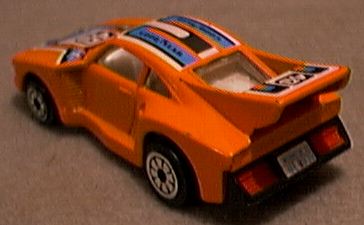 Sporty Shifter
Turbo Tram

Turbo Turret