1972 BMW 3.0CS


1980 BMW M1

1980 BMW M1 Group 4 Racer

1984 BMW 323i Baur Cabriolet Alpina
2000 BMW 328 Coupe
While BMW has been a key player in the automotive marketplace since the 1920's, it is only in the last 30 years that they have become a a fixture in the world of 1:64 scale cars. It is interesting to note what the earliest BMW model was for different toy car manufacturers. Hot Wheels' first BMW was the M1 of 1979 while Tomica did the 320i of 1977. Majorette did the 3.0CS of 1972 with Siku doing the earlier 2800CS of the late 1960's (a plastic Isetta was done by Siku before 1964).

While Matchbox has been doing toy cars since 1952, it took over 20 years for the first BMW to be added to the line. In the past 20 years, Matchbox has more than made up for their slow start by offering nine BMW models through the 2000 year. Many collectors were surprised to see two new BMW models out this year from Matchbox, the 328 in both coupe and sedan form.

The 1972 3.0CS was one of the last Matchbox models produced in England by Lesney. While the car represented was first built in the early 1970's, Matchbox waited until the end of the decade to produce a toy version. The silver model shown is a more recent Hungarian issue from the original casting, note the newer wheels. While this is not the most accurate casting offered by Matchbox, it has a certain charm.

The mid-engine M1 super car built by BMW in 1979-80 was a favorite of many toy car manufacturers. Matchbox originally did a street version of this car with a tiny, opening luggage compartment. This same casting was used for a Group 4 racer with air dams and spoilers. The 323i Cabriolet by Baur was offered in 1985 and one version sported Alpina markings. In 1989, Matchbox offered the new 5 Series sedan with both stock and touring car paint schemes. In 1992 the V12 850i was produced and has only recently ended production. The Z3 roadster was added in 1994 and has now been joined by the 328 coupe and sedan.

It is truly a surprise that no toy car manufacturer has gone back to do the classic 327 or 328 models of the 1930's. The beautiful 507 of the 1950's is also missing. Hot Wheels recently offered the Isetta but in a wild dragster version. Johnny Lightning will soon offer the Z8 roadster and BMW's SUV will surely be done by someone. After a slow start, it seems that BMW is now a very popular choice for toy car makers.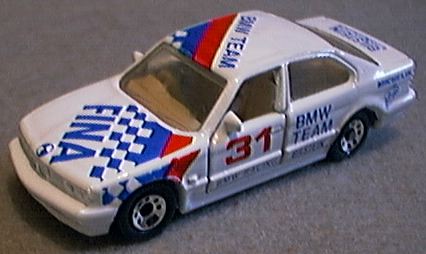 1989 BMW 5251


1992 BMW 850i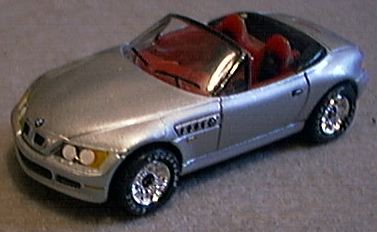 1996 BMW Z3

2000 BMW 328