"Goldeneye" 1995, Aston Martin DB5, Johnny Lightning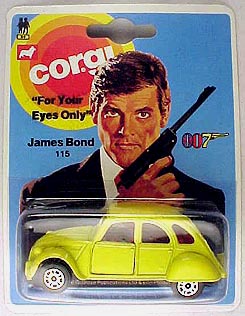 "For Your Eyes Only" Citroen 2CV, Corgi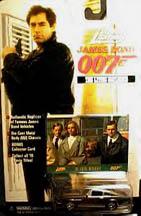 "The Living Daylights" Aston Martin Vantage, Johnny Lightning

"Goldfinger" 1964 Ford Mustang, Johnny Lightning


"Octopussy" Range Rover, Corgi

"Rocky II" Pontiac Firebird Trans Am, Road Champs


"Six Pack" Camaro Stocker, Ertl
He presses a button and a section of the ceiling lowers to reveal a BMW Z8. A man in a white coat is loading a missile into one of the headlamps. He then steps off the platform. 'Q' gestures to him and introduces, "007, my Deputy Assistant. I'm grooming him to follow me."
007 quips to Man, "That would make you...'R'"?
"Ahhh, the rampant 007 wit. I, of course, am laughing inside. But I dare say you've met your match in this machine." Guiding a tour of the car, 'R' continues, "The absolute latest in intercepts, surveillance and countermeasures. Titanium plating and armor, a multi-tasking heads-up display. Completely indestructible. All in all, rather stocked."
"'Fully loaded' I think is the term." 'Q' adds as 'R' pats the fender. "He's pretty damned fond of his machine."
'R' beseeches Bond, "Do take good care of her."
That's our introduction to the beautiful BMW Z8, seen throughout the movie "The World Is Not Enough," 1999, starring Pierce Brosnan and Sophie Marceau. Without a doubt, the James Bond sequence of movies offers the most enthralling array of automobiles in the history of film. This month's story is the second in a compilation of five articles addressing vehicles replicated in 1/64 scale diecast and inspired by American movies and television. I have grouped the James Bond movies together and all replicas alphabetically by show title.
If, in the past, Corgi and Ertl produced the best variety of diecast cars from the silver screen, then Johnny Lightning (JL) must be lauded for its present dedication to vehicles of this type. In 1998, JL released the first issue of its 'JAMES BOND 007' series. Eight new castings represented ten 007 movies and each blister pack sported one of five different bonus photo cards for that movie. Most replicas were reasonably accurate and finely crafted considering the retail price of about $3 each. All the JL releases mentioned here can come with a surprise substitute casting, or 'White Lightnings,' in the regular blister card. 'White Lightnings' differ from the regular casting only in that they enhanced with special tires bearing that name in white letters and sport white bases or other 'white' peculiarities.
Who could forget the miraculous escape performed by a powerful red fastback as it careened through a Las Vegas alleyway on two wheels? JL copied that stunt-performing 1971 Ford Mustang, from "Diamonds Are Forever," 1971, starring Sean Connery and Jill St. John. Of course, the chasers did not make the squeeze and Bond got away. In the same series, JL must have replicated the diminutive Sunbeam Alpine convertible from "Dr. No," 1962, with Sean Connery and Ursula Andress, because it was involved in 007's first ever car chase, a pursuit in which the trailing car burst into flames at the bottom of a ravine.
If Connery was most associated with the Aston Martin, then Roger Moore's trademark vehicle would be the British-made Lotus Esprit. For all practical purposes, there are two distinct body styles of the Lotus Esprit. Italian design studio Giugiaro created the doorstop or 'wedge' version typical from 1976 to 1980 and the Lotus Turbo Esprit (1981-1987) in which the crisp edges of the wedge were softened greatly. Then, for 1988, designer Peter Stevens (of McLaren F1 fame) modernized the entire design inside and out (though it still looked a lot like the Turbo - are you confused?) and that exists pretty much unchanged today.
In the beginning of "For Your Eyes Only," 1981, a white Lotus is blown up by its own overzealous anti-theft device. That white car represents the Lotus Esprit wedge from "The Spy Who Loved Me," 1977, and leads us to the newer, though still Giugiaro, copper red Turbo seen throughout "For Your Eyes Only." JL's casting has many details (less ground effects, swooping metal crease above front bumper, hood indentation, etc. - you still confused?) more like that of the Stevens Esprit. But let's give JL credit and say their casting is of the Turbo. Then, JL erroneously used that same casting for the white 'wedge' in the 1977 movie.
Equipped with a twin turbo-charged 4 cylinder motor capable of generating 360 horsepower, the actual Lotus Esprit vehicle in "The Spy Who Loved Me," 1977, could reach 165 miles per hour - on land. Its most prized ability, however, was converting into a submarine. Using the submersible function, one could travel at around 22 knots and command a full-screen radar, a periscope, an underwater rear smoke releaser, a harpoon gun, and a vertically launched surface-to-air missile!
Again, in its first James Bond series, JL used one casting to represent two cars: the original Aston Martin DB5 from "Thunderball," 1965, and the silver DB5 outfitted with a fax machine and champagne holder from "Goldeneye," 1995. JL should have placed better wheels on both replicas but the casting is passable. In "GoldenEye," starring Pierce Brosnan and Izabella Scorupco, we see the first famous Bond car from "Goldfinger" and "Thunderball" back in action with a new modification: high powered rear-firing water jets. The chase, however, is actually a race in which 007 in the Aston Martin battles against Xenia in a Ferrari (a 355 if I recall correctly). As in "Goldfinger" and "Thunderball" before, the DB5 triumphs as the superior vehicle in all races.
Husky (Corgi) had an existing casting of the Aston Martin DB6 - not of 007 lore - which it fitted with an operating ejector seat (and a little man to be ejected) much like the full-sized 007 version and marketed as Bond's. In addition to the ejector seat, the original DB5 first appearing in "Goldfinger" as the magnificent 'Q' masterpiece had retractable .30 caliber Browning machine guns, bullet-proof shield, tire slashers, rotating license plates, smoke screen, oil slick, control console and other devices very difficult to incorporate in 1/64 size! The Husky label was renamed Corgi Juniors in 1969. Eventually, its DB6 (though still inaccurate for 007) received a plastic, instead of metal, base and sported the new whizzwheels.
Corgi Juniors made a copy of the Citroen 2CV from "For Your Eyes Only." When Bond's Lotus was put out of commission during a pursuit, 007 had to recruit Melina Havelock's 2CV, which got moderately battered in getting the job done. Moreover, this manufacturer produced a fairly accurate 'submarine' version of the Lotus Esprit (wedge) from "The Spy Who Loved Me," 1977." Years ago I had seen at a trade show a loose white version of a standard Lotus Esprit that Corgi (Rockets?) produced in 1985. It was not marked for 007 promotion, was quite gorgeous, and is very hard to find today. That Esprit could serve as an excellent street version Lotus from the 1977 spy movie. Also, for "Octopussy," 1983, starring Roger Moore Corgi Juniors manufactured a topless, red Range Rover with horse trailer and the Acrostar Mini-Jet that stores in the trailer when it is not flying.
JL's 007 release included, too, the white 1964-1/2 Mustang convertible from "Goldfinger," 1964, with Connery. By providing publicity through its movie exposure, "Goldfinger" may have helped boost sales of the newly released Ford 'pony-car' at that time. Certainly, it did not hurt and Mustang became an instant sales winner.
JL copied the Aston Martin Vantage (sometimes mistakenly referred to as the Volante) from "The Living Daylights," 1987, starring another newcomer, Timothy Dalton. Equipped with lasers, missiles, turbo boost, ice gripping tires, outrigger skis, and a 5.7 litre supercharged V8 engine making 480 horsepower, the Aston Martin Vantage could go from 0-60 mph in 5.2 seconds and reach a top speed of 168 mph. In "On Her Majesty's Secret Service," 1969, in which George Lazenby made his first and last appearance as Mr. Bond, it's Tracy's brand new red 1969 Cougar we see out-maneuver both Blofeld's goons and the entrants in a box car race! If Corgi made any 1/64 vehicles from this movie I was not able to uncover them.
The white Toyota 2000GT convertible seen in "You Only Live Twice," 1967, with Sean Connery and Akiko Wakabayashi is the last replica of the JL first release and was a rarity in the auto world. Toyota never mass-produced a convertible 2000GT. When Bond is saved several times by Aki driving the custom 2000GT convertible, a television monitor within the car is visibly featured.
This Fall 2000, we will witness the release of JL's second release in the 'JAMES BOND 007' series and, unfortunately, it will consist mostly of existing, though fairly accurate, castings. JL will use the current Aston Martin casting probably for the similar 1964 Aston Martin DB5 in "Goldfinger," 1964, and an existing 1965 Mustang convertible (top up) for "Thunderball," 1965. Offerings are sure to include its off-the-shelf (guessing) 1957 Chevy Bel Air from "Dr. No," and its 1980's (I hope not the 1995 as some retailers have announced!) Chevrolet Corvette for "A View to a Kill," 1985. Perhaps, the only true new castings will be the well-equipped BMW Z3 from "Goldeneye" and the splendid Z8 mentioned at the top of this article from "The World Is Not Enough."
Herbie was a cute little Volkswagen Beetle that starred along with Dean Jones and Michelle Lee in "The Love Bug," 1969. Subsequent films include "Herbie Rides Again," 1974, "Herbie Goes to Monte Carlo," 1977, and "Herbie Goes Bananas, 1980, none of which, I hear, were as good as the first. Hotwheels recycled its 1988 casting of a 1964 (or prior) VW body style while Herbie is definitely the popular beetle from 1965-67 distinguished by greater glass areas. I have not seen the packaging nor do I know when the HW Herbie was released, which would make me believe that it was a special limited edition.
After the success of "Rocky," it seems everybody wanted to get on the bandwagon. Road Champs produced a replica of the 1979 Pontiac Firebird Trans Am from "Rocky II," 1979, with Sylvester Stallone and Talia Shire. Then, Ertl duplicated in miniature the four-door Maserati Quattroporte from "Rocky III," 1982, again starring Stallone. The Maserati movie replica is blue with white movie tampo. Moreover, Ertl used this casting in the "Matt Houston" TV lineup, to be covered under television cars. As with most makers, one release may propagate castings for use in other releases. Brewster Baker drove a 1981 Thunderbird racecar and a 1970's Camaro stocker in "Six Pack," 1982, starring Diane Lane and Kenny Rogers as Baker. Ertl created fairly well in 1/64 scale the red Thunderbird and not as well the white and blue Camaro with red "#48" tampo and stripe.
"Smokey and the Bandit," 1977, became a run-away success for Burt Reynolds, Jackie Gleason, and Sally Fields. Ertl, in 1980, and, more recently, Matchbox in its 'STAR CAR COLLECTION' of 1998 both came out with their versions of the 1977 Pontiac Firebird Trans Am from the movie.
Corgi Juniors cast the Supermobile, Ford Econoline van and Leyland Terrier Daily Planet delivery truck from "Superman," 1978, starring Christopher Reeve and Marlon Brandon. The Leyland truck was most likely a British implant for the movie and Corgi may have reused an existing Corgi Junior casting and given it a Superman tampo just to satisfy its British customers.
And that sums up the replicas of movie cars that I could find. This is a 'work in progress' and I am uncovering new pieces all the time. So, please email me with your submissions and attach a picture of the vehicle if you can. The fifth and last installment will include updates, additions, pricing, and clarifications. In the next two months I will describe alphabetically by show title the long-awaited television replicas. Some pieces you may already know and others will surprise you.