BMW
During the 1960s: A Time of Triumph and Revival
by Brian Willoughby, images by Doug Breithaupt
In order to penalize BMW for its participation in the German war effort (as a supplier of motorcycles and aircraft engines), two of the victorious Allies plundered the remains of its engineering department in order to collect war reparations. In an attempt to squash the Bavarian company, the Russians eagerly seized BMW's motorcycle designs while the British Bristol Aeroplane Company pilfered the company's automotive blueprints. In another crushing blow, BMW's only car manufacturing facility would soon find itself located within the Russian-controlled Eastern Zone of Germany which effectively terminated the Munich-based company's claim to repossessing the plant. To make matters worse, the East German factory briefly produced a handful of new cars using remaining pre-war tooling under the moniker of "EMW" before Munich forced the operation to cease the manufacturing of the hijacked designs. Although EMW was stopped, the car and motorcycle designs "acquired" by the British and Russians from BMW remained in production for years: Bristol is still quietly hand-building exclusive sports cars for wealthy individuals while Ural continues to turn out brand new antique motorcycles centering around BMW's unique shaft-drive system.
After emerging from its immediate post-war turmoil, BMW seemed to drift along without a clear direction prior to attempting a return to its pre-war position within the German automobile industry hierarchy. During the 1930s, BMW had elevated itself into a niche among the world's automobile elite as a lofty producer of well-engineered, high performance sports cars such as the legendary 328. Once the war concluded, BMW laid out plans to reclaim its rightful place within the automotive world only to find that it was facing a considerably more difficult task than it had envisioned.
Forced austerity was the rule in post-war Europe and particularly in Germany where the market for automobiles of any type was severely limited. Large, luxurious cars with powerful and inefficient motors were simply unacceptable; rather motorcycles and "bubble cars" were deemed a more appropriate means of transit where public transportation or one's feet could not be made to suffice. Surviving off of sales of its motorcycles in the meantime, BMW did not introduce its first post-war car until 1951 and in spite of the current European automotive climate, the new 501 was a large, prestigious sedan with overtly baroque styling. Based on the same chassis as the 501, BMW's next new model would be the 502, a car which would have the distinction of placing Germany's first V8 engine into series production. As might be expected, neither of the big BMW sedans sold well in Germany or abroad yet Munich continued to push forward with ever more aggressive and artfully engineered designs that would eventually lead to the exclusive 503 coupe and the stunning 507.
All the while, profits from BMW's successful motorcycle operations kept the company solvent. Yet to supplement the exclusive luxury sedans and beautiful sports cars with a more profitable line of vehicles, BMW opted to enter the world of bubble car production by manufacturing the Isetta under a license granted by its Italian designer ISO. At the time, the bubble car trend was sweeping Europe, littering the streets with oddly styled vehicles that were a cross between motorcycles and proper cars. The post-war European attraction to bubble cars was not hard to understand: they were small and easily maneuvered, they were inexpensive and some, such as the Messerschmitts, offered a high level of performance. Yet for BMW, bubble cars, motorcycles and high-end, hand-built limousines and roadsters would nearly destroy the company.
The end of BMW almost came during 1959 when the company was forced in bankruptcy due the overwhelming costs of engineering, developing and producing its line of "500" models (i.e. the 501, 502, 503 and 507). Stuttgart-based rival Daimler-Benz, which, through careful management had survived the post-war years in good financial health, was eager to purchase the remains of the Bayerische Motoren Werke in order to increase its production capacity. Yet the buyout attempt was thwarted by two wealthy industrialist brothers, Herbert and Harold Quandt, who had recently acquired a large stake in BMW through their holdings in other manufacturing concerns and decided to have a go at automobile production. Fortunately for BMW, the Quandt family was serious about its future and their vision would help rejuvenate the dying company by reshaping its products and corporate image.
Introduced in 1959, prior to he Quandts gaining control of the company, the BMW 700 sedan became the unlikely salvation of the firm. Although clearly an interim step between the Isetta and a later, "real" BMWs, the two-cylinder, rear-engined 700 established several BMW hallmarks and traditions in styling (a number of cues first seen on the 700 are still in use on current BMWs) and engineering (where its semi-trailing arm rear suspension would be used as the basis for a completely new line of front-engined, rear-drive cars.) Learning from and developing upward from the 700, BMW's engineers unveiled the "Neue Klasse" (New Class) of sporting sedans to the world in 1961. Initially consisting of the four-cylinder, single overhead camshaft powered 1500 and 1800, the New Class models featured smart, contemporary styling, efficient and modern engines, roomy and ergonomically designed interiors and sports-car like handling. Of course, the new cars were an immediate and deserved success and from their introduction forward, BMW would never have live in fear of another bankruptcy.
Augmented by the 1600 and 2000 sedans during the mid-1960s, BMW would go on to introduce the model that would be its breakthrough in the American market in 1966: the 1600-2. Hitherto known primarily for its outstanding motorcycles in the United States, sports car aficionados took note of the glowing reviews of the boxy little German coupe appearing in the American automotive press and before long, BMW had another hit on its hands. (The confusing nomenclature referred to the car's two-door body style; the four-door 1600 became known as the 1600-4 at this time.) The newly found success allowed new model development to continue at a rapid pace in Munich and several new models would appear during the 1968 model year. Initiated by its American importer's request for a more powerful engine to offset pending emission control legislation, BMW installed its 2-litre engine from the 2000 sedan into the 1600-2 body-shell to create one of the most idolized BMWs of all time: the beloved 2002. Also appearing that same year were the first six-cylinder cars to appear within the New Class: the impressive 2500 and 2800.
In between the sports sedans, BMW debuted a striking new coupe based upon the 2000 sedan's mechanicals; logically, it was christened the 2000CS. Featuring BMW's coupe trademark of a pillarless roofline, the 2000CS presented itself as a car of simple yet haunting beauty which peacefully coexists with both its predecessors and successors in spite of several non-traditional styling points such as its use of flush-mounted headlamps rather than the time-honored round lenses. Later, during the all important year of 1968, BMW released a new coupe utilizing the same basic powerplant found in the big six-cylinder sedans. While clearly paying homage to the preceding 2000CS, the new 2800CS was a wonderful car that dispensed with certain aspects of the earlier car's styling that many traditionalists had found controversial and returned to the familiar round headlamps forever associated with BMW.
Up until the 1960s, few diecast manufacturers outside of Germany had taken notice of the Bayerische Motoren Werke and even when companies such as Marklin did offer a BMW in its lineup, they were typically scaled to a scale larger than 1:64. However, as fortunes began to change for BMW, several diecast toy manufacturers responded by bringing out miniatures of the actual cars that were becoming so popular.
Unquestionably the best small scale BMWs were those produced by Schuco within its 1:66 range of miniatures. The first of many BMWs issued by Schuco was a painfully accurate model of the 1600-2 which, when painted a different color and granted a new catalog number, doubled as a 2002. Next, Schuco turned its attention to the new big, six-cylinder sedans and gave the toy world another outstanding model of the 2500 (and, concurrently, the 2800). The final Schuco model of a BMW originally placed on sale during the 1960s, was its miniature of the 2800CS. Although an overall good model, it is let down by inaccurate roof pillars between the passenger's door and rear side windows; of course, it is hard to find any significant fault with either the full-size car or Schuco's miniature. All of these Schuco BMW models came equipped with opening doors and well-selected paint schemes that matched those used by the factory.
In Hong Kong, Playart made a high-quality miniature of the 2002 which, although having no opening features, was a particularly well-proportioned model except for oversized wheels. Another early Playart model of a BMW is that of the mysterious Spicup show car. Bizarrely styled, the real car never (some would say thankfully) progressed past the prototype stage; the model is almost as rare as the actual car and finding one with its removable roof still intact can present another additional challenge. Yat Ming, who was also manufacturing in Hong Kong at the time, offered a tasteful model of the 2500 that is somewhat of a rarity on today's toy market. A static model without nothing to open, this model is sadly and frequently found with casting defects that can detract from this otherwise welcome addition to anyone's collection of miniature BMWs.
Considering the attractiveness of the car, it should come as no surprise that two different companies produced miniatures of the 2000CS. Of the pair of models, the Dutch-based Best Box (later Efsi) casting is superior in the degree of it subtlety it captures the actual car. Well made and accurate, Best Box models can easily be confused with Matchbox toys of the same period due to their obvious similarities; however, it would be several more years before Matchbox would unveil the first BMW within its catalog. Back in Germany, Siku modeled the 2000CS in 1:55 scale with opening doors. While a generally good model, be forewarned that this casting remained in production for many years and that later versions can be downright hideous with fluorescent window glazing, gaudy speed wheels and paint colors never applied to the real car. Essentially, opt for the earlier versions with standard wheels, soft, pastel paints and clear glazing for accuracy.
Another interesting Hong Kong model was Zylmex's 2002 Race Car with its large rear spoiler and widely flared fenders. Despite less than delicate details, no operating features, a rudimentary interior and crude paper decals, the model possesses a great deal of charm. Early versions were equipped with the small, almost balloon shaped wheel/tire combination found on almost all Zylmex models of the period yet later castings acquired larger diameter wheels that do little to enhance the car's appearance. Although this miniature was supposedly produced until rather recently, any version of it is challenging to locate, especially in mint condition.
Finally, what discussion of 1960s BMWs would be complete without at least a passing reference to the Isetta bubble car that was produced until 1963? Up until a few years ago, no one had ever produced a small scale diecast miniature of the Isetta and some would probably say that this is still the case. Nevertheless, Hot Wheels' "Whatta Drag" includes an Isetta superimposed upon a chromed drivetrain that overwhelms the tiny piece of zinc at the front. While certainly a conversation piece, this rather ridiculous toy offers little of redeeming value to ardent Bimmerheads or fans of accuracy.
Thus ends our review of 1960s BMWs in 1:64 scale. Perhaps some of the oversights will one day be corrected yet considering that the 507 has never seen the light of day in 1:64 scale, it is doubtful that anyone will ever take the time to manufacture a 600, 700 or a 3200CS. For now, collectors can fill their collections only from the models shown to the right.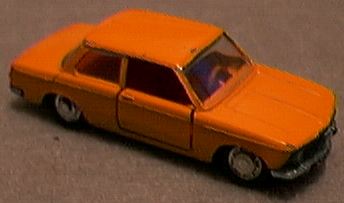 Schuco 808 BMW 1600-2, and
Schuco 809 BMW 2002



Schuco 829 BMW 2500 and,
Schuco 830 BMW 2800

Schuco 815 BMW 2800CS


Playart 7135 BMW 2002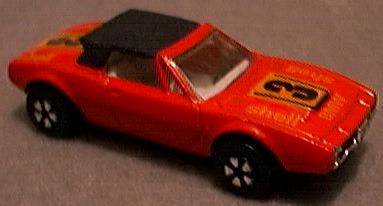 Playart BMW Spicup (show car)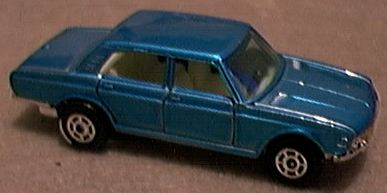 Yat Ming 1066 BMW 2500

Best Box/Efsi 2507 BMW 2000CS

Siku V266 BMW 2000CS


Zylmex BMW 2002 race car


Hot Wheels Whatta Drag [BMW Isetta]