Hot Wheels Racing
---
Hot Wheels Hydros
by Doug Breithaupt
Yes, I know this is 'Tales of Toy Cars' not 'Tales of Toy Boats' but I have a weakness for hydroplanes. Growing-up in Seattle, few boys can escape the sirens song of the hydroplane. Seafair brings the hydros to Seattle every year and kids of all ages love to see and hear these amazing boats.

When Hot Wheels first released their new Hydroplane model in 1996, it was an immediate addition to my collection. The metallic blue Hot Wheels Racing livery was very sharp looking too. The chromed turbo engine also featured the Hot Wheels logo. At that point I hoped that Mattel might offer the hydroplane in real racing colors.

As the next color I found was not encouraging. Instead of racing colors it was yellow with hot rod flames. Not even a racing number was offered. The yellow boat was followed by a white boat with blue waves and the words 'wet & wild'. The tampo was rather muddy and even worse than the flames.

Hydroplane color number four was a move in the right direction. A striking black boat was offered with a yellow canopy and gold and white tampo. A racing number '7' was featured on the right sponson. This one actually looked like a hydroplane, even if it did not actually represent a real boat. The Hot Wheels logo on the tail added a bit of color. Perhaps this design would be offered in other color variations.

The fifth hydro color was nautical but a bit of a stretch. Does anyone really think the Harbor Patrol would use a hydroplane? Maybe they could mount 50 caliber guns on the nose and sell it to the Miami Police Department. Drug runners would have a hard time out-running an unlimited hydroplane! Of course, this was not a bit closer to providing me with a racing hydro color scheme.

This past week, I found my sixth Hydroplane color. This one is white with an orange base and it features tampos for 'Oceanics Research Vehicle One - preserving nature is our business'. I guess if Jack Webb rate a hydroplane, why not Jacque Cousteau? In a pinch, one could pretend that Oceanics is a racing sponsor.

Where are the racing hydroplanes? The Hot Wheels NASCAR stock cars are not given light bars and police graphics although the poor Escort Rally Car has been subjected to this insult. I understand that Mattel is not allowed to release the Miss Budweiser or any other alcohol or tobacco sponsor colors. That still leaves many other unlimited hydros who have appropriate sponsors. Perhaps Mattel does not think that there are enough hydro fans to justify the licensing cost.

I am surprised that some of the unlimited hydro teams have not had Mattel run this casting in their colors for sale as promotional items. If that has been done, I've missed it. I suppose one could do a custom paint job but that would be beyond my skills. Come on Mattel, let's go boat racing!
Flames
Wet &
Wild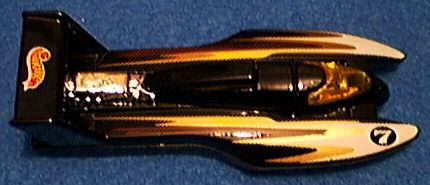 Number 7

Harbor Patrol

Oceanics