With legendary sports cars like the XK120, C-Type, D-Type, XKSS and E-Type to its credit, it is probably not too surprising that many people tend to overlook Jaguar's outstandingly competent saloons. Starting life as the Swallow Sidecar Company, Jaguar, the manufacturer later became known, was originally founded by William Lyons as a builder of motorcycle sidecars that would later migrate into producing coachwork bodies to cloth a variety of automotive powertrains. Despite changing the focus of its manufacturing by the late 1920s, S.S. did not produce a saloon completely of its own design until the arrival of the 1 1/2 and 2 1/2 Litre "Jaguar" models during 1935. Supplemented by the hairy 3 1/2 Litre in 1937, the production of these handsome, sporting and well engineered S.S. saloons was unfortunately suspended by the intervention of World War 2. As most other automobile manufacturers, the pre-war 1 1/2, 2 1/2 and 3 1/2 Litre models were temporarily placed back in production until a new chassis could be designed. However, the S.S. name was retired for obvious reasons in favor of the name used on some models prior to the war: Jaguar.
Largely a restyled continuation of the earlier, pre-war saloons, 1948's Mark V was a typical stop-gap post-war creation whose primary goal was to provide loyal Jaguar customers with a superficially "new" car until a completely new chassis could be created and placed into production. That entirely new car would appear for the 1950 model year: christened the Mark VII (there was no Mark VI in deference to Bentley's previous use of the designation), the big cat continued the pre-war tradition of a separate chassis and body yet in all regards was much improved with contemporary styling, outstanding handling for the period and the marvelous 3.4 litre XK powerplant that found such fame at Le Mans.
The basic layout set forth in the Mark VII saloons was a typically advanced Jaguar platform and it was well enough engineered, detailed and executed that it survived through two updated versions (firstly the Mark VIIM and later the Mark VIII) before being replaced by the final separate chassis big saloon, the Mark IX, in 1958. Offering substantial performance and status, the Mark IX remained in production for three years until a completely new line of design thought inspired by the small Mark 2 saloons would bring the arrival of the unitary Mark X. Sadly and shamefully, none of the historic early post-war Jaguar saloons has ever been made available in small-scale diecast.
1961 brought about one of the most controversial cars Jaguar ever built: the massive Mark X. Fitted with the 4.2 litre version of the immortal XK engine and a fully independent suspension, the Mark X was the biggest car Browns Lane had offered up to that time and it remains today as the largest ever of Jaguar's "big cats". As with most cars this size, the heavy Mark X's fuel economy was dismal and while it featured fine handling for such a hefty chassis, many found themselves being chauffeur driven. However, its styling is certain raise the ire of fervent Jaguar-philes: some find it pleasing and elegant while others note that the entire package appears simply overgrown and ungainly.
In spite of the car's love-it-or-hate-it looks, no less than three diecast manufacturers (the most ever up to this point) produced miniatures of the Mark X. While the front-hinged opening is a delightfully accurate touch, Matchbox's model of the Mark X is marred by undersized wheels that only seem to emphasize the car's mass. Husky presented not one, though several Mark Xs within its lineup: the earliest incarnation of the Mark X had a plastic baseplate and was considerably smaller than the metal-based model which replaced it. Having no opening features, Husky's Mark Xs were decorated in three distinct variations that were painted, plated or painted red and made into, with adhesive stickers, a fire response car.
Also in the United Kingdom, Lone Star brought collectors undoubtedly the best and most complicated miniature of the Mark X within its Impy range. Equipped with an opening bonnet and boot and opening front doors, the Impy Jaguar was, like the real car, a class act with accurate paint colors and even jewel headlamps. Finally, in New Zealand, the small and relatively unknown diecast manufacturer of Fun Ho! also produced a miniature of the Mark X that was reminiscent of early Matchbox models. Having no window glazing or interior, the rare Fun Ho! Mark X is a fine model except for its poorly shaped rear roofline. Although the Mark X later was relabelled the 420G, no 1:64 scale models ever directly corresponded with this later-day chassis.

---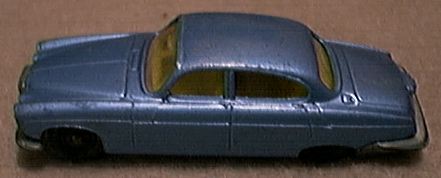 Jaguar Mk. X by Husky
Jaguar Mk. X by Impy
Jaguar Mk. X by Matchbox
---

Jaguar's first compact saloon chassis was introduced during 1955 and was offered in both economical 2.4 Litre or more spirited 3.4 Litre guises. Available with a extensive list of options that would eventually include such niceties as four-wheel disc brakes and both overdrive and automatic transmissions, the small saloons were an immediate and deserved success throughout the motoring world. However, the best was yet to come and in response to complaints concerning the earlier chassis' overly narrow rear track and limited rearward visibility, Jaguar unveiled the impressive and vastly improved Mark 2 in 1959. When equipped with the large 3.8 Litre XK engine, the Mark 2 bristled with performance characteristics that positioned it within a very elite group high-end European saloons and its abilities were well capitalized upon by both criminals seeking a high-speed getaway car and the police forces sent to capture the would-be thieves.
Despite the popularity of the small saloons, few diecast manufacturers responded to these Jaguars and small scale models of them are few in number. Interestingly, Matchbox would be the only diecast producer ever to honor both the Jaguar Mark 1 and Mark 2 3.4 Litre in small scale miniatures. Lesney's number 65-A was a model of the 3.4 Litre engined Mark 1 (compare the size of its window openings to those of the model which later replaced it) and like all other early Matchbox pieces, its shape and stance were accurate yet it was not yet equipped with either window glazing or an interior. Rare and pricey today, this model is still worth seeking out as the only 1:64 scale Mark 1. Replacing 65-A would be 65-B, a stately miniature of the Jaguar Mark 2 3.4 Litre that not only featured window glazing though also an hinged bonnet that opened to reveal a plastic molding of the legendary XK engine. Not as rare as its predecessor, the Mark 2 3.4 is still not a common model and while they are certainly available, locating a mint-boxed example will cost its perspective buyer plenty--somewhat like a nicely restored actual car.

---
Jaguar Mk. II, 3.4 by Matchbox
---
Within its short-lived "Rockets" range of miniatures, Corgi sold a most curious Mark 2 model festooned with rear handrails, a viewing platform in the boot and race official figurines precariously riding along. Intended as a vehicle for monitoring bicycle and automobile races or filming stills and motion pictures, this Rocket miniature with its unique removable chassis is one of the rarest within the series due to a limited production run. It is also interesting to note that, unlike many of the other Rockets models, this particular car was never reworked and integrated into the Juniors range.

---
Jaguar Mk. II by Corgi
---

Omissions seem to be the norm within the diecast model record of Jaguar saloons and such is the case for 1963's S-Type. Championed as a modernized Mark 2, the S-Type was bestowed with tastefully freshened styling and, perhaps most importantly, a fully independent rear suspension system adapted from the E-Type. Nevertheless, the S-Type never captured the imagination of the car buying public as the Mark 1 and Mark 2 had (the S-Type and Mark 2 being sold side-by-side for years) and somewhat consequently no diecast manufacturer ever bothered to offer a miniature of this very deserving and always under-rated car. Eventually, all the small Jaguars were renamed and, alas, none of these cars were modeled: the Mark 2 became either the 240 or 340 depending upon engine (the 3.8 Litre being deleted) while the S-Type morphed into the 420.

---
Jaguar XJ6 S1 by Corgi
Jaguar XJ6 S2 by Ertl
---

By the late 1960s, Jaguar's deserved success had led it to selling four different saloon models (the 240, 340, 420 and 420G) in dire need of rationalization. Amazingly, Jaguar decided to attempt to replace and supersede all four cars with a single new model named the XJ6. Although this may have seemed unreasonable and unlikely upon its introduction, the new XJ6 was such an accomplished car that it rendered all of its forebears irrelevant. Integrating the best styling points of the Mark 2, S-Type and Mark X, Sir William Lyons' XJ6 was at once both fresh and instantly classic and to prove the correctness of its design, it is continually mentioned among the most beautiful cars ever made (which is no small feat for a four-door saloon). Produced for 23 years with a wide variety of engines (Daimler variants were made until 1991), the classic XJ saloon is oddly missing in action from the catalogues of most diecast manufacturers during its lifetime. Only Corgi Juniors and Ertl would offer models of the XJ6 and happily both are winning miniatures. (It should be noted, however, that Guisval and Summer produced models of the two-door XJ coupe.) Corgi's model is of the Series 1 XJ6 and it features an opening boot and delicate lines brimming with taste and distinction. However, when seeking a copy of Corgi's XJ6 keep in mind that later versions ride on wheels with a slightly smaller diameter that are better scaled to the car and enhance its appearance. Appearing in its "Cars of the World" series, Ertl's XJ6 is patterned after the second generation Series 2 and carries a nicely done, front-hinged opening bonnet.

After 19 years and its struggles under British Leyland ownership, Jaguar was at last ready to introduce a replacement for its classic saloon and the original XJ6 chassis was succeeded by the new XJ40 platform (known as the XJ6 Series 4 on production cars) for 1987. Since Jaguar's engineers feared that Leyland would force it to install Rover's all-aluminium V8 in its cars as a cost-saving measure, they sabotaged the car's design such that only a Jaguar straight-six would fit within its engine bay. Many felt that the car's styling was, especially after the car it was intended to replace, uninspired and by the mid-1990s it was completely restyled and re-engineered to accept a V8 engine designed by Jaguar itself. In spite of the lukewarm reaction the XJ40 garnered, it went on to become the most heavily produced Jaguar saloon in small scale diecast.
Strangely absent from the Matchbox series since the Mark X model was discontinued, the 1987 XJ6 Series 4 has become one of the longest lived Matchbox miniatures. While early versions featured opening front doors, these were later dispense with while the range was enlarged with a police variation. Well proportioned, this model is still available in certain markets with generic British police force decorations. A similar model, Corgi Junior's XJ6 S. 4 was somewhat too long and wide yet with properly matched wheels its awkward shape became less obvious. As with Matchbox's effort, Corgi's S. 4 has been offered in both civilian and police guises and was later altered into a Hot Wheels model after the Mattel takeover of Corgi; while the Corgi variants are tolerable, the ghastly Hot Wheels versions are best avoided. On the continent, both French-base Majorette and German-based Siku have also generated S. 4 XJ6 models. Suffering from the same affliction as the aforementioned Corgi Junior miniature, Siku's XJ6 is also too long and wide yet makes up for its shortcomings through its superior quality of construction and opening front doors. Majorette's S. 4 is, for a welcome change, properly scaled and it also has opening front doors. And as is typical for miniatures of this particular Jaguar, Majorette also sells a police variant.
---
Jaguar XJ6 S4 by Corgi
Jaguar XJ6 S4 by Hot Wheels
Jaguar XJ6 S4 by Matchbox
Jaguar XJ6 S4 by Majorette
Jaguar XJ6 S4 by Siku
Jaguar XJ6 S4 Police by Majorette
Jaguar XJ6 S4 Police by Corgi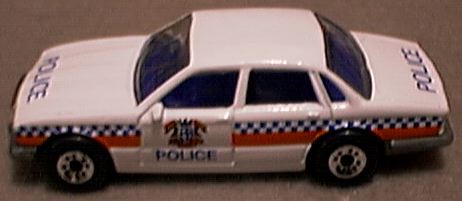 Jaguar XJ6 S4 Police by Matchbox
---

After being purchased from the British government by Ford in 1989, many Jaguar fans feared what the future might hold for their beloved cats. Ten years after the takeover, the first car completely designed under Ford's auspices, the new, compact S-Type appeared. Based on the same platform as the Lincoln LS and forthcoming Ford Thunderbird, the S-Type differs by being built in England and having detail touches that help to distinguish it as a Jaguar. Although the jury is still out on whether the new S-Type is truly a Jaguar, it has been eagerly accepted by the buying public and it has been quite a sales success for Ford. In recognition of its popularity and good looks, Welly has recently introduced the first small scale miniature of the car. Formerly known for low cost models that were largely copied from other manufacturer's products, the new Welly models are excellent and a great value for the standard 50 cent selling price in the United States.

Sadly, there are no other Jaguar saloons to discuss. Though if anyone at any of the many diecast manufacturers are listening, how about a model of the Mark VII which won the Monte Carlo Rally or the 1963 S-Type. And while you are at it, go ahead and offer new models of some of these classics that have not been produced in too long a time such as the Mark 2 3.8 or the original XJ6.

---
Jaguar 'S' type by Welly