Racing Champions - 1931 V16 Cabriolet



Hot Wheels - 1935 V16 Town Cabriolet



Racing Champions - 1949 Coupe de Ville



Hot Wheels - 1953 Eldorado (McDonalds)



Matchbox - 1955 Sedan de Ville



Matchbox - 1956 Eldorado



Hot Wheels - 1957 Eldorado Biarritz



Matchbox - 1958 Fleetwood 60 Special




Racing Champions - 1959 Eldorado Biarritz



Matchbox - 1964 SS Ambulance
Cadillac marketing has always been clear in asserting that they produce the top American luxury cars. It is an interesting theory that the success of real cars can be measured by how often these same cars have been reproduced in miniature. Using this standard, Cadillac has easily been produced in small-scale diecast more often than Lincoln or Chrysler's Imperial. At the same time, Mercedes-Benz has had more miniature reproductions in the luxury car segment than all the American luxury cars put together.

While many of Cadillac's most significant models have been reproduced in 1:64 scale, I have selected just one example of each model done. Only two pre-war Cadillacs have done in small-scale. The first is the magnificent 1931 Series 452 Convertible Coupe V16 by Fleetwood's Detroit plant (flat windshield). The five ventilator doors on the long hood identify the 452 C.I., 165 H.P.V16. Only 94 of this body style were produced at a price of $6,900 each. Racing Champions did a fine job with this model #249, including a detailed V16 under the hood and the even remembering the small golf club doors. The second model most closely resembles a 1935 Seven-Passenger Town Cabriolet V16 by Fleetwood, Style 5825. This Hot Wheels sold for $1 while the real car sold for $9050 in 1935. The casting is reasonably accurate and was first offered with black-wall tires. Later models sported white-walls.

In 1948, Cadillac introduced fins to the world and in 1949, a new overhead-valve V8 and the new Coupe de Ville pillarless hardtop were introduced. Racing Champions offered this landmark model in their Mint Editions line as #243. With an opening hood showing the new V8, this fine model is a delight to the eye.

Cadillac introduced the Eldorado in 1953 as one of a series of special GM cars. This milestone model has been done by Hot Wheels but only as a McDonalds promotional toy! The casting is in plastic with a metal base and is quite good except for the hot rod hood cut-out for the air-cleaner and the side-pipes. It's a shame that Hot Wheels never released this model as a regular issue with a diecast body. SS or Sunshine of China also did the '53 Eldorado.

New for 2001 will be two Cadillac models from Matchbox. They will be part of a 4-car Elvis Presley set and represent the 1955 and 1956 Cadillacs owned by the King of Rock and Roll. These images were taken at Matchbox New Jersey introduction of their 2001 line.

Hot Wheels is again responsible for another 1950's Cadillac in the form of the 1957 Eldorado Biarritz. This excellent model is well-detailed, as it should be for a price of $7.95. One of the earliest small-scale Cadillacs must be the 1958 Fleetwood 60 Special by Matchbox. First produced in 1960 as #27-C, this model is quite valuable today ($40 or more in mint condition) and can be hard to find.

The most recognized Cadillac of all time is the 1959 Eldorado Biarritz. Racing Champions has done justice to this icon of finned American cars although it has also been done by Hot Wheels and Road Champs. The Mint Edition model #78 is shown in wood rose color (I owned a wood rose '59 Coupe de Ville for many years) and also offers an opening hood to show the 390 C.I. V8. It retailed for $7401 in 1959 but has sold for over $100,000 on the collector market. Matchbox produced the 1964 Cadillac but in Ambulance form by SS. This model, #54-B was made in 1965.

One of the most impressive Cadillac models in my collection is the 1966 Fleetwood 75 Limousine by Siku, #V265. At 1:55 scale, this is a large model and it offers four opening doors in addition to front wheels that turn via a sliding bar on the front fenders. In mint condition, these models can fetch $200 and are a rare find today.

The 1967 Cadillac has been done twice by Johnny Lightning and both models are of a Cadillac Hearse. The first is a drag-racer featuring two Hemi V8 motors #PM508, the 'Haulin Hearse. The second is #612, a much more detailed casting that sports twin surf-boards and the moniker, 'Heavenly Hearse'. Also from 1967 is the new front-wheel drive Fleetwood Eldorado, shown as Hot Wheel's original Custom Eldorado casting from 1968. The '67 Eldorado was also done by Topper, Corgi, Impy, Marx and Tootsietoy. Playart did a nice model of the 1968 Eldorado (note the front fender lights) in a variety of colors.

Ertl's 1969 Cadillac de Ville Convertible was produced to represent Boss Hogg's car from the Dukes of Hazzard TV show. Even with steer horns on the hood, it is a good model. The 1973 Eldorado in Indy Pace Car colors was done by Johnny Lightning #482. The 1975 Fleetwood Brougham was done by Tomica #F2 and copied by Yat Ming #1053.

Cadillac's bustle-back Seville of 1980 proved popular with examples from Hot Wheels, Tomica, Yat Ming and Welly. The Hot Wheels models are quite valuable. The Allante roadster of 1987 was done by Matchbox, Majorette and Johnny Lightning. The model shown is from Matchbox Premier Edition line. Tootsietoy still offers a nice model of the 1992 Seville and Maisto offered the De Ville Sedan in 2000.

Cadillac has now signed an exclusive agreement with Mattel for production of small-scale cars. The Cadillac SUV and LeMans race car will appear from Hot Wheels in 2001.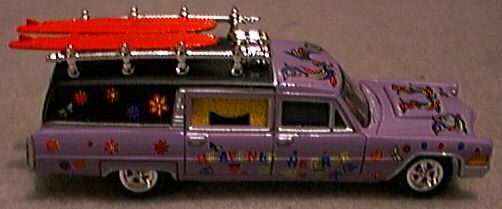 Johnny Lightning - 1967 Hearse



Hot Wheels - 1967 Fleetwood Eldorado



Playart - 1968 Fleetwood Eldorado



Ertl - 1969 De Ville Convertible



Johnny Lightning - 1973 Eldorado Cvt.



Tomica - 1975 Fleetwood



Hot Wheels - 1980 Seville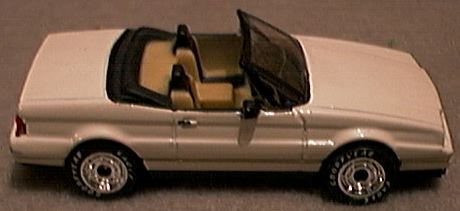 Matchbox - 1987 Allante



Tootsietoy - 1992 Seville



Maisto - 2000 De Ville Sedan