MBX's CHARACTER CAR pieces are quite nice - even if the cars may not be authentic. This is an endorsement only of the dolls attached to the vehicles, and as such should not be confused with diecasts at all, but should be classified as dolls because, at least, the dolls MUST show authenticity! And I don't collect dolls - do you? My point is that these items should not be confused with authentic show vehicles just because they sport the name. Well, I wish we as diecast collectors would not buy them - that's all.
Some new television diecasts that I have uncovered in the last few months include a Buby guncar, a Buby Maserati (repackaged regular line casting) from the TV series "The A-team", a.k.a. "Brigada A" (1983-1987) and, in addition to Ertl's 1981 Camaro, a Corgi 1957 Chevy convertible from "Simon & Simon" (1981-1988). Ken B. of PA alerted me of the Chevy and that Corgi may have, also, repackaged a redecorated version of its 1977 "Kojak" Buick casting as a police car for that TV series. Howard P. of ND sent me a picture of the box panel from a "Riptide" (1984-1986) set but could not supply any other information. This makes me believe that in addition to the 1960 Corvette, Ertl produced the red and white GMC pick-up truck pictured along with the Corvette and helicopter.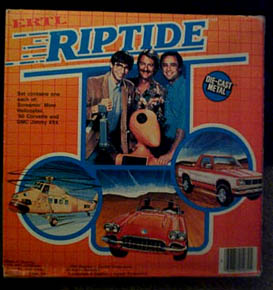 As mentioned in last month's article, Pamela Anderson's "V.I.P." TV series will be represented by JL - however, not by just three cars but by a Viper and five newly casted year 2000 cars. Plymouth Prowler, Mustang, Monte Carlo, Jaguar XK8, and Mazda Miata appear to be slated for both this show and the new MODERN MUSCLE line. "Buffy the Vampire Slayer" (1997-Present) starring Sarah Michelle Gellar will be represented by a four-car JL set which may include a 1950's Desoto. James F. wrote that most of Majorette's tie-in models to the "Dallas" TV show were painted inaccurate colors and that a Volvo wagon was never driven by Sue Ellen (Linda Gray) on that show. Also, the rumor mill has it that the custom Chrysler Imperial from "Green Hornet" (1966-1967), starring Van Williams and Bruce Lee, will be replicated soon in 1/64 scale.
Some newly uncovered movie castings include a Kidco Ferrari 308 authentic to "The Cannonball Run," 1981, and several Corgi offerings. James F. commented, also, that Corgi, for "On Her Majesty's Secret Service," 1969, made James Bond's Mercury Cougar convertible with a raised top and four skis on a trunk mounted ski rack, a Mercedes 280 SL with "Spectre" tampo, and a Ford Capri and a Ford Escort, both with rally logos. I could not locate anything pertaining to these pieces but all sound like they could be reworkings of existing Corgi castings.


.


Ertl will be releasing three cars for the movie "American Graffiti," 1973. I know the 1958 Chevrolet Impala is an existing casting, but the 1932 Ford Deuce coupe and 1955 Chevy are new. Not sure if these were part of the movie as depicted, but Ertl is making this set in both 1/64 and 1/25 scales. JL redecorated and repackaged its existing GMC van for last season's "Blair Witch 2," a movie I was warned was so poorly done that I would not survive watching it to verify the actors much less the vehicles.


.


In my previous articles I had neglected to mention Ertl's gold 1977 Pontiac Bonneville sheriff's car from "Smokey and the Bandit," 1977. This casting is the same one used later for the white police cars in both the "Dukes of Hazzard," (1979-1985) television show and "The Cannonball Run," 1981, as pointed out by me beforehand. The photos here show two of the more inclusive sets of the many combinations that have been marketed over the years for these two shows.
As for vehicles many of us would like to see, the list is long and varied. In the original "Superman" television series, reporter Lois Lane drove an old Nash Rambler convertible that resembled a bathtub on wheels. Many of us love all the old Ramblers, Studebakers, Packards, Kaisers, and Hudsons because they were easily distinguished from Ford and General Motors products from that time period. In an impromptu survey, six of my fellow collectors agreed that JL's HOLLYWOOD ON WHEELS (HOW) should undertake Ms. Lane's car. My brother has a lot of backing when he insists on Jed Clampett's old jalopy from the 1960's "Beverly Hillbillies" television show. He assures us that a new casting from either MBX STAR CAR COLLECTION (SCC) or JL HOW would do the job nicely.
Most everyone agrees with me that the metallic blue 1966 Ford Thunderbird convertible from "Thelma and Louise" (BEFORE impact, thank you) would make an excellent 1/64 scale casting. In "Thunderball," a white 1965 Thunderbird convertible with its top up and agents inside is shown following and then losing the bad guys. Either of these two cars would be acceptable, as it would be the first time that this particular Thunderbird body style, from 1964-66, would be replicated in this scale. We are split between JL's HOW and MBX's SCC as to which would be more successful with replication of Davis and Sarandon's dusty getaway vehicle, but think JL has the edge when it comes to copying BOTH T-birds. (You listening JL? JL? Hello?)
There are several Rolls and Bentleys on our list. In "From Russia With Love," a British luxury automobile is one of the few vehicles we see in this James Bond movie classic. After having been paged, Bond retrieved his message from a car phone in his Bentley - only about thirty years before both pagers and car phones became technologically mainstream. Bond trailed a Phantom III Rolls Royce by using his homing device in "Goldfinger." The significance here is that the Rolls had been plated in gold and painted over to make it the perfect smuggling apparatus.




And who can forget 007 pursuing Scaramanga in a very sleek Rolls Royce in "The Man With The Golden Gun?" By the time Bond and the local police apprehend him, Scaramanga is ready to take off with wings and a jet engine attached! Also, in "The Man With The Golden Gun," 007 and his old friend Sheriff J.W. Pepper, in pursuit of Scaramanga, stole an AMC Hornet off the lot of a car rental agency. Particularly memorable here is that this fast and flashy car performed Bond's legendary barrel roll with the aid of a broken bridge to leap across a river. With these vehicles and more that you may have thought of yourself, Johnny Lightning has a plethora of material from which to choose for its future HOW or 007 series! (JL? HelloJL? JL?)

Most collectors of character diecast are serious about the subject. Consequently, their knowledge of specific castings, packaging, the manufacturer, and, most of all, the TV show or movie will be vast. Though packaging, per se, is not as significant an entity to regular collecting, it is of utmost importance to this segment of the market. As you have seen, packaging will have the show's title, photos of the main actors and, often, will contain interesting information pertaining to the show itself.

Hence, packaging should be considered an integral part of this market for anyone desiring to maintain the highest value for his or her collection. In the television and celluloid segment, loose pieces in excellent condition can muster only 30-40% of the value of their unopened counterparts, whereas loose diecast replicas in general will retain about 50-60% of the value of the unopened packages.

.


Pricing individual pieces in this segment of the market can be very difficult. Most of the books I used to research this article simply did not cover the material well. They either concentrated on other areas of television or movie-themed items or were written over three years ago, in which case they could not have included the great number of recent pieces mentioned in my article. Sadly, they usually missed the older pieces, too. My greatest beef was that many resources did not think it necessary to even mention the size or scale! The only book which covered pricing adequately to some extent was Today's Hottest Die-cast Vehicles, by Elizabeth A. Stephan, Krause Publication, c2000. It was very up-to-date and could help if you were in need of a guideline.


Nothing printed on paper prepares you for today's newest method of acquisition. I follow Ebay auctions extensively and that forum has drastically changed pricing. Essentially, online purchasing has negated the problem of the purchaser being physically present at the point of sale, which has made a wealth of product, however limited or antiquated, available to entirely new and differing audiences. Consequently, the most sought after items are commanding exorbitant prices, often in a last minute electronic 'feeding frenzy'.


Moreover, online auction sites like Ebay.com, eToys.com, and Ubid.com have taken away the fine art of negotiation. Collectors love to bargain and inspect, but online, those who have the 'cold bucks' simply win out and prices escalate disproportionately. To be sure, diecast vendors and even our grandparents have begun abandoning their rectangular table fortresses and are learning how to manipulate the Internet to earn extra cash selling character vehicles!
My advice online is to know your limit by shopping at trade shows, diecast fairs and swap meets first. Compare products and prices from vendors and try to negotiate further with the vendor of your choice. If that does not result in a purchase, then go online. However, with attendance and sales at trade shows down markedly you might be able to secure a great deal on that desired item.




Well, this concludes my five-part series on television and movie diecasts in 1/64 scale. It was a lot of fun researching. Doug has set up a fantastic site. Thanks to the collectors who sent me emails offering information about the topic and their varied interests. And a special thanks for the support of my friends and fellow collectors like you for reading. (JL? JL? You there? Hello?)