.

2027 - Mercedes-Benz A-Class

---
All's Well At Welly
by Doug Breithaupt
Most diecast collectors will recognize the name of Welly. Perhaps best known for their solid 1:36 scale friction-powered cars and multi-vehicle sets, Welly is actually a producer of many diecast scales. Their 2000 catalogue includes 1:18, 1:24, 1:32, and our focus here, 1:60 scale.

Most recently, Welly has introduced their 2000 series cars. These are all unique castings to Welly and include a mix of new and classic vehicles. At the same time, Welly continues to offer their 8000 and 100 series cars. Many of these older 8000 and 100 series cars have been around for some time and owe much to the work of Tomica. While some of these older castings are unique to Welly, most appear to be copies of Tomica models. This is clearly not the case with the new 2000 series and Welly's new castings will certainly bring their 1:60 scale diecast to the attention of collectors in a new, and much more positive way.

In addition to the new castings, Welly has added new wheels and detailed painting to their 2000 series. They have also put their name and a product number on all the bases so we can track the models and identify their source. I have a number of favorites from the new line. Welly is the first to offer the new Jaguar 'S' type, #2035, in small-scale. The casting is excellent and one might mistake it for a new Matchbox model. It even sports a miniature Jaguar badge on the nose. The new Mercedes-Benz CLK Coupe is also offered as #2037. With the aid of a magnifying glass, you can read 'Kompressor' on the tail indicating that this is a supercharged model. Both Maisto and Matchbox have offered the Cabriolet version of the CLK and the Welly casting is easily as good or better. Perhaps the most interesting Welly model is the 1957 Chevrolet Corvette #2054. First, this is a very nice model with authentic 2-tone paint colors and correct Corvette badging. The truly unique feature is the wheels. They are two-piece wheels with a soft black tire over a chromed wire-like wheel, unlike the other new Welly models. Why this one wheel was used on the Corvette and not on other models is a curiousity. While there are plenty of '57 Corvettes in small scale, this is one of the nicer examples.

One suggestion for Welly. While they do provide painted detail for some lights on their models, this is very limited. Painting the head-lights and tail-lights would be easy as they are already painting other features during production. This addition would make their cars even better. If Welly could provide paint-work like that done by Real Toy, their 1:60 models would be truly impressive. Un-like Maisto, Welly is providing full interiors with clear windows, and yet they sell their models for the same price as the Maisto small-scale cars.

Welly also offers a selection of their 1:60 scale castings in two other variations. The 8100 series includes a pull-back friction motor, better paint detail, rubber tires and chromed wheels. The friction motors are small and do not detract from the authentic look of the model. Best of all, the tires and wheels make the cars look even better. The tires even include tread patterns. You can compare the difference between the two '96 Camaro Convertibles shown below. In addition, all the 8100 series cars are available with key chains attached (shown right). The key chain models may prove popular with owners of the same car in 1:1 scale.
| | |
| --- | --- |
| #8121 '96 Chevrolet Camaro with pull-back motor | #2021 - 1996 Chevrolet Camaro |
One other new Welly model is the 1968 Chevrolet Chevelle SS396. Only Johnny Lightning had done this car previously and Chevy/muscle car lovers will want the Welly casting too. It is nice to see that Welly did not just do another Mustang or Camaro. The wheels are again a bit different from other models. Another delightful Welly addition is the 1953 Chevrolet 3100 Pick-up. The casting is excellent and it looks just right. Chevy trucks from the 1950's are a rare item and this one will be popular.

In the U.S., Welly's 1:60 scale models are sold through Walgreens Drugs in their Speed Wheel series. At 2 for $1.00, they are an amazing bargain. Not all the new Welly castings are offered in the Speed Wheel series at this time. I have not yet found a source for the Welly models in factory-labeled packages but hope to do so.

Some collectors note that Welly and Maisto 1:60 scale models look quite simular. While at first glance, this may appear to be true, a closer inspection shows that all castings from both companies are unique. Since Maisto has decided to cut interiors and put tinted windows in it's closed models, the Welly castings are often of better quality overall.

Below is a list of all the Welly models currently offered in 1:60 scale. Some commercial vehicles, motorcycles and tractors have not been included in this list. The 100 series cars have opening doors or engine compartments. I am sure many collectors will be surprised at the variety and depth of Welly's product line.

---
Welly # - Vehicle Makes & Models 1:60 Scale

---


Alfa Romeo
2065 - 1999 Alfa Romeo Spider
Audi
2052 - Audi A4
2045 - Audi TT
8368 - Audi Quattro
BMW
2057 - BMW X5
2056 - BMW Z8
2039 - BMW Z3
2025 - BMW 328i
8364 - BMW 3.0CSL
8387 - BMW M3
8377 - BMW 325i Cabriolet
Cadillac
112 - 1981 Cadillac Seville
Chevrolet
2054 - 1957 Chevrolet Corvette
2053 - 1968 Chevrolet Chevelle SS396
2021 - 1996 Chevrolet Camaro
2050 - 1953 Chevrolet 3100 Pick-up
2048 - Chevrolet Silverado Pick-up
2023 - 1999 Chevrolet Corvette
2030 - Chevrolet Caprice Taxi
8365 - 1963 Chevrolet Corvette
8389 - Chevrolet Caprice Police
8232 - Chevrolet Pick-up Truck
8551 - Chevrolet 4x4 Pick-up
105 - Chevrolet Chevette
115 - 1982 Chevrolet Camaro
107 - 1981 Chevrolet Camaro
109 - 1984 Chevrolet Corvette
103 - 1974 Chevrolet Corvette
Chrysler
2043 - Jeep Grand Cherokee
2049 - Dodge Ram Pick-up
8372 - 1974 Dodge Coronet
8366 - 1969 Dodge Charger
8374 - 1982 Dodge Daytona
8580 - Jeep CJ5
8510 - Jeep CJ7
De Tomaso
8379 - De Tomaso Pantera
Ford
2047 - Ford F150 Pick-up
2044 - Ford Expedition
2041 - 1999 Ford Mustang
2022 - 1994 Ford Mustang Mach III
2067 - Ford Crown Victoria Police
8371 - 1974 Ford Mustang II
8376 - Ford Escort XR4i
8383 - Ford Escort XR3i Cabriolet
Ferrari
8369 -1973 Ferrari 365BB
8384 -1985 Ferrari Testarossa
Formula 1
8250 F1 Racer
Welly # - Vehicle Make & Models 1:60 Scale

---


Jaguar
2059 - Jaguar XK180 show car
2058 - Jaguar XK8
2035 - 1999 Jaguar 'S' type
8385 - Jaguar XJ-S
Lamborghini
2064 - Lamborghini Diablo
102 - Lamborghini Countach
Lancia
8362 - Lancia Stratos
Land Rover
2055 - Land Rover Freelander
Lotus
8361 - Lotus Esprit
Mazda
8381 - 1987 Mazda RX-7
106 - 1979 Mazda RX-7
Mercedes-Benz
2051 - Mercedes-Benz C180
2038 - Mercedes-Benz M-Class
2028 - Mercedes-Benz SLK
2066 - Mercedes-Benz CL 600
2037 - Mercedes-Benz CLK
2027 - Mercedes-Benz A-Class
2042 - Mercedes-Benz V-Class
2036 - Mercedes-Benz S-Class
8388 - Mercedes-Benz 190E
8382 - 1955 Mercedes-Benz 300SL
8370 - Mercedes-Benz 500SEL
Nissan
8380 - Nissan 300ZX
108 - Nissan 280Z 2+2
Opel
8386 - Opel Calibra
Pontiac
2024 -1995 Pontiac Firebird
8373 - Pontiac Fiero
104 - 1978 Pontiac Firebird
111 - 1982 Pontiac Firebird
Porsche
2060 - Porsche 356B Cabriolet
2040 - Porsche Boxter
2026 - Porsche 911 (996)
8375 - Porsche 930
8378 - Porsche 959
8363 - Porsche 935 Long Tail
101 - Porsche 935
110 - Porsche 928
Toyota
113 - Toyota Celica Supra
Volkswagen
2063 - Volkswagen Lupo
2062 - Volkswagen Beetle
2061 - Volkswagen New Beetle
2046 - Volkswagen Golf IV
114 - Volkswagen Golf
---

In a future article, we will look at some of the other model scales offered by Welly. Many of the 1:60 scale models are also offered in Welly's larger cars and trucks.

Steve Ma of Welly's factory in Hong Kong was very kind to send me a copy of their 2000 product catalogue for use in preparation of this story. You can also visit the Welly Web site at:
<wellydiecast.com.hk>.


2054 - 1957 Chevrolet Corvette


2050 - 1953 Chevrolet 3100 Pick-up


2037 - Mercedes-Benz CLK


2036 - Mercedes-Benz S-Class


2025 - BMW 328i


2039 - BMW Z3


2035 - 1999 Jaguar 'S' type


2053 - 1968 Chevrolet Chevelle SS396


8123 - 1999 Chevrolet Corvette with key chain, friction, pull-back motor and rubber tires


2023 - 1999 Chevrolet Corvette


2030 - Chevrolet Caprice Taxi


2045 - Audi TT


2038 - Mercedes-Benz M-Class


2024 -1995 Pontiac Firebird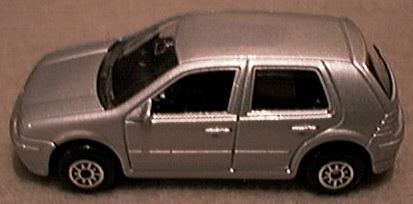 2046 - Volkswagen Golf IV


2026 - Porsche 911 (996)