1976 3.5CSL, Tomica


1976 3.5CSL, Summer


1978 320i IMSA GT, Kenner Fast 111's


1977 Shiden-BMW, Tomica


1980 M1 Challenge Series, Matchbox


1980 M1 Challenge Series, Matchbox


1980 M1 Challenge Series, Zee Toys


1980 M1 Challenge Series, Maisto


1980 M1 Challenge Series, PIC
BMW Goes To The Races
by David Cook
images by Doug Breithaupt
While BMW has not enjoyed the motor sport success of it's big brother competitor Porsche, at this point in the game we have to give this great German marque the "#2 and trying harder" award. Lets look at some of the small-scale BMW racing models that we have been able to accumulate.
The first three models pictured are from the same era in the '70's. The 3.5CSL (coupe, sport, lightweight) is shown French blue, dressed for racing in Europe with sponsorship by the national cigarette brand, Gitanes. This Tomica model was also available in factory team white with blue trim The Summer version of the same car is crude but un-mistakable as BMW winged wonder. The third car is an IMSA racing version of the 320i model for racing in the North American series. These racers followed the "silhouette" formula of the day in that they had to vaguely resemble the production cars they were derived from but just about every component was pure racing machine. These models achieved many victories in the GT classes of the day (just as today's models do) but in the fuel-crisis year of 1976 won a number of important outright wins, including the Daytona 24 hours.
Our next example is of a car little known outside of Japan. Manufactured by Japanese industrial giant Shiden for the national prototype racing series it used BMW engines. Tomica issued this model in a variety of colors.
The BMW M1 model was an attempt by the factory to boost its performance image in the more prosperous 1980's. All 5 examples pictured here are correct looking and probably others exist as this was a popular subject for small-scale cars. Originally intended for Group 4 & 5 GT racing classes, the factory later decided to run a "spec" racing series in conjunction with selected Formula 1 races in Europe. The ace F1 drivers of the day would pilot and teams with familiar names like Sauber and Project 4 (now part of McLaren) would prepare the cars. Niki Lauda won the series in 1979, Nelson Piquet in 1980. The M1 also finished a class-winning 6th at the 1979 LeMans 24 Hours.
At about this time, Formula 1 was moving into the turbocharged era and BMW saw it's opportunity in this top venue. Supplying engines to the Brabham GP team they started winning races in 1982 and clinched the drivers championship in 1983 for Nelson Piquet. The first Polistil made model pictured here represents the very successful Brabham BT-50/52 from 1982 & 83. Majorette's blue and white trimmed model appears to be an '84 model with longer side pods. BMW would later supply engines to other teams but having achieved its goal basically withdrew factory support. The engines would race for several more seasons but badged as "Megatrons".

Our next two images show the McLaren F1 supercar powered by a BMW V-12 engine. Penned by Grand Prix design wiz Gordon Murray, the F1 went from rich person's playtoy to full-on racer. The Minichamps version is the street production model while the Pioneer example resembles one of the many race team cars. The F1 won the LeMans 24 Hours in 1995.
The next two images of the Corgi manufactured M3 are a good look at this super-racy production model, first in rally form, then in IMSA GT racing layout. The M3 continues to win its GT class in today's American LeMans series.
Production based BMW's are also consistent competitors in Saloon racing, the European version of NASCAR but on road courses. There are strong national series in both England and Germany, both featuring BMW's along with Mercedes, Ford, Honda, Volvo and others. The Matchbox 5-series pictured here is particularly correct.
Our final image represents BMW's latest entry into Formula One. Working with the always front-running Williams GP team, this partnership scored some important points last season, many of them behind the driving talents of rookie English sensation Jenson Button. Next season the team will feature the Colombian ace Juan Montoya. This is not my favorite Hot Wheels GP model, but it will have to do for now. This was one of a series given away in McDonald's Happy Meals and is suitable for younger collectors.
Unfortunately, the one image we can't show would represent one of BMW's greatest triumphs; I am speaking of the BMW LMR-V12 that totally dominated the 1999 LeMans 24 Hours. This model is available in 1/43, of course, but is fairly expensive. The licensing rights may be beyond the means of a small-scale effort.
There are lots of BMW production models out there but have we missed any racecars? Please let me know, as I am interested!!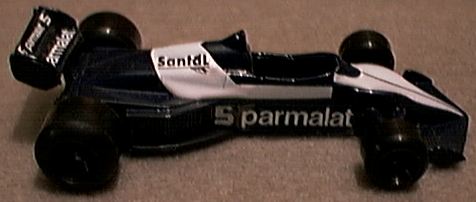 1982 Brabbham-BMW F1, Polistil


1984 Brabbham-BMW F1, Majorette


1989 M3 rally car, Corgi


1990 M3 IMSA GT, Corgi


1989 5-Series Saloon Racer, Matchbox


1995 3-Series Saloon Racer, Pioneer


McLaren F1 (BMW powered), Pioneer


McLaren F1 (BMW powered), Minichamps


2000 Williams-BMW F1, Hot Wheels