.
.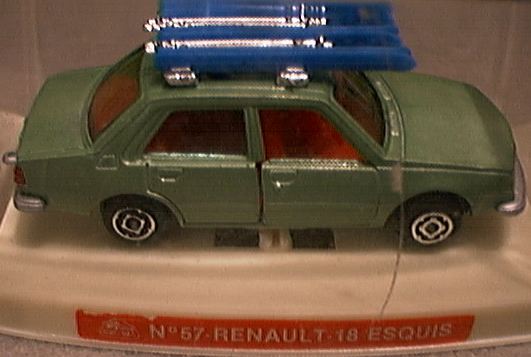 Guisval has offered many unique cars like the Jaguar XJ12C #48, Ford Fiesta Rallye #23, and the Renault 18 #57 (with skis!)

---

Porsche 962


Spain's Home-Grown Toy Cars
by Doug Breithaupt


Aston Martin AMR1
Perhaps the most surprising thing about the Guisval story is that unlike so many diecast car companies that started in the1960's, Guisval is still here today. It may be that Guisval has done a good job serving their primary markets. It may be that Spain's labor costs have not matched the rest of Europe. It may be that Guisval has not tried to push into the competitive North American markets. What ever it is, diecast collectors should take a closer look at these wonderful little cars from Spain.

Guisval began in 1962 in Spain but limited history is available on how or why they started producing diecast cars. The Guisval Website (Guisval.com) provides the following:

OUR COMPANY: Guisval S.A. is a company founded in 1962 and specialized in the manufacture of metal miniatures with plastic parts, and exports to over 35 countries thanks to its quality, design, range of products and competitive prices.
OUR MARKET TARGET : Our models are addressed not only to children, to whom our "Guisval TOYS" line of products is addressed, but also to the collector, interested in products down scaled with utmost detail, to whom our "Guisval COLLECTION" line is addressed.
OUR PRODUCTS: Three series complete our wide range of products (models down scaled at 1/58, 1/43, and 1/32 real size). All these series include a great variety of different models as: Cars, Public Services, Bikes, Construction Work Machinery, Replicas, etc.

---

Chaparral GT

Bizzarini GT

Ferrari Dino 206 Pinin Farina

Mercedes-Benz 500 SEC

Seat Malaga

Renault 11

Renault 18 GTS

Seat Ritmo

Alfa Romeo GTV6

Ford Scorpio

Jeep Willys

Porsche 928

Opel Corsa

Opel Kadett

Guisval has been active in the production of 'collector' scale cars, 1:43 and 1:30-1:33. However, it is to the toy scales of 1:58-1:64 that this article turns it's focus. The earliest small-scale Guisval cars were solid axle, solid wheel cars like the majority of European manufacturers. The wheels were chromed plastic and the tires were fully-treaded. These tires can be seen on the Chaparral and Bizzarini models. The second wheel was of metal with smaller tires featuring less tread. This is shown on the Ferrari Dino and Porsche 917 models. All of the early cars are quite heavy with full metal bases. Opening doors or engine covers are featured on some of the cars. While the overall quality was a bit crude, these early cars had a certain charm and represented rare racing and street vehicles.

Moving into the 1970's, Guisval changed their wheels to faster pin-style axles with one-piece, hollow tire and wheel combinations. These wheels are much like the Majorette wheels of the same period. Bases were still made of metal and the quality of the castings improved. The cars of this era are some of the best-made Guisval models in small-scale. By the 1980's. a simpler Yat Ming style wheel was appearing and by the 1990's, bases became plastic. Current Guisval wheels seem to copy the Hot Wheels wheel of the mid-'90's. The Ford Escort WRC and Renault Twingo feature these new wheels. Guisval racing wheels are much like those from Majorette.

In Guisval's current toy line, they produce a nice variety of 1:64 scale cars, trucks and commercial vehicles. They have a good selection of rally and Formula 1 cars available as well as military, public works, public service and specialty vehicles. Guisval holds the distinction of being one of the last European diecast producers to still make their models in Europe. The 'made in Spain' stamp is still evident on their newest models. The Guisval Website is easy to navigate and has excellent images of their current products.

Over the years, Guisval has done many interesting cars in 1;64 scale. The oldest car in my collection is a Chaparral GT. Most of Guisval's small-scale cars have been European models and racing/rallying cars have always been a particular focus. The Porsche 917 long-tail is an excellent example of Guisval's fine early work.

One of my particular favorites is Guisval's Jaguar XJ12C model. This rare care is even rarer in miniature and Guisval did an excellent job with the racing version. Other favorites include the Renault 18 with skis and the Mercedes-Benz UN Ambulance. Guisval may hold the distinction of having produced one of the smallest product catalogs ever. It came attached to the base of their hard, plastic display boxes and is quite informative. It measures just 1.25 by 1.50 inches but has 24 pages. Mine is from 1982.

The Formula one and sport/GT racing cars from Guisval have always been a special treat. In many cases, Guisval will be the only manufacturer to reproduce certain racing cars. The Aston Martin AMR1 is an excellent example of this practice. Current F1 cars include Jordan, Benetton, Ferrari, Lotus, and several McLarens, with a Brabbham pictured to the right.



The following is a partial list of 1:64 scale Guisval products since the 1960's. If any readers can provide additional information, it would be appreciated. If you have some duplicate Guisval models, not currently in my collection, that you might wish to trade, that would be even better.

List Source - Diecast Price Guide by Douglas Kelly
Guisval 1960's-1970's

1 Chaparral GT
2 Bizzarini GT
5 Lotus-Ford 40
8 Ferrari 330 P2
13 Mini with Skis
14 Land Rover with missile
15 Hot Rod
16 Mini Cooper
17 Refuse Wagon
18 Ferrari P4
19 Land Rover circus
20 Horse Box
21 Dune Buggy
23 Go Bug
24 Go Bug fire
25 Chevrolet Corvair Monza
26 MG 1100
27 Seat 124
28 Morris 1100
29 Seat 124 policia
30 Seat 850 Coupe
31 Renault 16
32 Seat 850 Coupe Rally
33 Lotus-Ford STP
34 Lotus 63/2
35 Ford Mustang 1971
36 Lotus-Ford V8 race car
37 Ford Mustang 1971 circus
38 Lotus 49-B race car
39 Ferrari Dino Pinin Farina
40 Porsche 917
41 Lamborghini Marzel
42 Hatra Shovel
43 Corvair Monza (chrome)
44 Alfa Romeo Osi Scarabeo
45 Panther Bertone
46 Ford 4000 Tractor
47 Case Bulldozer
48 Taylor Crane
49 Hatra Dumper
50 Hatra Cement mixer

---

List Source - Guisval Catalog 1982

1 Mercedes-Benz 350 SL
2 Citroen 2 CV
3 Seat 1600 Sport Rallye
4 Renault 12-S
5 Mercedes 350 SL police
6 Peugeot 405
7 Seat 127
8 Citroen GS
9 Ford Fiesta
10 Jaguar XJ12C
11 Renault 12 Caravan
12 Renault 12 ambulance
13 Seat Ritmo 75CL
14 Renault R5
15 Porsche 928
16 Mini 1000 Rallye
17 Matra Simca Bagheera
18 Ford Fiesta w/Zodiac
19 Land Rover Tow Truck
20 Talbot 1200
21 Porsche 928 Rally
22 Seat Panda
23 Ford Fiesta Safari
24 Renault 12 TS
25 Seat panda Rallye
26 Talbot Horizon
27 Renault 12 fire
28 Renault Alpine A110 Rallye
29 BMW 3.3CSL
30 Ford Escort Rallye
31 Citroen CX
32 Seat 131
33 Ford Escort
34 Volvo Fire Truck
35 Renault 18 GS
36 Lancia Stratos
37 Mercedes-Benz Ambulance
38 Renault R-17
39 Seat Ritmo Autoclub
40 Talbot Horizon Surf
41 Jeep Willys Safari
42 Mercedes-Benz Microbus
43 Garbage Truck
44 Caravan Trailer
45 Pumper Truck
46 Pick-up with motorcycles
47 Seat Panda Auto Escuela
48 Jaguar XJ12C Rallye
49 Renault R-18 Raid Africa
50 Lancia Stratos Rally
51 Renault 5 Rallye
52 Talbot Horizon Raid Oasis
53 Renault R-17 Safari
54 Mercedes 350 SL Rallye
55 Porsche 911 Safari Rallye
56 Military Anti-Aircraft Truck
57 Renault 18 w/skis
58 Crane Truck
59 Truck w/Camper
60 Police Truck
61 Road Sign Truck
62 Auto Carrier
63 Seat Ritmo Rallye
64 Cement Mixer


Renault Espace TSE

Mercedes-Benz Ambulance

Peugeot 405 Coupe

Peugeot 205

Seat Ibiza

Talbot Horizon

Audi Quattro

Citroen BX

Matra Simca Bagheera

Mercedes-Benz Sauber C9

Jaguar XJR12 Le Mans

Porsche 917 Le Mans

Ford Escort WRC

Renault Twingo
Miniature Motorcar List
| Tales of Toy Cars
GEN II HOME PAGE