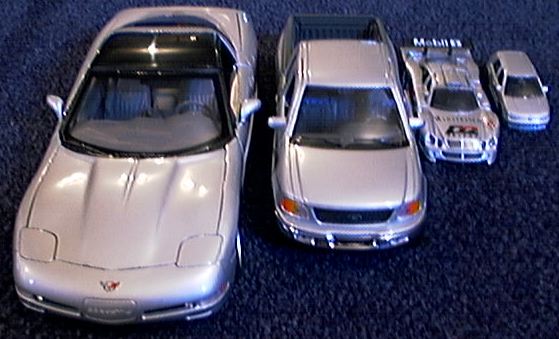 Welly Weighs-In
Choose Your Favorite Scale
By Doug Breithaupt

Welly wants to play in the diecast big-leagues and they are offering a line-up to prove it. For many years, Welly products have been hidden, largely due to their generic packaging by large chain stores or the lack of manufacturer data on the bases. No more is this the case. The Welly name is clearly identified on all their products and at the same time, these products are worthy of carrying their manufacturer's name.

Like Matchbox, Hot Wheels, Maisto, Majorette and Yat Ming, Welly is approaching the diecast toy car market with multiple scales. The primary scales offered are 1:18, 1:24, 1:36 and 1:60. A number of their cars are offered in every scale. The quality of Welly's new castings is equal to their competition although their prices are often much better. In 1:18 scale, the comparison of Welly's 1999 Corvette with similar models from Bburago or Maisto show equal levels of craftsmanship between all three. The Welly Corvette includes a lift-off targa top. The interior and engine detail are quite good and the casting is excellent.


In 1:24 scale, Welly measures up again. While no-one will confuse these models with Franklin Mint, Maisto and Bburago are certainly watching Welly's progress. For many years, 1:36 scale has been Welly's most recognized scale. Welly continues to offer excellent value in this range with models like the Mercedes-Benz CLK-LM. Produced in correct LeMans livery, this Benz is ready for any high flying.

While Welly has been a player in the 1:64 scale market, these products have been some of the weaker offerings. That has changed overnight with Welly's new 1:60 scale castings. For the full story on small-scale Welly models, click here.

For Welly to succeed with their new offerings, they will need to be successful in competition for retail shelf space. In North America, it is still difficult to find Welly products. For a full view of Welly's catalog, visit: <wellydiecast.com.hk>. One thing is for sure, Welly is on the right track.