During the 1950s and continuing until the late 1970s, a unique breed of automobile emerged in Europe that sought to provide the best of all worlds. These cars were the hybrids, an intriguing type of car that combined exclusive European design and coach building with mass-produced American-made power trains. Typically, the resulting marriage concluded in a vehicle whose performance could nearly equal that of the true thoroughbreds from Aston Martin and Ferrari while concurrently costing considerably less for their manufacturers to build and for their buyers to purchase, own and maintain.
Economically, hybrids offered several benefits to their invariably small, underfinanced manufacturers. Frequently lacking the funding to design a new car from the ground up, the classic hybrid evolutionary scheme centered around a chassis engineered by the hybrid manufacturer, bodywork executed by a famous designer or design house (usually, though not always, working out of Italy) and an American V8 engine sourced from Chrysler, Ford or one of the General Motors divisions. After investing everything they could muster into creating a competent chassis and body shell, hybrid makers were left with no choice other than to use an off-the-shelf engine from America, which, while cruder and less efficient than the leading European designs, were, nonetheless, inexpensive, well-made, well-respected and, perhaps most importantly, thoroughly proven. By using such engines, hybrids were able to offer immediate reliability for their products, something that the high-strung true exotics with their sometimes temperamental and always maintenance-intensive drive trains could never provide. Essentially, hybrids gave their owners the best of both worlds with their hand-made bodies and hand-stitched upholstery mated to bulletproof Detroit power.
Perhaps the earliest hybrid manufacturer was Britain's Allard, a company which produced a highly desirable series of open and closed sports cars that were designed to accept the buyer's choice of several different American as well as British engines. Appearing soon after the war's end, Allards, particularly the J2, enjoyed a great deal of competition success until the company and its products faded into oblivion during the late 1970s. Sadly, no 1:64 scale model of any of these historic cars has ever been produced.
Not far from Birmingham, in West Bromwich, the small Jensen firm had been coach building its own sporting cars for many years using domestically-source engines from Austin. However a change in fortune brought about by contracts to dress out Big Healeys and build Volvo P1800s, led to Jensen more seriously considering its position as a manufacturer of sports cars. The first of the "new line" of Chrysler V8-engined Jensens was the oddly-styled and fiberglass-bodied CV8 of 1962 that was largely a continuation of the earlier Austin-powered 541. Selling moderately well, the CV8 provided Jensen with a valuable test bed from which it would draw many of its later sports car ideas that eventually culminated in the striking, steel-bodied Interceptor of 1966. Styled by Vignale, the big Interceptor with its Chrysler 383 V8 was both handsome and practical as well as immediately successful. Growing ever more refined through two series, prior to the introduction of the 440-engined Series III in 1971, the rather exclusive Interceptor finally acquired an American distributor and became one of the most popular hybrids sold in the United States. In spite of the car's distinctive lines and high level of performance, only one diecast maker ever offered a model of the Interceptor: Corgi sold two versions of their Interceptor miniature with first appearing in the Rockets lineup with a removable chassis and the second bowing in the standard Corgi Juniors range. Rare today, these models do the mighty Interceptor a great justice.
Yet Jensen, readily attempting to establish itself as a manufacturer of super cars, was not happy to merely build the "basic" Interceptor. Although a prototype CV8 was built that included Harry Ferguson's "Ferguson Formula" four-wheel-drive system and Dunlop's Maxaret Anti-skid braking system, it was only used as an experimental tested and was never intended to see production. However, the lessons it taught Jensen's engineers would go into developing what has frequently been called the world's first super car: the incredible Jensen FF. Distinguished from its companion model Interceptor by its slightly stretched wheelbase and twin cooling vents in the front wings, the FF was the first production car to incorporate both the Ferguson Formula as well as the aircraft-derived Maxaret system that was an early, fully mechanical anti-lock braking system. Due to its high price, few FFs were built; however, its highly significant place in automotive history is assured. Curiously, only a few models of this widely publicized super car were produced and of them, only one was scale to 1:64. That miniature was made by Hong Kong's Playart and it featured an opening bonnet in addition to a very well-proportioned body.
Originally based on BMW blueprints it was awarded as war reparations, the elegant sports cars manufactured by the Bristol Aeroplane Company were for several years largely improved versions of the Bavarian aero engine, car and motorcycle maker's pre-war designs, employing a British-made copy of BMW's unique six-cylinder engine. By the late 1970s, Bristol's clientele was clamoring for an automatic transmission to make rapid transversing in the company's exclusive gentleman's expresses more "civilized." In response, Bristol contacted the American Chrysler Corporation and requested a Torqueflite automatic transmission for evaluation purposes; however, when the Torqueflite arrived, it was found to be attached to a Chrysler V8 engine. Currently developing a new six-cylinder engine of their own design, Bristol was so impressed with the performance of the Chrysler engine that their engineers quickly abandoned work on the Bristol six and persuaded the company to simply purchase all its future engines from Detroit. The first "hybrid" Bristol was 1961's 407 and to this day, Bristols are still built around Chrysler V8 engines. Yet in spite of its long and respected history, few models of Bristol's high-end touring cars have been produced and none have ever been made in 1:64 scale.
Another fascinating British hybrid was the Chevrolet-engined Gordon-Keeble. A handsome and well-handling sports coupe featuring a fiberglass body, the Gordon-Keeble made a strong impression upon the automotive press yet was too highly priced to ever meet its overly optimistic sales goals. Production ceased after only 99 cars were completed yet the Keeble led the way for other, slightly better financed and considerably more widely distributed hybrids, such as the later Jensens, to fill in the slot it created and the niche it left vacant. As with so many other hybrids, no 1:64 scale models of the svelte Gordon-Keeble have appeared to date.
Perhaps the most lauded hybrid of all was evolved out of the modest little A.C. Ace roadster when a Texas rancher named Carroll Shelby tuned its chassis and installed a Ford 289 V8 under its bonnet. The original Cobra was an instant hit with its incredible horsepower to weight ratio that easily made it one of the fastest production cars in the world. However, the 298 Cobra was not enough in Shelby's opinion and he soon commence work on developing an even more power version utilizing a Ford 427 V8. An instant classic and sales success, especially in the U.S. where it even inspired a top 10 pop song ("Hey Little Cobra"), the 427-engined Cobra was simply the fastest production car in the world at the time. Nevertheless, the Cobras were not perfect: due to their extreme power, they could easily become deadly in the hands of an unskilled driver and the stripped-down nature of the car, featuring a very primitive roof, made it only suitable for sunny days.
Even though the Cobra was adored, relatively few miniatures of the car have appeared in 1:64 scale. Among these, the models produced by Hot Wheels and Zylmex are both accurate and nearly as ferocious looking as the actual car. Curiously, Johnny Lightning has introduced two unique variants of the Cobra: one is a nicely done diecast model whereas the other is a revival of the Aurora Thunderjet slot car Cobra. Riding on a diecast chassis equipped with a friction motor, the new Thunderjet features a removable plastic body that can be installed on an original Aurora slot car chassis. A.C. replaced the Cobra with the 428, a highly civilized sports car that set its sights on conquering a piece of Aston Martin's territory, yet in spite of some high profile placements (Tara King drove a 428 Convertible during the final season of "The Avengers"), the 428 was not overly successful and the company clumsily stumbled into the 1970s. By late-1970s, A.C. was building a mid-engined, V6-powered sports car called the ME3000 that was similar in execution to the Fiat X1/9. Sadly, A.C.'s most memorable period was long behind it and neither of these competent albeit overshadowed cars were ever offered in 1:64 scale.
After witnessing the magic Shelby had wrought on the non-descript Ace, Rootes Group asked him wave his wand over their Sunbeam Alpine. Shelby managed to squeeze a Ford 260 V8 into the Alpine which was renamed the "Tiger." After having been viewed by the traditionalists as a "soft" sports car, the Tiger transformed the image of the Alpine into a fire-breathing high performance muscle car. As with the Cobra, the Tiger's handling could prove a challenge and to make things worse, later cars used the even more powerful Ford 289 V8. However, the end for the Tiger came not long after Chrysler purchased Rootes Group; although a suitable Chrysler engine was sought (none of its engines would fit), the embarrassment of selling and servicing a bitter rival's engine at Dodge dealerships meant that the Tiger would die prematurely. For diecast collectors, the Tiger had largely been neglected until Johnny Lightning finally introduced a Tiger that has appeared in both the James Bond and British Invasion.
In France, the metal working firm of Forges et Ateliers de Construction d'Eure et Loire decided, after pressing out body shells for other French automakers, to have a go at producing its own cars during the mid-1970s. Hence was born the fabled Facel Vega range of high-speed gentleman's expresses that echoed the lines of some of Detroit's best 1970s show and dream cars. Beginning with the handsome DeSoto-engined FV in 1954, the line continued to be refined and uprated through the subsequent Chrysler-engined HK500 (1958) and Facel II (1961). Sadly the introduction of the small Facellia roadster, with its untested Facel-built four-cylinder engine, resulted in the financial ruin of the entire concern and ended the successful run of the legendary, big V8-powered Facels. As with Allard, no 1:64 scale Facels have been produced and only a handful have appeared in other scales.
Although an Argentinean by birth, race car driver Alejandro de Tomaso settled in Italy to build his conception of the perfect gran turismo. de Tomaso's early efforts were less than ideal road-going sports cars and the automotive press still continues to criticize the Vallelunga (fitted with a British Ford engine) and the strikingly styled, mid-engined Mangusta (with its American Ford 289 V8). Despite the problematic handling and build quality of the Mangusta, its brash character immediately caught the attention of three diecast manufacturers, leading Corgi Juniors, Aurora (Cigarbox) and Playart to produce accurate miniatures of the car. While the Corgi model is not a common piece, the Playart miniature is very rare as well as considerably more tasteful in its selection of paint schemes. The Cigarbox cars are even rarer today due to their fragile bodywork and wheels.
While the Mangusta had not been allowed to properly gestate, the profits it garnered were quickly invested into producing its successor: the Pantera. Classically styled and almost as fully developed as many of its Italian super car contemporaries, the Pantera, using a Ford 351 Cleveland V8 mounted a midship and cleverly being sold in the United States through an agreement with Ford via Mercury dealerships, met with considerable success during its long tenure. A handsome and powerful sports car with a winning image, the Pantera inspired more miniatures than any other hybrid ever made. Matchbox's effort at capturing the Pantera in a 1:64 scale model is less than pleasing and appears to almost be a joke with its oversize tires and hideous paint and decal color combinations. If that was not bad enough, a hot rod-engined version was also produced For a much better proportioned model, look no further than Tomica's outstanding miniature of the ultra-high performance GTS version of the Pantera. Offered in a wide variety of colors and a couple of wheel variations, Tomy's Pantera features the obligatory rear wing that was always fitted to the GTS as well as an opening rear hood that reveals a tiny 351 nestled between the wheels. Not to be left out of the Pantera game, Welly introduced a straightforward copy of the Tomica model which has been distributed in the Speed Wheels range of models offered by the Walgreens drug store chain while Summer generated its own, homegrown miniature of the car that has to rank among its best efforts. Playart also did a nice Pantera model in GTS form.
Having previously built motorcycles and bubble cars, Iso bravely stepped off into a new direction with the introduction of its first hybrid, the Chevrolet-engined Rivolta grand tourer. Following the time-honored front-engine, rear-wheel-drive coupe layout, the Rivolta was nearly as good-looking as the Ferraris it attempted to undercut in price. A well-designed car, the Rivolta offered exceptional performance and handling and is often considered to be one of the most fully evolved hybrids. In spite of its sterling reputation, only one small-scale model of the Rivolta was produced, appropriately enough, by Politoys within their somewhat obscure Penny range.
However, Iso's next car would be the company's zenith: christened the Griffo, the new Iso, still using Chevrolet-power, was a car fully capable of taking on the best that Ferrari and Lamborghini could bring to the table. Handsome and more hospitable (for this type of car, at least) than the competition, the Griffo ultimately lost out due to its lack of pedigree: it was difficult to sell such a car as a pseudo-Ferrari when buyers knew that versions of the same Chevy engines could be found motivating pick-up trucks. Again, a single model of the car appeared in small scale by Matchbox. An accurate model that captures the actual car's graceful lines quite well, early versions received regular wheels with chrome centers whereas later models were fitted with Lesney's new Superfast wheel type.
Other hybrids also originated in Italy and today they are merely footnotes in automotive history: the Chevrolet-engined Bizzarrini GT Strada 5300 and the Ford-powered Intermeccanica Italia were both reportedly good sports cars. However, since they were built in limited numbers and not widely known at the time, they are vaguely remembered at best today. The Bizzarrini was done in miniature by Guisval of Spain, one of their first castings. No 1:64 scale miniature of the Italia appeared during it's production run and it now seems even less likely that any ever will.
One of the most unlikely settings for a hybrid to be manufactured was Switzerland where a wealthy entrepreneur named Peter Monteverdi constructed a series of Chrysler-engined sports coupes. After building a few handful of copies of the front-engined 375 coupe and the 375/4 four-door sedan, Monteverdi progressed into mid-engined cars with the announcement of the Hai. Strikingly styled, the Hai's chassis was terribly underdeveloped and series production never commenced. In spite of this, thousands of Hais were made in England by Lesney as a member of its Matchbox series of diecast models. Featuring opening doors, the miniature's lines fail to capture the essence of the original; however, with only this single Monteverdi extant in 1:64 scale, complaints should perhaps not be too loudly leveled.
Finally, Germany's Opel made a rather interesting turn in hybrid production: being owned by General Motors, Opel requested that its parent send it some Chevrolet 327 V8s for installation in its big Commodore sedan. The result was the Diplomat, an image car that Opel hoped would shake the long-held notion of it as a staid sluggard when compared to BMW and Mercedes-Benz. The quick Diplomat did just that; however, the big Chevy engine gained a reputation for as a gas guzzler and sales were slow since those who could afford a true autobahn cruiser from BMW or Benz bought them rather than the rather dated Opel hybrid. Although Opels are somewhat rare in small scale, Matchbox honored the Diplomat with a 1:64 scale model that gets all the details just right. Unfortunately, few seem to care about or remember the long dead Diplomat of the late 1960s.
And thus we conclude our discussion of hybrids; however, the hybrid story itself is far from over. Bristol still manufactures new cars using Chrysler 360 V8s, the Qvale Mangusta (with Ford V8 power) has entered production as a successor to the previous de Tomaso-badged cars and even a revival of Jensen seems to be well on its way to becoming a reality. As long as America produces big, powerful V8s, there will probably always be a demand for hand-made European sports cars to that use them as power plants. The results are often intoxicating and frequently do manage to offer the best of two worlds. Let's just hope that diecast manufacturers continue to provide collectors with miniatures of these fascinating cars.

Corgi Rocket - Jensen Interceptor



Playart - Jensen Interceptor FF



Hot Wheels - 427 AC/Shelby Cobra



Zylmex - 427 AC/Shelby Cobra



Johnny Lightning - AC/Shelby Cobra



JL Thunderjets - AC/Shelby Cobra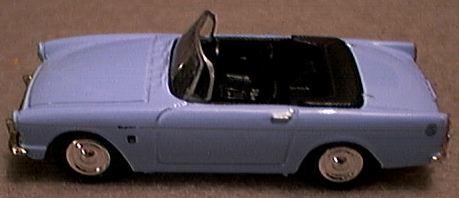 Johnny Lightning - Sunbeam Tiger



Corgi Junior - DeTomaso Mangusto



Aurora Cigarbox - DeTomaso Mangusto



Matchbox - DeTomaso Pantera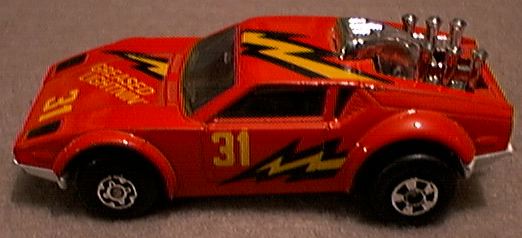 Matchbox - DeTomaso Pantera hot rod

Tomica - DeTomaso Pantera GTS



Playart - DeTomaso Pantera



Welly - DeTomaso Pantera



Penny (Polistil) - Iso Rivolta



Matchbox - Iso Griffo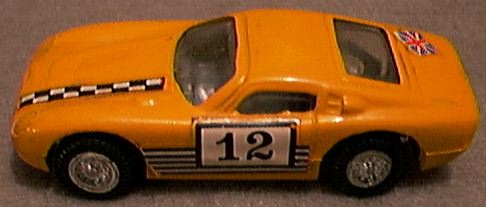 Guisval - Bizzarrini GT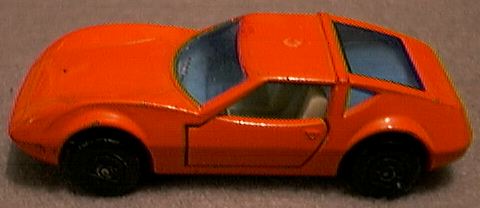 Matchbox - Monteverdi Hai



Matchbox - Opel Diplomat (see below)
---
Record-Breaking Matchbox Sale

A new Matchbox world record price was set in a private sale in mid-January. A mint-in-box 36C Opel Diplomat in sea green with regular wheels and plastic baseplate fetched a reported $9,000. That price smashed the previous record for a Matchbox, which was $6,765 for a prototype 27D Mercedes-Benz 230SL convertible set in Spring 1999. The rare sea-green color made all the difference, so if you own the no. 36C Opel in metallic gold, or with Superfast wheels, don't quit your day job--those are worth less than $20. (courtesy of mobilia.com)



SOURCE: Chris Rees, et al. "Bay View Books 1998-1999 Classic Car Buyer's Guide." Bay View Books, Bideford, Devon, England: 1998.