Schuco - 450SE


Schuco - 450SE Police


Tomica - 450SEL


Mira - 450SEL


Zylmex - 450SEL


Yat Ming - 450SEL #1061


Yat Ming - 450SEL #1061


Yat Ming - 450SEL #1012 (metal base)

Yat Ming - 450SEL #1012 (plastic base)


Yat Ming Mercedes-Benz 450 SEL

1012 nose (plastic left, metal right)


1012 tail (plastic left, metal right)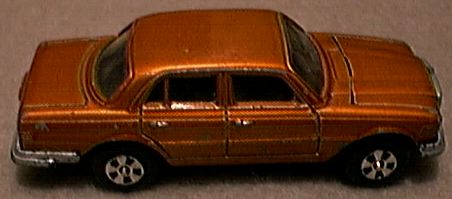 Ertl - 450SE


Matchbox - 450SEL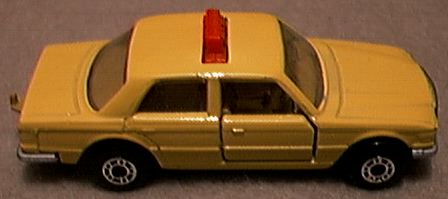 Matchbox - 450SEL Taxi


Playmobile - 450SEL (Matchbox copy)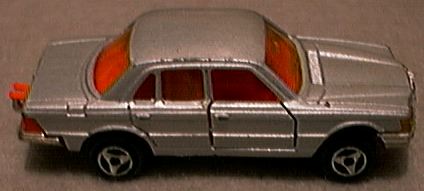 Majorette - 450SE

When other European car had been crushed by WWII, Daimler-Benz emerged, quite remarkably, prepared to reassume their lofty position as the dominant and preeminent German car manufacturer. To fulfill its quest, Benz triumphed through the postwar years by developing cars that tantalized the automotive world with their superb engineering that resulted in shimmering, technological masterpieces and heroically successful competition campaigns. Yet while cars like the hauntingly beautiful and nearly perfectly engineered 300SL served as missionaries to spread the gospel according to Mercedes, it was not these cars that kept Benz on solid ground financially: that honor belonged entirely to Daimler-Benz's stylish and frequently stoic sedans. During the 1950s, the big Mercedes sedans were branded as the "S-Class" and this designation continues today to denote the best in Benz's line. Having evolved through two different platforms and spawned the massive 600 limousine, the S-Class, by the late-1960s, was failing to carry the sharp edge and distinct lead it once had over the competition. Such a situation was intolerable for Unterturkheim and in a fashion typical for Daimler-Benz at the time, it sought to correct things as soon as possible. The hope was to call a cease-fire to the all-out assault it found itself involved in from both within its native Germany and world-wide.
By 1968, the W108 chassis was entering its fourth year of production and by this stage, the almost painfully conservative design philosophy that had created it was rapidly catching up with the big Benz. While its styling maintained a high level of grace and elegance, there was no denying its dated nature. Overall performance on the autobahn and twisty Bavarian mountain roads was not only being challenged: it was being bettered. After thwarting a near takeover attempt by Daimler-Benz during 1959, BMW managed to pull off one of the greatest comebacks in automotive history with its incredible "New Class" of 1962. BMW once again amazed the press and car buying public with the introduction of the thoroughly modern and sharp handling six cylinder-powered 2500 and 2800 sedans in 1968. The arrival of the new big Bimmers was particularly bad news for Mercedes. From an enthusiast's or automotive engineer's perspective, the new sports sedans from Munich were superior cars that out-performed, and were more reasonably priced, than the rather aged S-Class competition. The only element missing from the big Bimmers was the option of a V8 engine that would have enabled these "ultimate driving machine" flyers to take the S-Class head-on. Nevertheless, with these cars, the German automotive hierarchy irreversibly changed and BMW quickly established itself as a threat that would eventually grow into Mercedes' arch rival.
Also in Germany, Opel fielded some big six and eight-cylinder sedans during the late 1960s that were seen as more attractive than the Benz products due to their bargain pricing. However, these mundane and prosaically engineered cars were never capable of being a truly alternative to the S-Class. One of the few other countries to build a realistic alternative to the S-Class Benzes, Britain's Jaguar unveiled the delightful and beautiful new XJ6 (also, coincidentally, in 1968) that directly focused its cat eyes upon toppling the big Mercedes as the automotive world's crown jewel. The sparkling XJ6 might have just accomplished its goal had it not been let down by horrific quality control. Yet in spite of such major and minor problems that prevented the competition from fully emulating Mercedes' products, Stuttgart came to recognize that it would have introduce a new "Uberwagen" if it intended to remain ahead of the game.
Always an automobile company intent on making a lasting impression, Daimler-Benz's replacement for the W108 platform had to surpass both its immediate competition as well as its predecessor at every turn. With this design philosophy firmly guiding its engineers, it came as no surprise that when the new W116 chassis made its grand arrival in 1972 as an entire range of new top drawer models that cars were larger than the W108s in every key dimension. Much to Mercedes' credit, the additional girth was not translated to the viewer's eye and the new S-Class' fresh appearance somehow managed to seem more lithe and sporting than their dowdy W108 forebears. In fact, now 29 years on, the W116 retains an almost timeless quality where other, earlier Mercedes models reflect directly to the time period during which they left the drawing boards at Unterturkheim.
In the beginning, engine choices for the new W116 chassis were all carry-overs from the W108 series; however, since these refined and silky-smooth power plants could hardly have been improved (fuel efficiency was not a consideration during the early 1970s prior to Arab Oil Embargo), no one complained. The base engine in the new W116 chassis was a sophisticated, double-overhead cam 2.8 litre straight-six fed through twin Solex carburetors; it was followed by a fuel-injected version of the same engine (available only in the long-wheelbase chassis) before moving up to Bosch-injected 3.5 and 4.5 litre V8s that featured a single overhead camshaft per cylinder bank and could be ordered in the customer's choice of wheelbase lengths. Initially available only in the smaller W114 chassis, Mercedes eventually decided to install a turbocharged version its successful 5-cylinder diesel in the W116 platform; christened the 300SD, this car was built exclusively for and only sold in the North American market, which, at the time, was enamored with all things diesel.
Despite the many superlatives were used to describe the all members of the W116 family, it would be a modified, limited-production version of the chassis that would become a revered and deserved legend: the 450SEL 6.9. Envisioned as a successor to the discontinued and lamented 300SEL 6.3, the 6.9 carried a unique and extremely complex pneumatic suspension system coupled to an enlarged development of the 600's limousine's 6.3 litre V8 that completely separated it from its other W116 brethren. Forever known simply as the "6.9", this car's engine prompted many discreet owners to remove the small 6.9 badge from the trunk lid due to its ability to generate over 285 horsepower in European trim and consequently much interest from roadway law enforcement officials. Mortally wounded by the fuel crisis of the late-1970s, the blatantly uneconomical 6.9 still limped gloriously through five years until production drew to close in 1980.
Production of the W116 began to wind down in 1979 with the arrival (in Europe) of the new W126 chassis. However, the old platform continued to roll off the assembly lines until Mercedes was ready to unveil the new car to the rest of the world in 1981. Still as quietly solid and handsome at the end of its run as it had been at the beginning, the W116 was and remains the archetypal 1970s Mercedes. While three subsequent S-Class platforms have appeared during the post-W116 years, none of them have equaled its lasting influence or maintained its timeless appeal. As popular among diecast manufacturers as it was with car buyers, arriving at a starting point for assembling a collection of miniatures of the wonderful W116 is easy.
As might be expected, Germany's Schuco produced what is perhaps the best miniature rendition of the W116 chassis. Following Schuco's tradition of offering several variants of the same casting by merely changing the paint color, 1:66 scale versions of the 350SE and 450SE were both sold alongside an interesting 350SE variant decorated in the livery of the West German police force. It should be noted that the models in this series are true scale models: these W116 miniatures are definitely patterned after the short-wheelbase cars--they just barely fit within the standard Schuco packaging where a scale model of the SEL could not be accommodated at all.
For another great model of the W116, find one of Tomica's miniatures of the 450SEL. Scaled slightly smaller than Schuco's model at 1:67, Tomy's rendering of the car also features opening front doors and well sized wheels that easily construe the massiveness of the actual car. Produced in a number of prototypical colors, Tomica also generated a relatively rare variant that was another accurately detailed Polizei version of the S-Class.
Although not widely recognized outside of their native Spain, Mira once manufactured an extensive line of 1:64 scale miniatures prior to focusing on larger 1:24 and 1:18 models. While many of the small-scale Miras professed a rather nationalistic flavor with the series overall overabundance of Seats, Germany was also represented within the lineup with a well-proportioned miniature of the Mercedes-Benz 450SEL. Equipped with the obligatory opening front doors, Mira's W116 has appropriately sized wheels yet is let down by an interior molding that features a ridiculously angled steering wheel in addition to some of the worst paper decals ever to festoon a model car. [Note: the author removed the decals from the pictured model.]
Often viewed as cheap, off-brand toys, Zylmex marketed two separate lines of diecast models up until the company's demise during the late 1990s. Perhaps fitting to the subject matter, the majority of Mercedes miniatures within the Zylmex line appeared in the high-end Pacesetters series which were fitted with full interiors, opening features and typically metal baseplates. Simply labeled "Benz" on its base, Zylmex's 450SEL was a moderately well executed miniature of the W116, that, once again, came outfitted with opening front doors. Sprayed in then fashionable tones that now scream "1970s", the Zylmex SEL flashes a bit too much extroverted chrome plating at both its front and rear; nonetheless, this obscure model is another of those forgotten gems from a diecaster whose products always fail to receive an appropriate level of respect.
Hong Kong-based Yatming's history of 1:64 scale W116 models is probably the most curious of all diecast toy makers. This company produced three distinct variations of the 450SEL: earliest versions, #1012 were static models with no operating features that can be found with plastic and metal bases and different grills and tail-lights. A later model, #1061, was cast from a completely new die and offered opening front doors. All of Yatming's 450s are accurate models with the second casting having a clear edge over the first version. The tow hook included on the initial variety seems a bit of a stretch but then Matchbox and Majorette also put hooks on their 450SEL models. Has anyone ever seen one of these cars pulling any type of trailer? If so, it cannot be a frequent occurrence. Yet the most obvious question centers around why Yatming sold two different castings: were the original dies destroyed? The answer will probably never be known.
Within its late 1970s "Cars of the World" series of miniatures, Ertl included a delicate model of the short-wheelbase 450SE. Perched upon slightly oversized wheels, the Ertl model somehow manages to exude an air of luxurious high speed travel in spite of its bothersome toy-like proportions. A curious aspect of this model is the two distinct variations it was produced in: earlier versions of the car carried an opening hood; however, later variations had their hoods cast shut, probably due to safety concerns.
Why Lesney waited until the year that the W116 chassis was superseded by the new W126 to introduce a miniature of the earlier car is something of a mystery. Typically, the Lesney's tool and die makers strove to keep the Matchbox series of toy cars fresh and current; however, appearing in 1979 was a new model of the elderly (albeit still elegant) W116 Benz. As with almost every other model of the car, Matchbox's 450SEL was bequeathed with opening front doors yet the overall stance of the model with its grossly oversized wheels makes this big sedan look as if it was being prepared for a run in the East African Safari Rally. Just as Schuco and Tomica had already done so many years prior, Lesney also conjured up a rather rare Polizei version of the miniature Mercedes that was placed on sale shortly before the diecaster's bankruptcy. Although the police variant was the final W116 entrant from Matchbox, an unlikely model was produced between it and the ordinary civilian SEL: a taxi cab. Considering the exclusivity and costs (purchase and operating) of the big S-Class Benzes, it would seem improbable that such a car would be reduced to such an ignominious role. Nevertheless, as the W116 was nearing the end of its production life when Lesney's model debuted, it is conceivable that a few, old, "beater" SELs had occasionally been pressed into service as working cars in various localities throughout the world. Playmobile of Hungary produced a copy of the Matchbox casting that is rather crude and rarely seen outside Europe.
Like Mira, France's Majorette concentrated mostly upon patriotic issues within its 200-series range. One notable exception was the company's classy 450SE, that, in spite of oversized wheels, made the translation to small-scale quite well. Decorated in unusually reserved colors, this miniature of the short-wheelbase W116 ranks among Majorette's best during the mid to late-1970s.
Thus ends our survey of Mercedes-Benz W116 chassis miniatures. Strangely missing from the tally sheet is the German-based Siku, France's Norev and Hong Kong's Playart. Despite these omissions, enough models were made to say that the W116 is well-represented within the world of 1:64 scale diecast cars and that most collectors should be able to find the majority of miniatures discussed herein. If only obtaining a real, 1:1 scale version of the mighty 6.9 could be so easy.

Source; Nitske, W. Robert: Mercedes-Benz Production Models: 1946-1975. Osceola, Wisconsin: Motorbooks International.