One of the most famous sports car manufacturers in the world evolved from modest beginnings as a concessionary in Oxford, England that supplied custom, coachbuilt bodies and upgraded equipment for buyers of the Bullnose Morris. Known as Morris Garages, the dealership eventually grew into an automobile producer in its own right and soon thereafter the MG legend was born. Prior to the Second World War, MG was known throughout Great Britain as one of the country's premier sports cars, however, it would have to wait for American servicemen, stationed in England during the hostilities, to spread its fame to the United States once they returned home.
American GIs were first exposed to predominately pre-war T-Series cars until the first new postwar T-Series car, the TC, was introduced in 1945. MGs were unlike anything on offer from the American manufacturers: small, lightweight, nimble yet powerful, and they were seen as one of the most desirable items to take back home to the States when your tour was completed. The history of MG has been thoroughly documented elsewhere and there are any number of excellent references available that illuminate the fascinating trials and triumphs of one of Britain's most popular automobile marques. With this in mind, let's turn our attention to the small-scale toy cars that have worn the MG octagon over the intervening years.
Recognizing the perennial appeal of British sports cars, Johnny Lightning has recently introduced a set comprised of six classic English roadsters that includes both the MGA and MGB. Although it is a pleasure to see these long neglected cars finally depicted in small scale diecast, it is a shame that they could not have been better proportioned. Both models suffer from excess mass, undersized wheels and tyres and being too elongated with the A's ungainly stance being the most noticeable. Nevertheless, both models have opening bonnets that reveal detailed engine bays and well-appointed interiors and all models in this series have appeared in factory-correct paint tones. Hopefully, Johnny Lightning will build on the success it has met with this first set of British cars to introduce a second batch of castings that will include other rarely offered models of cars such as any of the members of the T-Series.
Perhaps owing to the overwhelming popularity of MGs in America, Tootsietoy offered a highly stylized model of a T-Series car. Most likely patterned after the final T, the TF, this miniature offers an overtly eye-catching variation on MG styling themes that should be a welcome addition to a collection of MG toys.
During its first few years of existence, Lesney's Matchbox series of miniatures had almost entirely consisted of commercial vehicles of one sort or another since the company's founders felt that such models were what children wanted. In fact, 18 models would appear in the Matchbox lineup before a private car was finally introduced. This historic miniature turned out to be a scale model of the MGTF. As with many other early Matchboxes, the MG was a single piece casting to which two separate parts, aside from the wheels and axles, were added: a driver and a spare tyre. Small details set apart the earliest Lesney pieces and this model was no different with its high level of hand finishing which included painting the grille and headlamps in a contrasting silver and the seat in red. Always one of the most popular miniatures produced by Lesney, finding a specimen of this model today in mint condition will take both time and a fairly large investment of capital.
As had been the case in real life with the transition from the TF to the new A, Lesney's #19-A, a miniature TF, was retired after a relatively short production run to be replaced by #19-B, which, in turn, was a model of Abingdon's latest sports car, the MGA. The new miniature was, like its namesake, a product of modern engineering and of considerably more complex construction than the model it superseded, indicated the rapid technological advances being made in toy production techniques. Unlike many of Lesney's earlier, somewhat clumsily-shaped castings, the MG A was a delicate yet handsome model that almost perfectly echoed the svelte lines of the actual car. In a novel touch that imbued the model with a great deal of character, Lesney's fitted its MGA, just as it had the preceding TF, with a sprightly driver permanently positioned at the car's steering wheel. As most MGA fans would quickly attest, there could hardly be a better fate in which to spend all eternity.
In commemoration of the Matchbox brand's 40th anniversary, then-owner Universal unveiled a series of "recreations" of some of the earliest, most popular and historically significant Lesney castings. While offering all of the charm of the originals, the new models were produced from new dies that, for the most part, were used to create faithful reproductions of the actual miniatures. Released to a less than enthusiastic response by collectors, the series managed to limp through three runs of new, metal-wheeled models (except for the lone plastic-wheeled Maserati) before being unceremoniously liquidated at a fraction of their previous retail prices. Although none of these models were particularly fast sellers, one of the most popular vehicles in the series was a reproduction of Lesney's #19-B, the MGA, that featured a cream-colored driver forever fastened to his seat and touring about in a British racing green car. Despite its efforts to capture the look and feel of the genuine Lesney casting, this new miniature fails on several fronts: its metal wheels are oversized, making the model sit far too high and its once slender driver appears to have stopped at one two many drive-thru windows during the intervening years.
An interesting model in that it was one of the few non-sporting MGs ever depicted in miniature was Matchbox's MG 1100. Essentially an evolved and enlarged Mini platform realized by the legendary automotive engineer Sir Alec Issigonis, British Motor Corporation's ADO16 series of small saloons was badge-engineered into a separate model for each of BMC's divisions. Hence, there was the Austin, Morris, Wolseley and MG variants, all known as either 1100s or 1300s depending upon the powerplant selected, and the up-market Riley Kestrel and Vanden Plas Princess. As was appropriate to the marque, the MG variety was promoted as the most sporting version of this rather high-tech and well-designed chassis and it was more powerful than its lesser Austin and Morris counterparts due to the use of dual carburetors. MG's first front-wheel drive production car, the 1100/1300 managed to sell comparatively well for what it was: an Austin wearing an MG grille. Taking note of the car's worldwide popularity, Lesney chose to model the little saloon as its first MG miniature in some time. As with previous Matchbox MGs, the 1100 also had a driver; however, his faithful canine companion riding in the backseat was a new addition to the formula. An accurate miniature of a somewhat uninteresting economy car, the Matchbox 1100 was among the group of models that made the transition from Lesney's regular wheels to the new Superfast type in 1970.
With the demise of the Midget and B and the demolition of the Abingdon works, MG's days as a sports car maker drew to a close, leaving the beloved and once proud MG name to be applied to Austin Metros and Allegros produced at the Longbridge factory. Although such a fate was undeserved, it must be noted that at least MG did survive where its formerly revered and equally sporting stablemates of Triumph, Austin-Healey and Riley were all mercilessly terminated by British Leyland. Despite repeated attempts to kill off MG, it somehow became the car that would not die and with the RV8 of 1993, it was finally allowed to gloriously resurrect itself. A limited production derivative of the long deceased B equipped with a Land-Rover/Range Rover-source engine, the RV8 was only intended to signal MG's return and two years later the first completely new MG sports car since 1962 would appear. The new car was a roadster christened the MGF and it proved to be a bold departure from previous MG platforms with its mid-engined layout. In honor of the newest MG, Matchbox produced a tasteful miniature of the F that, thus far, has been offered in several different paint schemes.

Although a product of Mecanno, the Mini-Dinky series of 1:64 scale diecast cars was not manufactured at the old Binns Road factory in Liverpool. Rather, this short-lived range of Matchbox competitors was produced in Hong Kong in a facility that had obviously not mastered diecasting techniques or any level of quality control engineering. These Hong Kong models were plagued with metal fatigue and amateurish paint application that immediately declared the series a failure. While most of the Mini-Dinky lineup consisted of miniatures already produced by other competing companies, a few unique castings, such as the MGB did appear prior to production being halted. As with other models in the series, the Mini-Dinky B had a great deal of potential: it was quite accurate and well detailed; however, poor quality spelled its doom. One of the more popular models to have been included in the Mini-Dinky range, locating a copy of this miniature that has not succumbed to metal fatigue can present a considerable challenge today.
Thus we end our review of 1:64 scale MG miniatures. If a collector expands into other scales, more MGs are available--even extending downward in size to 1:87. Yet the most surprising aspect of miniature MGs is how few exist in relation to how popular the real cars were and are. With new models recently introduced perhaps the oversights of the past will finally be corrected. It cannot come too soon. Long live MG!
Reference: McComb, F. Wilson, et al. MG by McComb, Third Edition. Oxford, England: Osprey Publishing, Limited, 1998.

MGA by Johnny Lightning


MGB by Johnny Lightning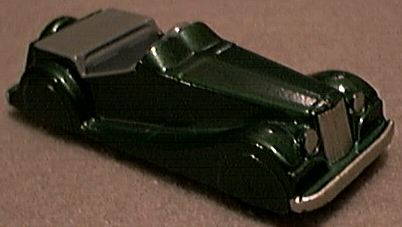 MGTF by Tootsietoy


MGTD by Matchbox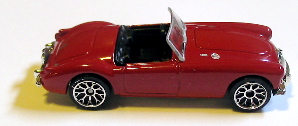 MGA by Matchbox


MGA (re-issue) by Matchbox


MG 1100 (regular wheel by Matchbox


MG 1100 (Superfast) by Matchbox


MGF by Matchbox