Sebring 12 Hrs. - 1967 Ford GT Mk IV, Hot Wheels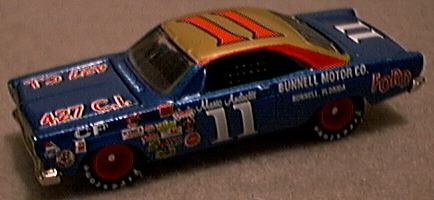 Daytona 500 - 1967 Ford, Johnny Lightning


Indy 500 - 1969 Hawk Ford, Johnny Lightning


Daytona 24 Hrs - 1972 Ferrari 312, Hot Wheels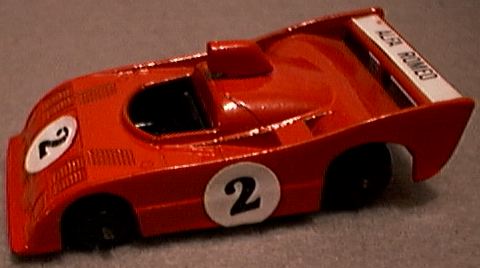 Monza 1000 - 1974 Alfa T33, Luso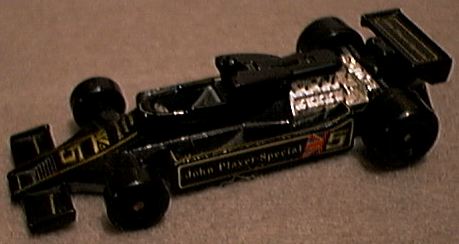 F1 3rd - 1978 Lotus 78, Tomica


F1 - 1980 Lotus 80, Polistil
"The crashes people remember but drivers remember the near-misses." Mario Andretti
The great Mario Andretti has to be considered America's most famous driver of the 20th century and certainly the last to have a big international impact as a Formula 1 champion. Andretti was always known as the driver who could win any race, and the array of small-scale cars we have assembled here shows this to be true.
Of course Andretti got his start in dirt track and Indy cars but his first big international win came in 1967 at the wheel of a Ford GT40 Mk IV, winning the Sebring 12-hour endurance race partnered with the great Bruce McLaren. This older style Hot Wheels version is a good representation of this famous car.
That same year, Mario scored a surprise victory in the Daytona 500. His winning Ford is done very nicely here by Johnny Lightning. This model is one in a series of famous NASCAR winners by JL.
People often mention the Andretti "curse" or poor luck in racing, especially in relation to the Indy 500. The fact is Mario raced in this most important event from the mid-'60's thru the mid-'90's with only one win - in1969 at the wheel of the Hawk-Ford pictured here by Johnny Lightning. But luck played a big part in this win, as the car he had intended to use, an advanced Lotus, crashed heavily in practice and was withdrawn. He was lucky to survive and used the old Hawk/Ford as a back-up car. JL packages these famous Indy winners with the pace car of the same year. 1969 also saw Andretti win his 3rd Indy Car championship.
Mario was ambitious enough to work on both sides of the "pond", taking European driving jobs when they paid enough and fit into his busy Indy Car schedule. He was part of the all star 1972 Ferrari team of sports car drivers for the famous 312PB (shown here is the old Hot Wheels version) and drove the winning car 3 times that season, at Daytona, Sebring & Watkins Glen.
He continued his sports car success in 1974, winning the Monza 1000KM driving an Alfa Romeo T33 with Arturo Merzario. Portuguese manufacturer Luso did a nice job on the wining Alfa here.
"No team manager will tell you this, but they all want to see you come walking back into the pits sometimes, carrying the steering wheel." Mario Andretti
Andretti's Formula 1 career began in 1968 (pole position in his 1st race!) and continued sporadically throughout the '70's (1st GP win in '71 South Africa for Ferrari) until he finally committed himself full time to F1 in 1975. He had to pay his dues all over again in this series, driving several uncompetitive cars before hooking up with Lotus and the innovative Colin Chapman. This relationship bore fruit in 1977 with 4 GP wins, 7 pole positions and 4 fastest laps. The car was the Lotus 78 pictured here by Tomica. The 78 model won 2 more GPs the following year and its successor, the all-conquering Lotus 79 took Andretti to the World Driving Championship in 1978. Sadly, no small-scale version of this famous car is available. It's hard to stay on top for long, and the next Lotus, a most beautiful model 80 pictured here by Polistil, proved to be a disappointment.
While his F1 career drifted downwards, Andretti did secure the IROC championship in 1979. All the participants in this series drove identical Camaros like the one pictured here with IROC chin and tail spoilers, by Zee Toys.
Trying to stay in the F1 game, Mario jumped to the Alfa Romeo team in 1981 to drive the model 179, pictured here by Polistil. But this move was to be a dead end and new developments back home proved more enticing. Andretti would only get "super-sub" F1 jobs in 1982: One ride in a Williams FW07 and two in the Ferrari 126C, both outstanding models pictured here by Polistil.
Meanwhile, he helped put together a "super team" for the new Indy Car series, now managed by the CART organization. This team combined a potent blend of former rival team owners Paul Newman and Carl Haas, Andretti as driver, Lola chassis, Ford engines, mixed well with plenty of sponsorship money from Texaco and K-Mart! The Matchbox model pictured here is a good example of one of these cars. The Newman-Haas team took the Indy Car championship with Mario in 1984 and with his son Michael Andretti in 1991. Mario finished out his open-wheel racing career with the team in 1994 driving a Lola Ford like the one pictured here by MiniChamps.
Mario of course stays close to the racing scene as a spokesperson for Texaco. He watches over his son Michael's career in CART while younger son Jeff tries for an IRL ride this season. Mario still pursues his dream of a LeMans 24-hour win; he last raced there in a Panoz LMP car in 2000, shown here by Hot Wheels in closed body version.
"If you feel like you're under control, you're just not going fast enough." Mario Andretti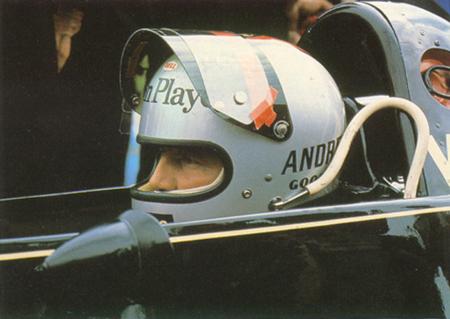 Formula 1 World Champion - 1979


IROC Champ - 1979 Camaro Z28, Zee Toys


F1 - 1981 Alfa Romeo 79, Polistil


F1 - 1982 Ferrari 126C, Polistil


F1 - 1982 Williams FW07, Polistil


CART PPG - 1984 Newman-Haas Lola, Matchbox


CART PPG - 1994 Newman-Haas Lola, Minichamps


Le Mans - 2000 Panos LMP, Hot Wheels