'69 Ford Mustang - Johnny Lightning


'73 Ford Mustang - Johnny Lightning


'70 AMC Rebel Machine - Johnny Lightning


'73 Ford Torino - Johnny Lightning



'71 Pontiac GTO Judge - Johnny Lightning


'73 Dodge Charger - Johnny Lightning


Boss Hoss - Hot Wheels


Evil Weevil - Hot Wheels


Heavy Chevy - Hot Wheels


King Kuda - Hot Wheels


Light-My-Firebird - Hot Wheels


Sugar Caddy - Hot Wheels


TNT Bird - Hot Wheels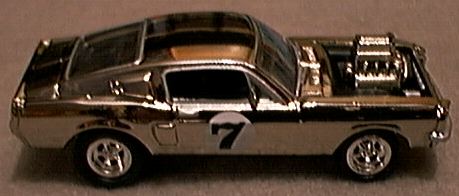 '68 Shelby Mustang - Johnny Lightning, remind you of anything?
---


The feud between Mattel's Hot Wheels and Playing Mantis' Johnny Lightning divisions, just got hotter. Anyone who follows the small-scale diecast market is likely aware of long-term conflict between the Hot Wheels and Johnny Lightning brands. It actually started more than 30 years back when Topper, then owner of the Johnny Lightning trademark, rushed to offer models to compete with Mattel's smash-hit toy cars. Mattel was not amused then and when Playing Mantis bought the rights to the Johnny Lightning name in the early 1990's, Mattel was quick to challenge anything that appeared to infringe on Hot Wheels' products.

It is important to understand that Mattel is a Goliath of a company in the toy industry while Playing Mantis is barely a David. Even so, the small stones that Playing Mantis keeps throwing, are getting to Mattel's giant ego. The latest hit scored by Johnny Lightning is one of their best.

In the early 1970's, Hot Wheels offered a series of their custom cars with racing numbers, racing stripes and exposed motors. These were actually revised castings for their earlier models. The 'Custom Camaro' became the 'Heavy Chevy' and the 'Custom VW' became the 'Evil Weevil'. Today, the eight cars offered in this series are very popular among collectors and often sell for over $50 in near-mint condition. My examples are far from mint but accurately reflect the play value of these Hot Wheel models. I am missing the 'Nitty Gritty Kitty' in my personal collection.

In 1999 Johnny Lightning offered a series called 'Street Freaks', described as "...souped-up, jacked-up road warriors with slick candy paint jobs and blown engines of heavy chrome. These 'Street Freaks' were a modest success and like the earlier Hot Wheels, were revisions of earlier castings for the JL Muscle Car series. The first series of Street Freaks were painted in a single color and did not seriously attempt to copy the style of the earlier Hot Wheels. For 2001, the Streak Freaks are back and it is very clear that they are painted to look a lot like the earlier hot rod Hot Wheels, The addition of numbers and stripes that mirror the designs used on the Hot Wheels leave no doubt that these Johnny Lightnings are designed to tweak Mattel's nose.

The most blatant copy is JL's chromed Shelby Mustang. Hot Wheels offered three special versions of their hot rods that were only available to Hot Wheels Club Members in the early 1970's. I remember sending in the small payment and receiving a membership kit and a Boss Hoss Mustang with a chromed body and black racing stripes. The Heavy Chevy and King Kuda were also offered to club members. Johnny Lightning has clearly decided that a chromed version of their Shelby Mustang is intended to out 'Hot Wheels' Hot Wheels.

Will Mattel retaliate? It's possible that threats of law suits might cause Playing Mantis to back off as they have before. If so, these JL hot rods could be hard to find. I found mine at Kay Bee Toys.


---

JL's original release of these castings was known as 'Street Freaks' and seemed to linger on the shelves. Who was the clever marketing type to suggest adding numbers and racing stripes?

JL Ford vs. HW Chevy


JL Charger vs. HW Cuda


JL GTO vs. HW Firebird


JL Rebel Machine vs. HW Mustang


HW T-Bird vs. JL Torino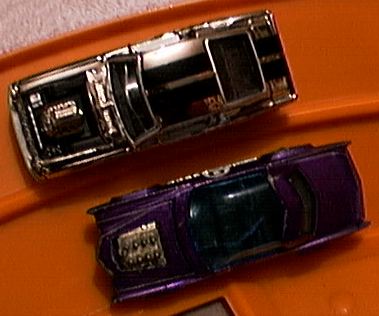 JL Shelby vs. HW Eldorado


JL Mustang vs, HW VW Beetle