Bestbox/Efsi Model List
Bestbox number/Efsi number

---

501 - Daf 600 Sedan
502 - Daf 1400 Refuse Truck
503 - Daf 1400 Fire Engine
504 - Daf Torpedo Tipping Truck
505 - Daf Torpedo Open Truck
506 - Daf Torpedo Closed van


2501/1010 - 1919 Ford Model T Pickup


25021020 - 1919 Ford Model T Tanker


2502A/4020 - Porsche 911S(police 4020/rally 4022)
2503/1030 - 1919 Ford Model T Breakdown
2504/1040 - 1919 Ford Model T Delivery


2505/1050 - 1919 Ford Model T Coupe


2505/1050 - 1919 Ford Model T Coupe
2506/1060 - 1919 Ford Model T Sedan
2507/1070 - 1919 Ford Model T Advert/Ambulance


2507A/4070 - BMW 2000 CS (rally 4071)
2508/4080 - VW 1600 TL
25094060 - Mercedes-Benz 220 SE (rally 4061)
2509A/2010 - B.R.M. Formula 1
2510/4090 - Citroen ID19 Safari (ambulance 4091)
2511/4010 Ford Tanus 17 M Super (race 4011)
2512 - Opel Rekord
2512A/2020 - Honda Formula 1


2513/4030 - Jaguar 'E' type Roadster
2514 - Mercedes-Benz 280 SE Cabriolet
2515/4050 - Opel Rekord 1900
2516 - Mercedes-Benz 280 SE Coupe
---


Only a handful of diecast companies can claim to have continuous production since 1962. One that can is a Dutch company, known by two different names.

Bestbox models were first offered in 1962. As one might guess from the name, they were an attempt to take advantage of the success of Lesney's Matchbox models and the Bestbox name is an obvious effort to encourage comparison. The original castings by Bestbox are also quite Matchbox-like with solid axles and a mix of street, racing and commercial vehicles.

The four Formula 1 cars shown to the right are Bestbox castings. Slightly smaller than the Lotus #19 and B.R.M. 52 models offered by Matchbox, Bestbox also offered the Ferrari, Brabham, Honda and Cooper-Maserati models from about 1966. The quality of the Bestbox models is equal to their Matchbox counterparts. The motors are a separate casting and can be removed, leading to many motor-less models to be found today. The Cooper-Maserati with it's V12 power-plant is perhaps the most interesting to see in 1:64 scale.

At some point in the early 1970's. Bestbox changed it's name to Efsi. While it seems unlikely that this move would have been forced by Matchbox (Aurora had produced Cigarbox models), perhaps it was decided to stand tall under the Efsi name. For whatever reasons, Efsi of Holland has continued to produce diecast vehicles up to the present.

The numbers on the list of models show the Bestbox number first, followed where appropriate, by the Efsi number. Almost all of the old Bestbox castings were re-released with Efsi numbers and baseplate identification. The Cooper-Maserati F1 car, and the early Daf vehicles are the exceptions. In addition, Efsi continued to offer new models and new variations of the older Bestbox castings. For example, the Porsche 911S gained a police and rally version.

New Efsi models included many Mercedes-Benz commercial vehicles and variations on a Commer Van. A McLaren F1 car was also added along with a Mercedes-Benz 280SL and other models.

One of the most interesting Bestbox/Efsi castings is a variety of models based on the 1919 Ford Model T. These charming models represent some of the earliest cars to ever be done in 1:64 scale. The Pick-up truck is certainly the oldest pick-up I have seen. The Model T Coupe in black is quite appropriate as Henry Ford is known to has offered this model in any color the customer wanted, as long as that was black. While these Model T variations do not have plastic windows, they are otherwise delightful additions to any collection and were produced at least into the 1980's, and perhaps beyond.

No number can be found for the Land Rover produced by Efsi. It is a newer casting with speed-type wheels. In addition to the green model shown here, a police version was offered in blue. The traditional Land Rover look is nicely captured by this model. It looks ready for an African safari or duty in the wilds of Scotland. This model may also still be in production.

All Efsi models shown here are stamped 'made in Holland' and like Siku, focus on vehicles to be seen in the domestic market. According to the Efsi Website, http://www.Efsi-miniaturen.de/ , tractor-trailer rigs and construction equiptment are the current focus. Of course as the site is all in Dutch, I'm not sure I found everything. Efsi is shown with the following headquarters:

Efsi Miniaturen-Holdi B.V.
Hr. Klaas de Vries
Steinmetzstraße 20
D-41061 Mönchengladbach

There is also a connection between Efsi and Joal, a well-known name to 1:43 scale collectors. Holland-Oto is also linked to the Efsi company.


---
Source for Bestbox/Efsi model lists - Diecast Price Guide 1946-Present by Douglas R. Kelly, published in 1997.

2517/2030 - 1966 Ferrari 312 Formula 1


2518/2040 - 1966 Brabham Formula 1


2519 - 1966 Cooper-Maserati Formula 1


2520/2060 - 1966 Lotus Formula 1
2521/4100 - Citroen Dyane


2522/4110 - Ford Transit Van


4111 - Fordtransit Ambulance


4112 - Ford Transit Van Police
2050 - McLaren Formula 1
3020 - Commer Van
3021 - Commer Ambulance
3022 - Commer Service Van
3023 - Commer Fire Van
3024 - Commer Army Ambulance
3025 - Commer U.S. Army Van
3030 - Mercedes-Benz Open Truck
3040 - Mercedes-Benz Covered truck
3041 - Mercedes-Benz red Cross Truck
3042 - Mercedes-Benz Army Truck
3050 - Mercedes-Benz Dump Truck
3051 - Mercedes-Benz Army Dump Truck
3060 - Trailer
3061 - Red Cross Trailer
3062 - Army Trailer
3080 - Mercedes-Benz Fire Engine
3090 - Mercedes-Benz Tanker (Shell)
3091 - Mercedes-Benz Tanker (Elf)
3092 - Mercedes-Benz Tanker (Aral)
3093 - Mercedes-Benz Army Tanker
4040 - Mercedes-Benz 280SL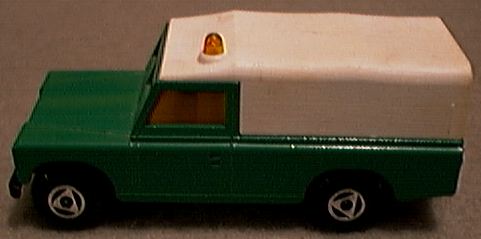 Number? - Land Rover