Big Brutes and Little Frogs:
Austin-Healey in Small Scale
by Brian Willoughby


Many years ago when Britain was still a major motor producing nation, its quirky and highly entertaining sports cars were viewed as its distinct specialty. Like in America where you began automotive escalation with a Chevrolet or Plymouth and eventually worked on up to a Cadillac or Imperial, there was a hierarchy among British sports cars. MG represented the entry level product; it was followed by Triumph yet there was a significant gap between it and the next member of the hierarchy, Jaguar. Although it may have not been originally envisioned as bridging this gap, the Austin-Healey accomplished just that when the first 100 was introduced in 1954. Austin's first true sports car, the Healey 100 borrowed its powerful four-cylinder engine from the disastrous A90 Atlantic while sourcing the a good percentage of the remainder of its parts from various other Austin products. Designed by the father and son team of Donald and Geoffrey Healey, the 100 benefited greatly from their many years of expertise in the field of building sports cars. Not only did it look great, its handling and power were top drawer for its period and its extremely reasonable selling price. Happily for Austin, it was an immediate hit and thus the Austin-Healey legend of brutish sports cars was born.

For many, the original 100 represents the Austin-Healey concept in its purest form: reinforcing this viewpoint was 1956's 100-6 that was equipped with a rather heavy, 2.6 litre six-cylinder engine that actually lessened performance in comparison to the earlier, four-cylinder cars. After the disappointing 100-6, a displacement increase (to 3.0 litres) and the figment of large, front disc brakes in 1959 returned the Big Healey to its rightful position with the arrival of the Austin-Healey 3000 Mark I. Unusually, the Big Healey was one car that seemed to improve with every new version: over the years, the interiors grew more comfortable and opulent, the operation of convertible roof was eased and late Mark IIs (1962-on) featured such decadent amenities as wind-up windows rather than side-curtains. By the final incarnation of the Big Healey, 1964's 3000 Mark III, the car was already a living legend and, rather curiously, it had, by this point, evolved into more of a gran turismo; most experts consider them the most refined Healeys and the best of the breed. In a much lamented move, the Big Healey was discontinued in 1968, the victim of an aged design (14 years old) that simply could not be made to comply with ever more stringent American safety and emission regulations (needless to say, the United States was the car's biggest market.)

In the meantime, Austin saw an opportunity to seize yet another untapped niche in the market: the very bottom. There really were no bargain basement sports cars positioned below the MG A and Austin decided that it should conquer the entry level market with a stripped down, no frills mini-Healey. Introduced during 1958, the Sprite, with its unique headlamps that inspired nicknames such as Frogeye (Britain) and Bugeye (America), was a charmer: full of character, lightweight and rather quick for a sub-one litre (948 cc in stock form) sports car, the little Healey captured its intended market and dominated it for years. A favorite among racing enthusiasts due to its imminently tunable platform, the Frogeye Sprite continues to lead a very active competition life to this day. Replaced by the second generation Sprite (and its slightly more up-market, badge-engineered clone, the MG Midget) in 1961, the model grew ever more refined yet lost most of its distinctive character until it was dropped during 1971. Yet the Sprite lived on in the guise of the MG Midget until 1979: not bad for a car that hadn't changed much since its introduction some 21 years earlier.

Yet despite the success of the real cars, Austin-Healeys have been largely overlooked by makers of small scale diecast models. There is no definitive answer for why. The distinctive Big Healey shape is perhaps a bit difficult to translate into miniature; however, there are other cars that have been offered by countless manufacturers that are even more complicated such as the Jaguar E-Type. The Sprite is even more neglected than the Big Healey and the Mark II and later Sprites have never ranked even a single 1:64 model. With this in mind, let's survey the very sorry state of affairs in miniature Austin-Healeys.

Clearly targeting Lesney's Matchbox miniatures, Morestone's Budgie line of small scale, diecast models offered renditions of vehicles that varied from complete originals to thinly veiled copies. The first, and for many years only, 1:64 scale Austin-Healey 100-6 debuted as a member of the Budgie range during the mid-1950s. A charming period model with a delicate diecast windscreen that Lesney would have never attempted, the Budgie Healey also featured a driver forever positioned at the wheel who appeared strikingly familiar--perhaps he was moonlighting from his duties over at Lesney! An extremely rare model today, this model tops the "want lists" of many Budgie as well as Healey collectors.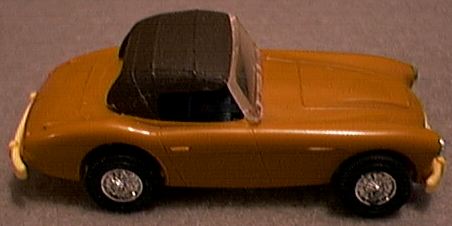 Quite a departure from its traditional line of glue-together, 1:24 scale plastic kits, Lindbergh's "Mini-Lindy" range models consisted of a wide variety of easily-assembled, molded- plastic miniatures that were generally scaled at approximately 1:64. Promoted as requiring no glue, most of the components simply snapped together; to complete the final assembly procedure, the body and chassis were united with a couple of small screws. Nevertheless, many of the small parts had a decided tendency to work loose over time, resulting in many assemblers using adhesives to hold the models together as a supplement to the screws. Bodies did not necessarily require paint; however, the colors of the plastics selected for many of the moldings were questionable choices at best and many of the miniatures ended up with bizarre details such as green bumpers. One of the perennial favorites in the extensive Mini-Lindy lineup of cars and trucks was the Austin-Healey 3000 Mark III. Its popularity is probably best explained by the scarcity of miniature Austin-Healeys and not by its prototypically correct lines: the wheels are oversized and its body appears too broad, short and bloated with none of the sleekness of the actual car. In a welcome and nice touch accuracy, the model's roof is removable and while it may not be perfectly shaped, it is a feature the denotes a complete model since it is frequently lost.
With its catalog of miniatures frequently displaying a strong aversion to the scale model philosophy, Hot Wheels' recent model of the classic Big Healey is a textbook example of the "California Look" gone awry. Patterned after the earliest Austin-Healey of all, the 100-4, Mattel's interpretation of the car is loosely based on the once-common engine conversions performed on these roadsters two to three decades ago. Largely (and thankfully) forgotten today, this ridiculous model celebrates the Philistine period during which Big Healeys were in the process of making the transition from being viewed as simply old cars to classics. Fitted with small wheels on the front and large wheels at the rear, the model features a big block V8 protruding from its bonnet and a chromed dash. While the color selections do not correspond a factory scheme, the execution and location of duo tone paint work is largely correct and the slopping, slightly folded windscreen was a unique feature of these cars that allowed their owners to quickly join in competitive events with improved aerodynamics. All in all, the model could have been so much more: sadly, it represents another missed opportunity to bring a much needed accurate Big Healey miniature to a starving marketplace.
Something of a mystery model, Corgi Juniors' Austin Healey Le Mans Sprite was inspired by a racing version of the little Healey. One of the earliest members of the Corgi Junior range after the retirement of the Husky brand name, the LM Sprite had a relatively short production life that spanned about four years; however, this was a sufficient period of time to create several variations. Early production castings featured black "Whizzwheels" and dark brown baseplates whereas later versions were outfitted with two different chromed wheel types and dark brown or black bases. Additionally, some models appear to have come with and without the large, number "50" decals attached to the doors. Since later Sprites (i.e. post-Frogeye cars) rank highly among unloved of British sports cars, the history of the actual car upon which this model was patterned is difficult to trace, thus leading to a unique and mysterious Austin-Healey entry from Corgi Juniors.
Correcting the omissions of other manufacturers, Johnny Lightning has boldly offered models of a number of cars (foreign and domestic, great and otherwise) that other toolmakers have seemed to have completely forgotten. One of the most widely anticipated new series of Johnny Lightning castings has been the recent "British Invasion" set. Including the likes
of an MG A, an MG B, a Triumph TR3, a Sunbeam Alpine (or Tiger, depending upon the packaging), a Jaguar E-Type Roadster and an Austin-Healey Frogeye Sprite, the lineup provides collectors with miniatures of cars that have never been produced before in small scale (the Sprite) or cars that were represented by crude or painfully scarce versions from years past. The Sprite is a delight: slightly larger than 1:64 scale, it has been offered with several prototypical paint schemes (and at least one custom paint job) and is fitted with an opening bonnet that is true to the original car. As this set has met with great success, collectors are already eagerly awaiting the next batch of new castings. While there have been many arguments concerning what is deserving of inclusion in this series, most collectors seem to agree that the most obvious choice for any set of new offerings should be a model of the far-too-often neglected Big Healey.
Best known for their extensive line of commercial vehicles, Exclusive First Editions some years back produced a set of four British "sporting" cars that included the Triumph 2000 Roadster, the MG A, the Triumph Vitesse Convertible and the Austin-Healey Frogeye Sprite. A quaint foursome, the models were up to the brand's usual standards for accuracy and detail; however, the models were scaled to a somewhat smaller 1:72 scale rather than the more standard 1:64. Difficult to find in today, the set has recently been reissued, promising collectors that missed out the first time around another opportunity to acquire four rarely modeled English cars.
Sadly, this is where we conclude our review of small-scale Austin-Healeys. Their absence within the annals of toy making is puzzling: the actual vehicles were among the most popular sports cars of their day and they are still immensely popular today. Hopefully this oversight will be corrected in the coming years; otherwise, collectors will have to accept what is currently available or look to other scales to satisfy their quest for Healeys.