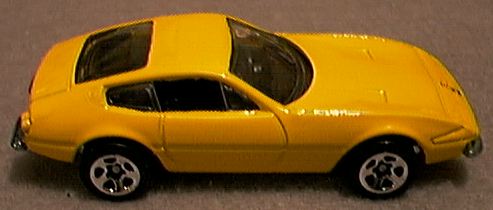 No other car is associated with a single color as are Ferrari and the color red. Real Ferrari cars do come in other colors and if your Ferrari is not in Italian racing red, fly yellow is the next best choice.

With the recent addition of Hot Wheel's 1970 Ferrari Daytona in yellow, I became curious. How many of Ferrari's finest from Hot Wheels had been done in this number-two color? While I can't be certain that my collection is all-inclusive, 10 different examples are shown here. Of course, as I've included to versions of the F40, only nine castings are represented.

The 1957 250TR (Testarossa) is the first model and it also sports the number '7', and appropriately so as these were primarily racing models. The 365GT/4 Daytona is next, sporting fly yellow for 2001. The evergreen 308GTB is a bit harder to find in yellow as this color did not last long for this model.

The Testarossa of the 1980's in yellow is an even rarer find as it only appeared this way in a special race set. The F40 model has seen yellow paint twice. The blue interior car sports ultra-hot wheels while the more recent all-yellow version has the new 5-spoke wheels.

The 348tb looks much better in yellow than it did in some of the other colors used on this model, especially a pathetic pink. The 355 Berlinetta was introduced in yellow. In addition to the stock version, a 355 Challenge model has now been offered in yellow as well. Perhaps most interesting, the two 355 castings are completely different. The last yellow Ferrari is the F50 Berlinetta model.

It is not a long-shot that the 550 Maranello, 360 or 355 Spider are likely to appear at sometime in yellow as well. The 333SP was not raced in yellow to my knowledge, and is less likely to be seen in this color. I would love to see the 312 GT racer or 512 Pininfarina prototype of the early '70's, re-released, however the originals did not come in yellow.