Searching for the next form of motive power for automobiles, most major car-makers began experiments with new and/or improved engine designs throughout the 1960s. During this period, many experts and automobile companies firmly began to believe that the savior of the industry was Dr. Felix Wankel's ingenious and innovative rotary engine. Having settled upon this design as the future and great hope of the internal combustion engine, Daimler-Benz invested millions of Deutschmarks to engineer and develop its perfected Wankel for eventual production. Intended for use in otherwise conventional Mercedes sedans, the largely unproven Wankel still needed to prove its mettle to Benz's demanding engineers, prior to being approved for sale to the public. The solution arrived in the form of an incredible series of experimental test-beds known, collectively, as the C-111.
Truly built exclusively for testing purposes and not, as many had hoped, eventual production, the mid-engined C-111s evolved through a variety of stages that involved changes in suspension systems, power generated by triple and quad rotor Wankel engines and extreme modifications to the car's styling and body-shell. Considered by most to be the most effectively executed of Stuttgart's C-111 platforms, the third generation body style with its potent 4-rotor engine is the probably the best remembered with its flying buttress flanked hindquarters and the unavoidably massive three-pointed star fixed to its pointed nose. Everything looked positive for the Wankel: it was compact, powerful and unbelievably smooth when compared to reciprocating piston engine, yet, it had one fatal fault that would spell its ultimate doom. That problem was its notoriously poor fuel economy and with the untimely arrival of the first fuel crisis, the once enthusiastic trumpeters of the Wankel, including Daimler-Benz, opted to cut their losses and abandon the design in spite of the fortunes spent to place it into now halted production. Fortunately, the C-111 was allowed to repair its reputation and regain its honor and, after yet more modifications, another new body and the installation of a new power-plant, it became a record breaking champion for Benz's state-of -the-art diesel technology during the late 1970s.
In Munich, BMW did not allow itself to get too deeply involved in the rotary engine craze and instead continued to conduct research into coaxing more power from existing engines through the use of turbocharging. Outfitted with a turbocharged version of the 2002's and 2000 sedan's single-overhead cam engine, the BMW Turbo made a grand entrance at the 1972 Summer Olympic Games being held, coincidentally, in company's home town. Boldly showing the automotive world that BMW intended to be a force to be reckoned with, the mid-engined, gull-wing-doored Turbo almost immediately gave rise to the 2002 Turbo (which, sadly, suffered a premature death due to the aforementioned fuel crisis) and, after a lengthy gestation period, blossomed into what is still quite possibly the world's most civilized supercar, the delectable M1.
Show cars are meant to attract attention; after all, that's one of the prime considerations for building them. However, on the diecast car scene, production cars tend to be favored over, and more prevalent than these flashy and commanding creations. Production cars are more easily related to, yet, nevertheless, both BMW's Turbo and Mercedes' C-111 are extremely well represented for two cars that never left the experimental stage. With this in mind, let's review the many 1:64 scale miniatures of these early 1970s "Wunderwagen."
Somewhat surprisingly for an early Hot Wheels model, Mattel's C-111 appeared to almost be a scale miniature with its pleasantly accurate lines and subtly restrained form that largely dispensed with the "California-style" overkill that had rapidly made this upstart brand so famous. Equipped with operating gull-wing doors, the Hot Wheels C-111 did take a few liberties when compared to Benz's prototypes: Mattel's miniature featured wheels on the front and rear axles of smaller and larger diameters and, unlike the actual cars, was painted in a wide variety of colors that ranged from tasteless to sublime. One of the scarcer early Hot Wheels today, the C-111 is also one of the brand's best efforts during this period.
As with so many of its other newly introduced 1:64 scale castings during 1970, Corgi offered its rendition of the C-111 as a member of its "Rockets" range prior to demoting it to the standard Corgi Juniors line. Modeled after the earlier C-111 body style, both of Corgi's miniatures featured an operational bonnet that opened to reveal a tiny, chrome-plated Wankel engine within while the Rockets version added Corgi's novel "tunable and removable" chassis to the formula. Although a largely successful model overall, Corgi's C-111 does suffer slightly from a seemingly elongated nose and an overly tall roof line; this was no doubt (and perhaps unfortunately) necessary to accommodate the Rockets chassis for that particularly short-lived variation of the casting.
Interestingly, Playart was apparently so taken with the early body style C-111 that it produced two distinctly different castings of it in two scales. The smaller of the two models was scaled to approximately 1:72 and debuted as a member of Playart's Tootsie-like budget range. Featuring a simple, hollow diecast shell and four prongs onto which the axles were crimped, these inexpensive toys must have endured a fairly high mortality rate since few have survived to today. Quite accurate castings, especially when compared to contemporary Tootsies, the Playart budget range included models of many other noteworthy cars such as the Lamborghini Miura and Opel GT. While the budget range model may have been lacking in most areas, Playart's standard range C-111 was presented as a complete and very handsome model. Easily one of the finest 1:64 scale miniatures of the Benz show car, Playart concentrated upon accuracy rather than gimmicks when designing its C-111 and, despite being a static and featureless model, the model manages to conjure up the lines of the prototype almost perfectly.
Understandably, it was difficult for most people to be very enthusiastic about a miniature version of a diesel-powered Mercedes 200 sedan and, consequently, the striking Wankel-engined C-111s continued to be a popular subject for toymakers years after they first hit the car show circuit. A prime example of this "show cars are exciting" philosophy was the model of an early C-111 that was included in Ertl's "Cars of the World" series during the late 1970s when the actual car was hurriedly approaching its tenth birthday. A rather poorly sculpted model with exaggerated lines and an appropriately massive, opening rear bonnet, Ertl somehow managed to erroneously fit their miniature with right-hand drive! Curiously, this Ertl miniature was pirated by a little-known Hong Kong diecaster only identified by an encircled letter "U" (Universal perhaps?). Dispensing with the interior molding and opening bonnet, this inexpensive "off-brand" model is a rare find that offers nearly the same metal casting quality as expected from more expensive miniatures.
However, without question, the best C-111 model produced in small-scale diecast was Schuco's superb 1:66 scale miniature. Based upon the later C-111 chassis, Schuco's model featured amazingly delicate, operating gull-wing doors whose construction was noticeably superior to those fitted to the similar Hot Wheels miniature. Wearing prototypically correct orange paint alongside black plastic accents, the only real fault with Schuco's C-111 is the somewhat generic wheel covers. Why these wheel covers were used is something of a puzzle since, after all, a much more accurate five-spoke type was utilized on Schuco's extensive range of racing car models that, if applied to the Wankel-engined Mercedes, would have elevated the model to all-out perfection. After the demise of Schuco, many of its dies were acquired by Norev and REI and sent to France and Brazil, respectively; however, the rather complex C-111 miniature was apparently not resurrected by either of these companies.
Turning its attention from Stuttgart to Munich, Schuco unveiled another winning model with its miniature rendering of the BMW Turbo show car. Equipped, like its model of the C-111, with operational gull-wing doors, Schuco's BMW Turbo accurately captured the somewhat quirky stylistic essence of the real car. Painted, similarly to the Benz, in a bold orange, Schuco's Turbo featured an exclusive design element hearkening back to the days of the Jaguar XK120: rear wheel spats. Packaged, like all of its Schuco compatriots, in a clear, hard plastic box, even mint versions of these models are often found with roof paint damage caused by rubbing against the box lid. Once relocated to Brazil, the tools for this model, unlike those used to generate the C-111, returned to full use under the auspices of REI after the financial failure of Schuco.
Curiously, Ertl once again opted to honor another old German show car within its late '70s "Cars of the World" series with its selection of the BMW Turbo. Produced in two variations, early versions featured hideous pink paint and an opening rear bonnet whereas later models wore the correct orange tone yet had the operating details deleted. A nicely proportioned model that was vastly superior to the company's ill-shaped C-111, Ertl's BMW Turbo ranks second only to Schuco's in terms of correctness and accuracy. As with Ertl's C-111, this model also inspired another inexpensive and simplified copy by the mysterious Hong Kong-based "U".
Overlooking the Mercedes C-111, Majorette instead elected to model its Bavarian-based archrival's show car: BMW's Turbo. Outfitted with opening plastic doors (invariably molded in black styrene that harshly conflicted with the body color), Majorette's Turbo was, at best, an unhappy marriage of unrelated gimmicks. Never appearing in an appropriate combination of colors, many variants wore gaudy tampos and/or rally decals; this was truly a shame since with a little work this terminally flawed yet correctly shaped and scaled model could have become another outstanding miniature of a quite historically significant BMW.
Unable to compete against Mattel's Hot Wheels and spiraling downward into terminal bankruptcy, Dinky Toys attempted to remain solvent by enlisting the assistance of Far-Eastern diecast manufacturers to produce cheap and profitable products. Somewhat like its neighbor Playart, Hong Kong-based Universal produced a variety diecast toys that were sold under several names, including a series of 1:64 scale models that were packaged for sale as Dinky miniatures. Hardly up to the legendary quality standards of the Dinky brand, the Universal models represented an eclectic mix of European, American and Japanese vehicles that were perhaps felt to appeal to as wide of an audience as possible. Among this set was an uninspired miniature of the old BMW Turbo show car that had nothing to offer except an acceptably accurate shape and frictionless wheels. A rare model that is expensive to acquire today due to the Dinky connection, this miniature represents the end of the road for one of diecast's most revered brands.
Here we end our review of these two influential German research cars. While they may have both been dead ends in and of themselves, both made a lasting impression on the automotive industry. As noted, the BMW Turbo laid the groundwork for the later M1 while lasting legacy of the Wankel-powered C-111s is probably best witnessed through the styling of other supercars (from Maserati, among others, for instance.) Several models of each car exists and many are abundant and relatively inexpensive to acquire. Toy cars: what a fun way to re-live automotive history.
The Mercedes-Benz C-111 and BMW Turbo
in small scale
---
MERCEDES-BENZ


Hot Wheels - Mercedes-Benz C-111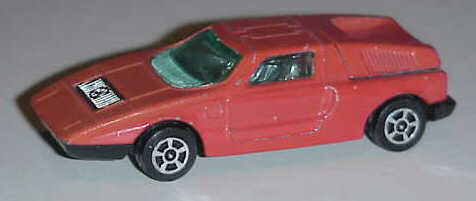 Corgi - Mercedes-Benz C-111


Playart - Mercedes-Benz C-111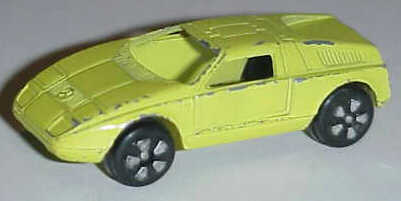 Playart (1:72) - Mercedes-Benz C-111


Ertl -Mercedes-Benz C-111


U/Universal - Mercedes-Benz C-111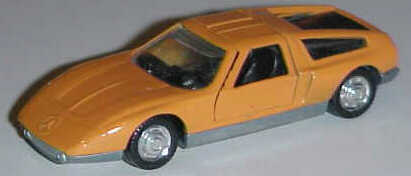 Schuco - Mercedes-Benz C-111

---
BMW


Schuco - BMW Turbo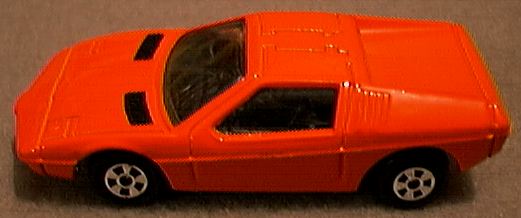 Ertl - BMW Turbo


Majorette - BMW Turbo


Dinky - BMW Turbo

---