Imperial Diecast of Hong Kong has been around for many years but is seldom mentioned by diecast collectors. Recently, I found a six-pack of their simple castings at K-Mart for $1.99 and decided the price was about right. Like me, you may have seen the Imperial blister packs at local grocery stores but they are always priced at $1 each and I have found it hard to pay even that much for the level of quality. With their basic castings, yellow tinted windows, plastic bases that also double as crude interiors and Hong Kong wheels, Imperial models are never going to be more than disposable toy cars.

At the same time, Imperial does offer original castings that are numbered and represent real cars. From the cars represented here, it is probable that most of the Imperial castings were done in the 1980's. These models have been given new colors and released over the past 15 years. While the models are not licensed, they are a step above many generic brands that simply pirate a Tomica or Matchbox casting as their own.

Imperial Diecast has regional offices in the United States, Canada and the United Kingdom, where their cars are distributed by Titan Toys, Ltd. They also have a Web site at <http://www.imperialtoy.com/>. Imperial has also produced soft plastic cars in 1:43 scale and many other vehicles and toys.

Of the seven models shown here, the BMW 633CSi has been in my collection for many years while the other six are from the recently acquired 6-pack. I'm not absolutely sure the blue coupe is a BMW 633CSi but it seems to be an attempt to represent that car. The recent additions are easier to identify.
The most interesting model shown here has to be the Porsche 956 Le Mans car known as 'Moby Dick'. The long tail and spoiler make it easy to identify. This car has seldom been done in small-scale. To my knowledge, only Tomica has produced a model of 'Moby Dick'. All of the other models are easy to find from other manufacturers and with much better detail.

Imperial has wisely focused their products in retail outlets like grocery stores that traditionally do not carry the major diecast manufacturers. It's a fair guess that most of their sales are to frustrated parents, looking for something to keep junior quiet while the shopping is completed. For these parents, $1 is a bargain for a little peace while in search of the week's combustibles.

Should you consider adding Imperial models to your collection? At $1 each, I would not. However, at $.33 each, I decided that there was enough value to justify their purchase. If you are a VW or Porsche collector, it will be easier to rationalize the need for these toy cars.

These are throw-away toy cars that seldom stand-up to the hard play of children. The bases and wheels can be easily broken. Perhaps this is the charm of these toy cars. They don't pretend to be anything other than what they clearly are. Imperial is not likely to ever be more than a footnote in the pages of diecast history, but some recognition is deserved. They have identified a specific target market and for the last 15-20 years, have stayed the course.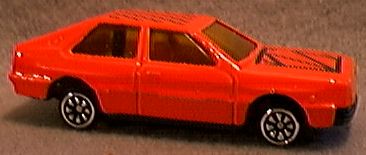 Audi Quattro #8112


BMW 633CSi (I think) #9228


Chevrolet Camaro #8323


Lotus Esprit #8324



Porsche 953 LeMans 'Moby Dick' #8325


Porsche 959 #9327


VW 1600 #8119