1972 Lotus 72 - Schuco


1972 Lotus 72 - Yat Ming


1974 McLaren M23 - Polistil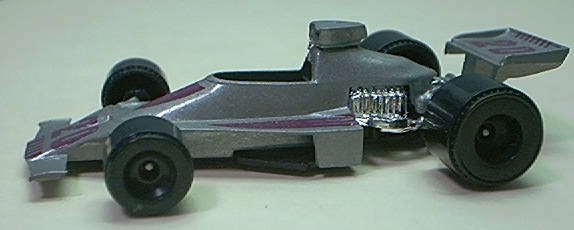 1974 McLaren M23 - Playart


1989 Marlboro/Chevy - Racing Champions
Emerson Fittipaldi is one of those rare drivers in modern times that has been able to successfully make the leap between different racing series. Born in Brazil to a racing journalist father, Emerson showed an early aptitude for going quickly in motorcycles. In 1967 after winning the Brazilian karting championship, he also won his country's Formula V (Volkswagen engines) crown in a car designed and built with his older brother Wilson.
Having gone as far as he could in Brazil, he made the trek to the Mecca of motor racing, England, in 1967. With help from a young Jim Russell, he campaigned a Formula Ford and later a Formula 3 Lotus. Success breeds success and he was quickly picked up by the Lotus factory for their Formula 2 team. He might have stayed at this level longer but for the tragic death at Monza of the Formula 1 team's leader, Jochen Rindt. Thrown into the deep end of the Formula 1 world, he won the 4th F1 race he entered at the USGP in Watkins Glen, NY, helping to secure a posthumous 1970 World Championship for Rindt.
Now team leader at Lotus, Fittipaldi won his first World Championship in 1972, to this day the youngest ever to do so at the tender age of 25. His ride at that time was the innovative Lotus model 72, shown here first by Schuco, then another version by Yatming. In 1974 he jumped to McLaren with Marlboro backing to earn his second championship. His McLaren M23 is shown here first by Polistil, still the best and most accurate small-scale F1 models built. The other M23 pictured here by Playart is a fairly good rendition except for the color.
But new challenges beckoned; again with brother Wilson, he formed his own F1 team in 1976 with backing from the Brazilian sugar company, Copersucar. However, the logistics of running a team and driving for it became too much; good results were few and far between. In 1980 he gave up driving to manage the team before quitting F1 for good at the end of 1982. With his racing career on hold, his marriage ended, he withdrew to Brazil to manage his other business interests including orange groves and auto parts.
But a year off from racing combined with a few drives in his good old go-kart lightened his outlook and he proved to himself that he still had something to show the world. In 1984 he arrived at the CART race in Long Beach behind the wheel of a year-old car for a small team. This venue allowed other team owners to see his value and veteran Indy Car entrant Pat Patrick picked him up. Fittipaldi won races each year for Patrick until 1989 when they took everything, the CART championship and the Indy 500. His mount for this all-time season was a Penske chassis powered by a Chevy (Illmor) engine, represented here by Racing Champions.
At the top of the North American racing world, Fittipaldi jumped to the best in the business, Team Penske. Another Indy 500 win followed in 1993. But sometimes the hardest thing is knowing when to quit. Severely injured at the Michigan 500 in 1996, he was out for the rest of the year. Denying rumors he was quitting racing, and while supposedly recuperating in Brazil, he was then involved in a hang-gliding accident!
Since then, Fittipaldi has started listening to his doctors and has reluctantly hung up his driving suit. In addition to his usual business chores, Fittipaldi has also been the promoter of the Brazilian CART race in Rio de Janeiro.