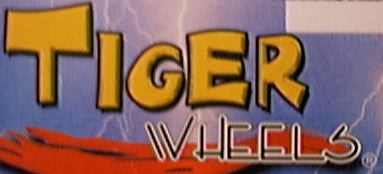 ---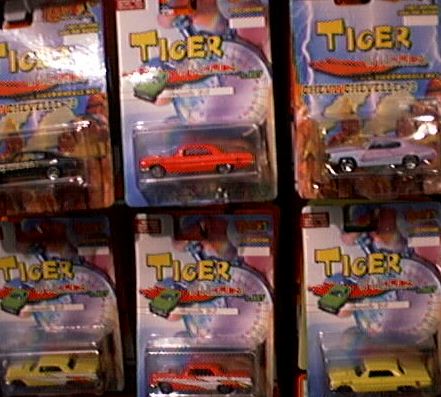 Will toy aisles look like this soon?


1970 Chevrolet Chevelle SS454


The packaging looks good


2000 Ford F150 Lightning

---

Tiger Wheels seems to fit in-between Hot Wheels and Johnny Lightning in terms of quality but could end up being a better value than either of the two competitors.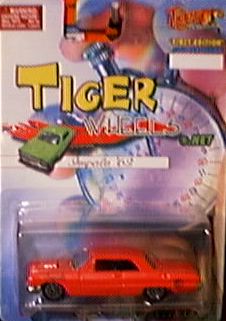 A revised Impala is planned with wheels that better fit the openings and cut-out wing windows.
Several months back, TofTC showed a promotional image of a new small-scale line from Anson, well-known for their 1:18 scale models. Samples of the first four 1:64 scale models have arrived and TofTC is pleased to provide their debut review.

Known as 'Tiger Wheels' and produced in China by Anson, the models shown here will soon be available for you to purchase. The four models reviewed here are the 1958 Chevrolet Pick-up Truck #90040, 1963 Chevrolet Impala #90038, 1970 Chevrolet Chevelle SS454 #90037 and the 2000 Ford F150 Lightning #90031. A 1966 Buick Riviera, Porsche 911GT2 and Porsche 911GT1 are also planned for production.

While Anson is the manufacturer of Tiger Wheels, Tiger Wheels, Inc. is located in San Juan, Puerto Rico. The founder of Tiger Wheels, Antonio Fadhal, had seen the racing of diecast cars take Puerto Rico by storm and these new models were designed to give the fastest from Mattel and Playing Mantis, a run for their money.

This explains why your first reaction to Tiger Wheels will be 'Wow, these are solid little cars and trucks'. With full diecast bodies and bases, Tiger Wheels are built to win the gravity grand prix. The addition of speed wheels makes these serious contenders for the fastest small-scale cars ever produced. Fortunately, for those of us who do not put our toy cars to the speed test, Tiger Wheels are offering excellent castings that do a fine job representing real cars and trucks in miniature.

The two cars shown here are both Chevrolet models. The 1963 Chevrolet Impala is a favorite subject for toy cars with excellent examples Johnny Lightning, Racing Champions and others. While the Tiger Wheels casting is a good one, it is the weakest of the four models shown here. The wheels are too small for the body and sit deep within the wheel wells. A spinner-style hub cap has been attempted, without the spinner, and it is a modest success. The wing windows are solid, like early Johnny Lightning models, a practice JL has dropped. The solid wing windows really detract from the look and any savings in the casting process cannot be worth the result. The '58 Chevrolet Pick-up has cut-out wing windows so why not the Impala. While the yellow model is shown, a red version and red and yellow versions with white side stripes are also offered. A rather curious hood scoop gives the car a bit of a hot rod look and the tampos which say 'Impala' in large script on the front fenders, and 'TW' on the rear fenders are unnecessary and cheapen the look of the car. On the plus side, the front grill is quite nice with polished metal and painted parking lights. The tail lights are also painted. The black interior appears correct and stock. Overall, this is a model that with more realistic paint, wing-window cut-outs and larger tires would be very nice. The good news is that a recent conversation with Antonio Fadhel confirmed that Tiger Wheels will be making these changes. As always, early production pieces require fine-tuning and the folks at Tiger Wheels are listening to good advice.


The second car is a 1970 Chevrolet Chevelle SS454. One of the most popular muscle cars of the era, the SS454 will be the most popular of these first Tiger Wheel models. This same car has been done by Hot Wheels, Johnny Lightning and Racing Champions (click here for a comparison article). Shown here in red with white stripes, it also comes in black with gold stripes and a hot rod pale blue and purple. Mag style wheels are much like those offered by Hot Wheels but with narrower spokes. The wheels look good on the car and spin very well on their axles. The casting is excellent and has the look of the real car. The grill and lights are in polished metal and with painted side-marker, turn-signal and tail-lights. Tiny tampos identify 'cowl injection', Chevelle' and 'SS454' in their correct locations and size. The white stripes on the red base are sharp and clean with no spotting where pads could not make clean contact. The interior is black and appears correct to the car. The only obvious difference from the real car is that the rear bumper is body colored as the base does not wrap-around and the head-light surrounds are not painted body color. The Tiger Wheel SS454 is a delight to the eye and touch. This level of quality is beyond that offered by most other toy car makers and crosses the line from toy to collector quality.

Old pick-up trucks have been hot in the collector market for some time and toy trucks have followed their full-size brothers to the diecast aisle. Tiger Wheels offers a 1958 Chevrolet Pick-up that is sure to be popular with small-scale collectors. Both Johnny Lightning and Hot Wheels have done 1955-56 era Chevrolet Pick-ups and it is clear that Tiger Wheels have selected castings that go head-to-head with these two manufacturers. It is refreshing that this is not the more popular Cameo model with wrap-around rear window, although some of the details are a mix of features from different '58 Chevy trucks. It is identified as a 1958 model, to my knowledge a year never represented in 1:64 scale for this truck. The decoration on this black example is minimal with only head and tail lights painted and 'Chevrolet' in white on the tail-gate. The wheels do not look like 1958 but could represent the mags seen on many restored '50's trucks today. The black interior is quite basic as was the real interior. Compared with the Hot Wheels and Johnny Lightning Chevy trucks of the same era, Tiger Wheels' model is superior to the former while not up to the quality and detail of the latter.

New pick-ups are best sellers in the American market and Tiger Wheels offers one of the most popular. Ford's F150 is a good truck but the SVT Lightning model is a hot rod straight from the show room. Of the four Tiger Wheel models here, this is clearly the best quality for paint and wheels. The wheels are two-piece versions with chromed wheels and black plastic tires. These are much like those offered on Johnny Lightning's models for track racing. They look better than the one-piece wheels and these look correct for the vehicle. The paint detail is excellent with correct miniature badges all-around. The small details have been addressed with this model including a painted brake-light on the top of the cab and silver for the reflective portion of the mirrors. The Ford oval is readable front and rear and even portions of the base are detailed in silver. This model is the most recent casting from Tiger Wheels and indicates most clearly, where these models wish to be in the marketplace. The SVT F150 is of quality equal to the best castings of Mattel or Playing Mantis.

Tiger Wheels has plans for an initial line of 20 vehicles. They are also planning to offer rubber tires on collector versions with the possibility of opening doors and hoods on some models. Tiger Wheels are targeting the $2-4 price range, depending on the features of each model. Some early production models are being sold for more to help off-set the initial high cost of casting production and to raise funds for full production of the 20 vehicle line.

Of course you are asking where you can find Tiger Wheels? The answer for the moment is that they are just now making their way to distributors. To assist Tiger Wheels in their marketing and distribution efforts, TofTC has offered to conduct a simple reader survey to identify the level of interest in Tiger Wheels. Please take a moment to highlight the following questions, copy them and click here to paste and e-mail your response to TofTC. If you take a moment to do this, we will provide you with a follow-up e-mail as soon as possible, explaining how you can get Tiger Wheels.


Tiger Wheels Survey

Would you be interested in adding Tiger Wheels to your collection?

Based on the images/description provided here, what do you think the retail price of Tiger Wheels should be?

Would you be willing to buy Tiger Wheels exclusively online?

Other comments:

Please provide your name, e-mail address and country in which you live.

Please highlight the questions above, copy them and click here to paste and e-mail your response to TofTC