By the late 1960's, Volkswagen was in an unusually precarious position in which both its unprecedented success and even its high standing within the automotive world were under attack. While still a well-engineered car with several more years of life left in it, the Type 1 (or Beetle) was, at its core, a pre-war design with relatively little development potential. Working with this basic chassis, Volkswagen had managed to stretch the design's versatility and create a few "re-clothed" Beetles with the Type 2 (known as the Microbus) and Type 3 (that was commonly called, at least in the U.S., the "Squareback"). Owing to its unique and practical nature and lack of meaningful competition, the Type 2 became certifiable hit; however, the Type 3, which was intended to supersede the Type 1, never found the market share that Wolfsburg had hoped for. With its engineers seemingly caught in a stranglehold by the air-cooled, rear-engined design, Volkswagen grew dangerously more moribund daily. The final vestige of the time-honored Volkswagen platform arrived with the poorly received (not to mention downright ugly) 411 of 1968. Expensive to develop and a flop from the beginning, the 411 and later 412 proved that the formula that had previously been so magical for the German giant needed an injection of some fresh new ingredients.
During 1965, Volkswagen had acquired the Auto Union from Daimler-Benz and promptly began work on exterminating DKW, which, at the time, was Auto Union's only product line. To distance the company from the three-cylinder, two-cycle engined cars it had been producing, Volkswagen revived the name of one of the Auto Union's four members that had been phased out of production before World War 2 broke out: Audi. In killing off DKW and resurrecting Audi, Volkswagen's desire was to create a new, up-market line of cars that would compete directly with BMW as well as the Auto Union's former benefactor, Mercedes. Yet much more important in the greater scheme of things than gaining access to an untapped sector of the automotive marketplace, was the front-wheel-drive technology and expertise Volkswagen immediately gained access to through its takeover of the Auto Union.
Eager to expand further and apparently believing that its bubble would never burst, Volkswagen absorbed another German car (and motorcycle) manufacturer into its empire during 1969: that company was NSU, the first car maker ever to place a Wankel rotary engine into series production. After first applying the rotary to small, rear-engined cars, NSU stunned the automotive world by installing a twin-rotor Wankel within its incredibly advanced, front-wheel-drive Ro80 of 1967. Unfortunately, the flagship Ro80's unproved and unreliable Wankel nearly bankrupted NSU; however, once again, Volkswagen ended up with, largely by default, some of the best and most advanced engineering that the automotive world had to offer during the late 1960's.
Banking on the sure-fired success of the new Ro80, NSU had begun to develop a smaller, companion model for it. Assigned the designation of K70, too much had been invested in the car to abandon it and with the Volkswagen takeover, the former NSU K70 went into production with conventional, water-cooled piston engines as the front-wheel-drive Volkswagen K70. Despite being an insignificant car on most levels, the K70 was an immensely important model in Volkswagen's history since it represented Volkswagen's first ever departure away from the rear-engine design philosophy drawn up by Ferdinand Porsche so many years before. The car was even a modestly decent seller and clearly illuminated the path that Volkswagen would need to travel in the future if it planned to remain a viable auto manufacturer.
Drawing on the front-wheel-drive designs it had inherited from the Auto Union and NSU, Volkswagen penned an extremely competent and all new car for the 1973 model year. Named the Passat (Dasher in the U.S.), the car was the first front-wheel-drive, water-cooled Volkswagen envisioned from the beginning as a thorough Wolfsburg product rather than one that had been captured and re-branded. Handsome and decidedly up-market compared to the Type 1 and 411, the Passat proved that Volkswagen had made the right choice about switching away from rear engines and air cooling. Yet the Passat was far too big and expensively priced to tread on the Beetle's domain, leading people to believe that the evergreen Type 1 would never be fully replaced. Nonetheless, the Passat allowed Volkswagen to test the waters and gauge how the car buying public would react to a very different car, then still under development, that was intended to be the Type 1's successor. That car, the Golf ("Rabbit" to Americans), was unveiled during 1974 by a very nervous Volkswagen.
Replacing a legend is never easy and Volkswagen had a more difficult task than that ever faced by any other car maker except Ford when it discontinued the Model T in favor of the Model A. Yet as with the Ford Model A, the new Volkswagen Golf was so much more modern and even better looking (thanks to Ital Design's clean styling) than its predecessor, that sales of the Type 1 plummeted almost immediately after it made its debut. Eventually, the Type 1 would be completely phased out of production in Germany and in spite of continued manufacturing of the old rear-engined, air-cooled Beetle in Mexico, no one today doubts that the Golf handily took its place.
The Golf reigns today as one of the best selling car lines of all time and while it will probably not replace its famous ancestor in the record books as the best selling car of all time, the Golf proved that Volkswagen had more to offer than simply robustness and outdated cars sold through clever advertising campaigns. A thoroughly modern design with infinite potential, the Golf range has been increased to include not only the original hatchback layout though also high performance variants (the GTi, Scirocco and Corrado) convertibles, station wagons and even sedans (the Jetta is merely a Golf with a trunk.) Furthermore, the much heralded New Beetle is based on the current Golf IV's chassis. As might be expected after four generations of Golfs, a lot of diecast miniatures of the cars have appeared from around the world. Let's take a look at what has graced the toy store shelves over the intervening years.

The Golf I
As the first generation Golf was in production for 10 years, a considerable number of diecast manufacturers offered miniatures of the hugely and deservedly successful new Volkswagen. As might be expected, the German toymaking firms of Schuco and Siku were among the first companies to produce diecast Golf models.

Scaled at 1:66, Schuco's miniature featured all of the high quality hallmarks this line of toy cars had long been known for and, in addition to its perfect body shape, was equipped with opening doors. Sadly, Schuco was in dire financial condition when its new Golf casting was unveiled and it would prove to be one of the final new diecast miniatures to appear under the beloved toymaker's name. Yet this would not prove to be the end for the tools used to produce this model: as with so many other Schuco castings, the dies for the Golf were acquired by the Brazil-based REI, a company that continued to generate several new variations of the miniature (including a Portuguese-labeled fire chief's car) for years to come.



Also in Germany, Siku opted to offer two distinct Golf castings: the earliest to appear was the standard Golf two-door; however, this was later augmented by a dashing miniature of the Karmann-built Cabriolet. Where most diecast makers attempted to hover their products around the more common 1:64 scale, Siku produced its models in a noticeably larger 1:55 that often resulted more detailed castings. Like Schuco's superb miniature, Siku's hardtop Golf features opening doors yet the model was, for some reason, frequently fitted with distracting window glazing in peculiar shades of amberish yellow that did little to enhance its appearance.

Arriving some time later, the Cabriolet deleted not only the earlier model's roof though also its opening doors; nevertheless, it is a charming miniature of one of the few convertible cars still being sold in the United States during the early 1980's.

Proving its worldwide acceptance, the Golf became a somewhat odd subject for Japan's Tomica to include within its F-series of non-Japanese cars.
While most F-series models were predominately either prestige or sports cars, the Golf was a decidedly proletarian entrant within the range. Unfortunately, Tomica's typically superior ability to capture a vehicle accurately in miniature must have been on holiday when the tools for the Golf were designed: its proportions are awkward at best and it appears unnaturally wide and elongated, especially in the front clip, when compared to the actual car.
Perhaps in recognition of Volkswagen's decision to open a Golf production line in Pennsylvania, U.S.-based Mattel created a unique and fanciful miniature of the car in full rally trim to include within its Hot Wheels range of diecast toys.

Named "Hare Splitter" (a reference to the name the car was marketed under in the U.S.), Hot Wheels' Golf was apparently the only small scale model of the first generation car to feature an opening bonnet (made of molded plastic, no less.) Produced, like most Hot Wheels models, in a myriad of color variations, early versions were outfitted with a roof rack that included supplemental lighting and a spare tire; needless to say, these details that were later discontinued.
Well-received in England, Lesney offered a nicely proportioned four-door Golf as a member of its Matchbox series.

Always ready for a trip to the beach, Matchbox's Golf carried two removable surf boards on its roof and, furthermore, was equipped with a tow hook that was used to pull two different motorboats and even a large, twin-axle camping trailer in certain "Twin Pack" arrangements.

This same casting was used by Matchbox International in 1987 to establish rights to the Dinky name. The packaging said Dinky but it still reads Matchbox on the base.Offered only on the German-market, Matchbox created a special (and now rare) version of the model the German auto club ADAC's livery that included unique decals, a roof-mounted beacon and plastic aerial in place of the surf board rack. Later versions omitted the roof rack completely and, in a final indignity, the casting evolved into a somewhat absurd "high rider" model that was fitted with grossly oversized wheels decorated with tasteless tampos. After retiring the model from its
English production lines, the dies for this model were sent to Bulgaria where the standard model continued to be made for several more years.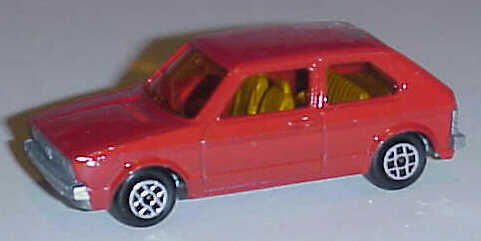 In France, Norev's quirky miniature of the first generation Golf was an anomaly: Accurate enough to be considered a scale model, its overly simplistic interior molding and lack of any features made its orientation toward toy market painfully apparent. Whatever Norev's intentions for its Mini Jets range, this well-crafted model, along with its brethren, can be a difficult toy car to secure a copy of in today's antique market.



Another Gallic and perhaps better known brand, Majorette, sold a pair of Golf miniatures that seemed to owe their inspiration to another diecast manufacturer located across the English Channel.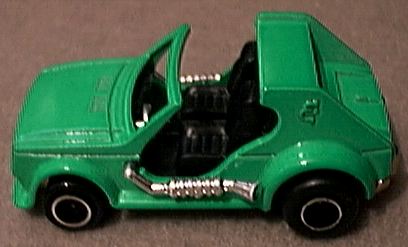 Like Matchbox, Majorette sold miniature Golf variants in both well-presented standard and ridiculous "big foot" versions.

Later, the Majorette casting was produced in Portugal by Novacar. These diecast models featured Novacar wheels and some had the Majorette name blanked-out on the base.

Meanwhile, just a little further South, Italy's Polistil produced what was apparently a promotional model of the Golf that was packaged in a unique picture box. Although the history of these models remains something of a mystery, Polistil was, at the time, manufacturing a range of toys scaled at 1:66 that included miniatures of every car then being sold in Europe by Ford, Alfa Romeo, Fiat, Citroen, Renault and Volkswagen.

In the Orient, a number of inexpensive miniatures of the earliest Golf body style appeared that have been sold under various trade names over the years. Initially debuting under the M C Toys banner, later versions of a relatively high quality Golf GTi casting have worn the Maisto name. Still available, this model always seems to have its front suspension raised just slightly too high. Marketed primarily as either Zee Toys or Zylmex, a crude and largely unimaginative miniature of the Golf GTi remains in production after several years as a member of Red Box's Motormax series.


Another rather crudely proportioned model, Blue Box's Golf somehow still manages to possess an indescribable and magnetic charm that seems to be unique to the products of this obscure brand of toys.

The Golf II
Strangely absent, the only remaining German small scale diecast brand, Siku, failed to offer a model of the second generation Golf. Overall, a great reduction in the number of Golf miniatures occurred with the transition to the new chassis and never again would such a variety of brands and models the car be available. Nevertheless, at least two worthwhile examples of the Golf II did enter production under the auspices of a couple of the big players while a third, budget-price model appeared that is extremely challenging to find today.

After surviving the financial failure of its parent Lesney Products and the acquisition of its tradename by Universal, Matchbox's second Golf was a very solid and heavy miniature of the latest GTi.

Featuring a tow hook, bold logos and a rare opening bonnet, this high quality model was constructed of more metal than most of its contemporaries and sported not only a main body casting of zinc alloy though also a baseplate consisting of the same material.
Attesting to the popularity of the high-performance variant of the Golf, Hot Wheels offered a well sculpted miniature rendition of the second-generation GTi beginning in the mid-1980's.

A surprisingly long-lived model considering its lack of novel gimmicks, Hot Wheels' GTi has survived in production until recently and in the meantime has appeared in multiple color, wheel and tampo variations while being cast in at least two different countries. Although this model has appeared in some rather wild and sometimes atrocious paint schemes, it is a casting that always looks its best in the simplest, solid colors with the recent solid black with five-spoke wheels version being particularly handsome.
An unusual model that has to have an interesting story behind it, Welly's Golf II seems to have begun life as a copy of Tomica's earlier Golf I.

Like the Tomica miniature, the doors open and it shares the same basic and disproportionate body lines; however, its more rounded contours clearly identify the model as a Golf II. Perhaps a modified and updated version of what began its life as a pirated model, Welly's Golf GTi is a rare find and, not to its credit, its paint quality frequently leaves a lot to be desired.
The Golf III

By the time the Golf III arrived, the car had become so much a part of the landscape that few diecasters took note of the new and greatly improved third generation of this perennially popular German car. After ignoring the Golf II, Siku decided to make amends with Wolfsburg by casting two separate versions of the new car.

Appearing first was the standard hardtop Golf; it was offered with a wide variety of paint schemes and decorations and even was produced in an interesting "Fahrschule" (driving school for non-German speakers) variant. The second Golf III to debut under the Siku trademark was a new version of the beloved Karmann Cabriolet. If you hurry, both of these models may still be available at out-of-the-way toy and hobby shops since Siku's Golf IV miniature has only recently become widely available.

Strangely, Majorette also skipped the Golf II; however, its miniature rendition of the new Golf III was a pleasing and accurate model that reminded many collectors of earlier and less gaudy Majorettes. Typically equipped with some of the better wheel designs used by Majorette during the period, the Golf III arrived outfitted with an opening rear hatch and invariably painted in silver.

Several racing versions of the Majorette Golf III were also offered.
The Golf IV
The only remaining small-scale diecast manufacturer in Germany, Siku continues to satisfy its enviable niche market consisting of both youths and adult collectors with some of the best made diecast cars and trucks ever produced.

Always one of the premiere documentarians of German cars and Volkswagens in particular, Siku's latest casting of the Golf IV is another winning entrant. Presented in Siku's preferred and slightly larger 1:55 scale, this model offers accurate wheels and an opening tailgate that are sure to please both young and old Siku admirers .
Currently only available in the United States through private importers, Majorette is, as always, producing a wide range of tempting miniatures that has seen the introduction of several new castings during its absence from the American market.

Among these models is the company's latest incarnation of the ever-popular Volkswagen Golf in Mark IV guise. Similar in execution to Siku's Golf IV, Majorette's model is also equipped with an opening tailgate and tow hook.
After years of pirates and crude, low quality, lackluster miniatures, Welly really managed to get everything together to produce a knock-out scale model of the Golf IV.

Like its other new series mates, Welly's four-door Golf IV is such a dramatic departure for its maker that its outstanding casting quality came most unexpectedly to many collectors. Fully licensed by Volkswagen and featuring a full interior, crystal-clear window glazing and laser-printed logos, the best part of this model is perhaps its low cost of 50 cents when you purchase two at the local Walgreens drugstore.
Also worth finding is Maisto's recent issue of a miniature Golf IV Cabriolet that comes packaged along with a Jetta in a twin pack series that is currently available at Wal-Mart stores.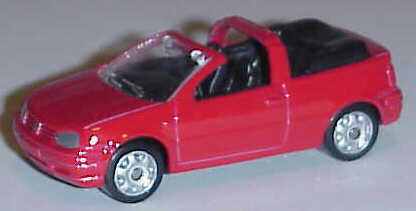 Unlike most recent 1:64 scale Maisto models, the new Golf Cabrio is outfitted with a full interior and an untinted windshield in addition to two-piece wheels that, all totaled, result in a very high quality appearance. Sadly, it seems that only convertibles are now receiving the full interior treatment at Maisto, leading observers to ponder how Welly can offer so much more value and detail in their models for the same price.
And here we conclude our review of miniature Golfs. Yet the Golf story is far from being over and collectors can undoubtedly expect to see more diecast models of the car for as long as it remains in production. Certainly, this rather amazing and remarkable car has to be one of the diecast world's most deserving topics.