In the never-ending drive to promote newsstand sales, HOT ROD magazine did an experiment in 1998: a diecast car giveaway promotion. And, as I am HOT ROD magazine's resident diecast collecting fiend (I dare not call myself an expert), and had been pitching my masters on this very idea for some time, I was tapped to spec out a giveaway vehicle for this promotion. Subscribers did not get their hands on this particular premium.
We've often been asked: why newsstand only? The short, sad answer for this and most other promotions like this, without getting into boring stuff like advertising rate bases, is that the company wants to make money, and subscriptions are at best a break-even proposition. To get a sales bump, it had to be newsstand-only. Plus, this promotion might get new readers (ie the Hot Wheels crowd, not by any means the same as HOT ROD readers) to check out the magazine and buy more. Even subscribe.
A number of diecast companies were pitched on the idea, even though we had an exclusive license with Racing Champions, but only Mattel and Racing Champions were interested in producing the small quantity of vehicles required. Mattel's minimum at the time was 10,000 pieces (it has since been increased to 25,000 to alleviate some pressure at the factory in China). This was a special deal since we were giving the cars away, and not actually selling them. We wanted four thousand cars total produced; that meant each company did 2,000 pieces for the promotion.
Clearly the limitations on our end were fairly obvious: no fantasy cars, no foreign cars (so the Mercedes C-Class Touring Car was out of the running) and something that said HOT ROD as the magazine then stood. HOT ROD is no longer a "street rod" magazine we incorporate new performance cars, muscle cars, the gamut. We're all over the map. Also, the Mattel car couldn't have the HOT ROD name anywhere on it.
Hot Wheels had a couple of limitations of their own. First, it had to be a casting that still existed. (No Open Fire six-wheel Gremlin making its re-debut, then.) Second, the tooling had to be at the factory in China. Hot Wheels maintains factories in Malaysia, Thailand, India and China, and China was the only factory equipped (at the time this may have changed) to do the intricate tampo work required on these limited-run specials. Other than that, it was pretty much anything goes. I was presented with a list of "China castings," mostly stereotypical street-rod fare ('34 Ford, '55 Nomad, '67 Camaro) and it was suggested to me that whatever we went with would look really cool in black, with flames.
At the time, Mattel's '70 Cuda, slated to be a '97 First Edition, was in short supply in the collector community. Somehow it never was made a First Edition, it just sort of slinked into production. I inquired about it, and it was available. Since the magazine has gotten away from wheel tubs and blowers hanging out of the hood, the stock look of the car wasn't a problem.
Now, the tough part: making it look right. I wanted something that said Mopar. One of the high-impact colors new that year was a shoe-in. but which one? Mattel had already done a Lime-light color scheme in the basic car line, and Hill's department store had done a yellow Limited (with a roof!), so those colors were out. Red was obvious-a little too obvious-so we went with the classic Plum Crazy.
As a collector, I always want the highest amount of detail I can find on a car, in order to make it resemble a prototypical piece sitting on my shelf. I had no idea how far I would be allowed to go, so I went all-out. I asked for the hood pins, front grilles, door handles and rockers to be picked out in silver.
I wanted the chassis to be the same color purple as the body (it is a unibody car, after all) and exhaust detail picked out. Side markers were filled in-orange in front, red out back. A satin black tail panel exposed red slits for taillights. The interior was white, but the dash and steering wheel were picked out in gloss black. And I went with chrome-hub Real Riders with white Goodyear lettering on the tires. I drew up an incredibly crude sketch, and Mattel sent back a computerized "B-sheet"-basically a computerized coloring book printout version of what I asked for. They hit it 95 percent on the first go 'round.
Compare this to Racing Champions, who told us that our car would be a gold-plated '57 Chevy Pro streeter. Never mind that the whole pro-street movement was something we were trying desperately to leave behind, never mind that the '57 Chevy was a cliché that would only reinforce everything we were trying to change about HOT ROD at the time, never mind that the whole gold-plating thing was ugly and a big bust for both HOT ROD and the NASCAR vehicles so decorated by Racing Champions in 1998.
It was completely not the car we wanted, but we had no say. And since they had the rights to the license, they could in effect tell us what they were doing and not really have it pass any kind of litmus test.
Since Racing Champions had the rights to the HOT ROD name on diecast cars, they splashed a 50th Anniversary crest on the roof, and HOT ROD logos on the doors (along with a stock-type BelAir stainless-like wedge of bright-work on the rear quarters and some suspicious-looking black stripes),
The odds worked out to 1:77 that there would be a winning ticket inside of either car (1 in 154 if you wanted a Hot Wheels), and we heard from a number of extremely annoyed readers who bought 50+ copies of the magazine and didn't find a "Golden Ticket."

The cars arrived in our offices in early November, and I was disappointed to discover that my 'Cuda, my baby, had a giant Hot Wheels flamed swoosh on each door. Those logos weren't on the B-sheet! Seems that the Hot Wheels name has to be on every Hot Wheels car somewhere. I didn't specify where I wanted, so Mattel took it upon themselves to plug themselves in a large way up the sides of the 'Cuda. Oh well. You live, you learn.

Within weeks, they were of course being sold on eBay. Here, too, is where the disparity comes into play. The gold '57 Chevies were languishing at $25, unsold. The 'Cudas were begin snapped up at $200+ for a short time, but quickly settled down to $75 or so on the net.
Most importantly, with no advance word and only word-of-mouth within the collecting community, newsstand sales shot up by nearly 20,000 copies and for the year sold second only to the January '98 issue, which was HOT ROD's 50th Anniversary. It was an unqualified success.
So we did it again.


This time, my first instinct was to go with the '70 Road Runner casting, which was new and very hot at that time (First Editions were going for $15 and more at shows I visited out here in California). I thought that two Mopars consecutively was too much, and that I should go with a Ford or a GM product (though not necessarily a Chevy). A recent casting of a real car was preferable, something that hadn't already been seen in ten thousand paint and wheel variations.
The '68 Mustang fastback (the new one, not the Vintage casting) was in the running late in the game, but finally we settled on another rarely seen piece: the '67 GTO casting, then available mysteriously only as a "Limited" casting and not available in the dollar-car lineup. I chose Tiger Gold, a very GTO color, with correct chrome around the windows, GTO script on the rear quarters, a satin black vinylesque top, the HOT ROD name boldly emblazoned on the doors, and, for the sake of continuity, the word Winner! diagonally across the trunk in the same font as the 'Cuda.
The chassis was tough to spec out. On the GTO, the chassis, front and rear bumpers, the taillight panel, rocker panels, headlights and grille are all one piece. It started out as a chrome piece, with tampos laid on after plating. I went with a semi-gloss black on the chassis itself with the exhaust, gas tank, tranny and driveshaft all kept chrome-plated, as were the bumpers and rockers. A small light blue square represented the Pontiac Blue engine. The grilles were blacked out, the taillight panel was body color with red taillight inserts, and even the backup lights in the rear bumper were picked out white. Learning from my mistake on the Cuda, the Hot Wheels logo was centered on the back window in dark red. Most controversial, I later discovered, was wheel choice: conventional wisdom says go with Real Riders since that's what collectors love, but I chose five-spokes with tampo'ed redlines to simulated the look of Rally II rims. I don't know that this choice resonated well with collectors but I stand by it for appearance sake.
For a number of reasons, this issue didn't sell. It wasn't the car itself; word as to what it was didn't filter out until the issue went off-sale. Beyond the contents of the magazine itself (which was once again poly-bagged on the newsstand), a couple of things changed for 1999. First, with HOT ROD's licensing agreement with Racing Champions over, Hot Wheels was the only manufacturer represented, so the 4,000 car run meant twice as many cars. Did that mean half the desirability? Possibly.
Second, I didn't do the job I might have hyping it in my Mobilia column-I thought it was a little too self-serving at the time. Third, a couple of cases of 'Cudas managed to get out to Adkins Collectibles and Full Grid, which were then heavily advertised. This, I believe, helped take the wind out of the sales effort. If you can just wait six months and get them from your favorite diecast retailer, what's the point of buying the magazine? (Once people realized that these weren't showing up with Adkins or Full Grid, however, people started clamoring for them.)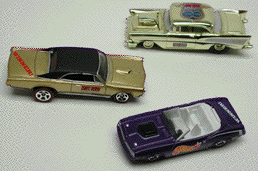 Also, rather than a randomly inserted, bound-in card declaring a winner, there was a loose "blow-in" scratch-off card in the ply-bagged issue. We got plenty of reports of people buying issues with bags slit open and scarfing the loose card. Not a bright move on our end. All of these issues combined for something that had no bump on the newsstand. We had a ton of extras as a result: only 750 were claimed through the contest. The GTO was later given away as a goodie-bag premium for registering your car on Power Tour 2000, the magazine's annual cross-country cruise.
A handful of cases of each of these are clunking around the office somewhere hidden. Wish I knew where they were...
The diecast giveaway promotion was discontinued in 2000 though; ultimately no more magazines were sold, so it was considered a bust though I still did a diecast section in the magazine in September 2000 as a contractual obligation to Mattel (or so it was posed to me). It was thrown together in about a week and looked the part. The HOT ROD name lives on in a number of other Hot Wheels car, though: a line of street-rod dollar-cars and a Collectibles four-pack (none of which we were really given approval on). To this day I still get to peek at any HOT ROD-labeled Hot Wheels product, and have in fact offered up ideas for changes for a number of the recent Target Editor's Choice series. The red-and-white '32 Sedan Delivery was originally neon green and white. barf. And the purple Road Runner originally had silver flames coming out of all four wheel wells. There was some hideous lettering on the side of the green '67 Mustang as well, which I insisted be removed. Nothing has been announced for 2001, though I can't imagine Mattel is going to spend all that money with the licensing department and let the name lie dormant.
If writing about real cars ever gets old, I have an idea about a second career...

Editor's Note: TofTC is very pleased to welcome Jeff Koch to our list of contributing writers. Jeff has been a long-time collector and supporter of diecast cars and trucks. He previously served as Editor for 'Diecast Cars' magazine and currently is on the staff of Hot Rod Magazine. He has been a key advisor to TofTC and we hope to tempt him to continue to provide the occasional story.