Austin Mini Cooper #6017

1998 Ford Mustang Convertible #6006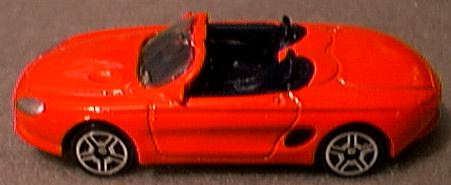 Ford Mustang Mach III (concept) #6009

Toyota Celica #6011


Toyota Supra #6012
BMW Z8 #6026
BMW Z3 #6001


BMW 328Ci #6003
Pontiac Firebird #6005
Motor Max Makes
New Castings Count

Chrysler PT Cruiser #6016 and Motor Max - Speed Wheels box, good casting, paint and value
---

While the Motor Max name may be a recent addition to the world of 1:64 scale toy cars, there is quite a history. Red Box is the actual manufacturer and they became associated with toy cars when they bought out Zylmex (also known as Zee Toys) in 1995. Zylmex had been a major Chinese diecast producer since the early 1970's. Many of the early Zylmex models are quite collectible today.

After Red Box bought Zylmex, they began to re-issue many of the old castings under the new Motor Max - Speed Wheels name. Most of these castings were from the 1980's and the quality was compromised by cheap wheels and the thin-gauge metal bodies and limited detail. At the same time, many of these castings offered unique models, seldom seen in 1:64 scale.

The new Motor Max castings are completely different than their older Zylmex cousins. The metal castings are the equal of Matchbox, Majorette and Hot Wheels while the level of detail and realistic paint colors are often superior. All the models have full interiors and clear glass. Wheels are much improved with better axles and nice chrome trim.

The models represented here are an interesting mix of old and new. The Mini Cooper is a fine casting with a separate front bumper and painted lights. Like all these new Motor Max castings, the base plate features the true under-side of the car. All models are licensed and numbered. Why Motor Max did not put their name on the base is a mystery as these are models in which they can be proud.

The Porsche 959 is a model of a car produced in the late-1980's. Motor Max has equaled the best of the 1:64 scale toy castings and added the Porsche crest and window trim detail. The Porsche Boxter is even better with an excellent shape, interior and paint detail. The Porsche 996 is just as nice and puts some more expensive models to shame.

U.S. manufacturer's vehicles are represented by the 1998 Ford Mustang, Ford Mustang Mach III concept , Corvette Stingray III and Indy concept cars as well as a very nice 1998 Corvette Roadster. Ford's Expedition SUV and the 1999 Pontiac Firebird are offered. The PT Cruiser and Panal Cruiser are some of the first and best of Chrysler's popular model to the market in this scale.

The Toyota Supra is well-done as is the Toyota Celica. The BMW 328Ci is joined by the Z3, Z8 and the first small-scale X5 model. Note the black paint detail on the windscreens of the convertibles.

All of these models are available for less than $1 retail and it appears many more are on the way. Perhaps the biggest disappointment is that Red Box did not choose to do more cars, not already offered by other manufacturers. With this level of quality, it would be wonderful to see some more unique castings of current and classic automobiles.

Motor Max has certainly served notice that they intend to be a serious player in the toy car market. With the addition of rubber tires and metal bases, these models could even be offered in the premium collector market. Regardless, it is clear that the words Asian and generic diecast will not be seen where Motor Max is concerned.
China's Big Five of
Small-Scale Diecast

Over the last 30 years, the production of almost all small-scale diecast cars have moved to Asia locations. While Thailand, Malaysia, Macau and even Korea have appeared as countries of origin on base-plates, by far, 'made in China' has appeared most often.

Diecast companies from Europe, North America and Great Britain have found it economically necessary to produce their products in China. The combination of low labor costs and exceptional craftsman have solidified China as the capitol of toy cars.

At the same time, diecast manufacturers headquartered in China have been on the rise. In the early 1970's, companies like Yat Ming and Playart, located in Hong Kong, began producing excellent diecast toy cars. Today, five major manufacturers of 1:64 scale models, call China home, with a sixth, Anson, just beginning to compete in the small-scale market with their Tiger Wheels.

Most impressive are the new levels of quality being seen in the products of these companies. For the purposes of comparison, one recent BMW model from each manufacturer has been selected. Here are the results.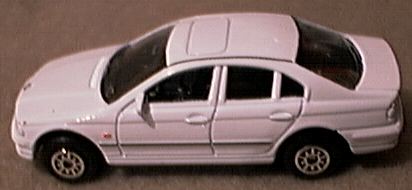 Welly - BMW 328i - Welly was best known for their friction-powered 1:36 scale models. All this has changed with their latest in 1:64. Their BMW 328i is a fine casting with full-interior, BMW Roundels and clear windows. They are easily the equal of Matchbox or Majorette, at half the price.


Maisto - BMW 328i - Maisto has excellent castings but the move to tinted glass, hiding the lack of an interior, is a shame. Still, Maisto's variety of models is impressive.


Yat Ming - BMW Z3 - Yat Ming is one of the oldest Chinese toy car firms. Their products continue to provide excellent value with good quality, as shown here.


Real Toy - BMW 3-Series sedan - The quality of paint and detail on Real Toy models is superior. While castings are un-licensed, they are far from generic.


Motor Max - BMW 328Ci - With their current quality, licensed castings and excellent paint, Motor Max should be proud to put their name on the base of every car.