In past issues, readers have been encouraged to request articles on specific toy cars. Manuel Anson of Spain has done just that and his particular request was for a review of the 1982-1989 Renault 11 models in small-scale. If you are interested in full details on the real car, you can visit <http://www.pam.szczecin.pl/~wizard/>., a site dedicated to Renault 9 and 11 models.

My collection contains three small-scale Renault 11 models. The first is by Guisval and is in 2-dr + 1 configuration. The specific model within the Renault 11 family is not identified. My reference for the 1984 model year indicates that 13 variations were available from the lowly 48 h.p. TC to the more sporty 80 h.p. TXE. Guisval offers opening doors and some racy graphics so perhaps it is the TXE.

The second Renault 11 is appropriately from Majorette of France. It is also a 2-dr +1 model and sports a '1986 Rallye Monte Carlo' badge and the number 25. It also features a working sun roof and a trailer hitch. One would expect that the rally car would also be the TXE model but it only identifies the model as Renault 11 #275 in 1:54 scale, on the base.

The final model is from Matchbox, #43-J in 1:56 scale and represents the 4-dr +1 model. It says 'Turbo' on the side and the Renault 9/11 site notes a Turbo GTE version was offered. Perhaps this is the Matchbox model. This car was also sold U.S. through AMC as the Alliance.

Guisval - Renault 11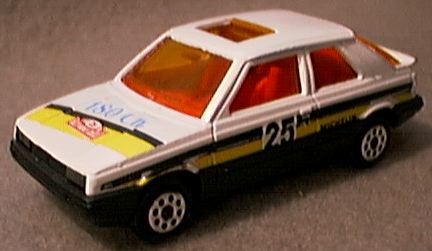 Majorette - Renault 11



Matchbox - Renault 11