Despite having been successful with the car buying public, the Datsun/Nissan S130 chassis, better known as the 280ZX, had, from the beginning, received a rather lukewarm (and somewhat unjustified) reception among automotive journalists. Although the new car was not intended to resurrect the spirit of the original 240Z, comparisons to it were inevitable. Judge on its own merits, the 280ZX was a well engineered and handsomely styled G.T., yet, when place head-to-head against the 240 (which was a true sports car), its handling was less sharp, it produced relatively less power and was, quite simply, uglier, heavier, and bulkier. While sports car enthusiasts and the automotive press rallied for the next Z-car to be true to the original, the undeniable sales figures of the 280ZX apparently convinced Nissan that the new direction they had taken the model into was the right territory for the car to inhabit.
By the late 1970s, three to four year cycles for automotive platforms had become standard practice in Japan. Yet Nissan's Z-cars, owing to the hefty investments had been made into their development, defied this rapid turnover rate by remaining in production for several seasons. After six years, everyone knew that the S130 was nearing the end its run and while it was still on offer, Nissan lifted the covers off of its successor, the Z31, late in 1983. The new chassis really was new and unlike the S130, nothing was carried over. Replacing the long, heavy and Mercedes-derived overhead cam straight six that had powered the Z-cars for years was a completely new and highly compact V6 engine that was available in both naturally aspirated and turbo forms. As before, the car's suspension was entirely independent yet where the S130 had attempted to echo the styling of the earlier cars, the Z31 showed little resemblance. Angular and decidedly futuristic, the new bodystyle was a sensation when it debuted; however, within only couple of years, it began to look painfully dated. When sales began to sag, Nissan half-heartedly "face-lifted" the car by mildly restyling the its bodywork and grafting on chintzy plastic ground effects that would see what was quickly turning into an unloved car through to its retirement.
After the disappointing Z31, Nissan realized that it had miss-stepped with both the pundits and the car buying public: neither group had any love lost for this ungainly albeit capable sporting machine. To quell the unrest and maintain its position, Nissan knew that it had to draw up a certifiable winner to replace the Z31: it did just that. When first shown in 1989, the new Z32 chassis inspired awe among car buyers and the automotive press alike with its beautiful styling and stunning performance. Every fault of the old Z31 had been addressed and corrected and it was preordained that the car was destined for great things. Yet those great things never fully materialized for Nissan's new supercar. The reason was easy to comprehend: in spite of the fact that everyone wanted a new 300ZX, Nissan had priced their high performance, stylistic masterpiece beyond the means of most of the people who would have bought it. Where Nissan had previously been astutely insightful in the marketing of their vehicles, it must have neglected to remember that Japanese cars were not yet able to command the same prices of either the American or European competition. Shamefully, the Z32 was pulled from the U.S. market to retreat to Japan. It was a sad ending for the model that had been so instrumental in establishing Nissan as a force to be dealt with in the American marketplace.
Along the way, a number of diecast toy manufacturers honored both Z31 and Z32 by selecting them for reproduction in miniature. Unlike the actual cars, the models, for the most part, remained affordable. With many of these contemporary miniatures still in production, let's survey the many 1:64 scale models of the Z31 and Z32 Nissans that have been made available over the years.
Z31 miniatures
One of the few manufacturers to produce a model of each generation of the Z-car, Matchbox superseded its 280ZX miniature with a new casting of the Z31 300ZX. Produced with opening hood and engine detail, it also featured rather loud graphics (especially the 300ZX Turbo variant with its flanks littered with large, golden "Turbo" logos), Matchbox's Z31 was otherwise clean, elegant and almost stately. A Fuji Film racing version was also offered. In addition to the standard versions, this model was also offered in the curious and short-lived "Lazer Wheels" series with even less becoming paint colors and graphics.
If a collector was select one brand as representative of a country's automotive industry, it would be easy to align Matchbox with Great Britain, Siku with Germany and Tomica with Japan. Since the early 1970s, Tomica has neatly documented most of the significant new cars introduced by the major Japanese automobile manufacturers. Originating at nearly the same time, the marriage of Tomica's small scale miniatures with Nissan's Z-cars was bound to happen and over the years, Tomica has been the prime producer of 1:64 scale Z-car models. The Z31 followed in the footsteps of Tomica's earlier Z-cars with its perfectly shaped body and opening doors. Offered in civilian and police versions, this highly realistic model represents perhaps the best place to start a collection of Z31 miniatures.
While Tomica is by far the most popular brand of small-scale diecast vehicles in Asia, Mattel has frequently and longingly eyed the market with hopes of ousting and somehow replacing Tomy as the best selling brand in the Asian market. In its efforts to conquer the Far East, Mattel has, on occasion, generated certain Hot Wheels models with features that were clearly intended to appeal to just this audience. A prime example is the 300ZX. Opening doors have always been a rarity on Hot Wheels models; yet, almost all Tomica miniatures are equipped with them and, consequently, so was this model. Sized to a slightly larger scale than Tomica's equivalent miniature, the Hot Wheels 300ZX was something of an anomaly within Mattel's line-up with its clean, scale model lines and lack of fantasy or custom features. Still, it was a Hot Wheels miniature, and, true to form, it did appear in a number of rather wild paint schemes.
An outsider within its predominately German range of miniatures, Siku's Nissan 300ZX, one of only a handful of Japanese cars ever produced by Ludenscheid-based diecaster, leaves an impression of being somewhat misshapen. More toy than scale model, the 300ZX's problems stem from an elongated wheelbase, an overly wide body and its low-slung stance. Nevertheless, it's still a very worthwhile miniature to add to one's collection and its extremely high and heavy build quality helps to alleviate any negatives caused by the model's slightly awkward dimensions.
Originally made in Germany though lately produced in China, it would more generous to label Darda's models as caricatures rather than inaccurate. The disproportionate lines are by commission: installed in each miniature is a small, highly sprung friction motor that can propel the little cars faster than any competing brand (at least according to the packaging.) While that certainly adds a great deal of play value to the models, collectors will grow disgruntled with the large rear wheels, over-wide tracks and grossly enlarged wheel cut-outs. Although some Dardas, such as the Volkswagen Beetle, don't look too bad, the Nissan Z31 300ZX is an exercise in some of the brand's more typical, toy-like styling.
Known for its always highly variable accuracy from model to model, Majorette's Z31 300ZX is an accomplished presentation that clearly indicates what this brand is capable of. Nicely shaped and correctly scaled, this French-made miniature has a most unorthodox feature rarely seen on model cars of any size or scale: operating pop-up headlamps. Made for several years in a wide variety of colors, this miniature was widely available at any number of retailers until Majorette abandoned the American market a few years back.
Sometimes, model manufacturers offer miniatures that are not out to prove anything and strive only to be seen as quality representations of the actual prototype. One such example of this philosophy is Yatming's Z31 300ZX: it has none of the typical "look at me" model car gimmicks yet somehow manages to get the formula almost perfectly correct with its properly shaped body and minor details. The only let-down is that this model has not always been bestowed with the most flattering of paint jobs and tampo decorations.
Around the same time as Nissan's Z31 300ZX was introduced, Maisto was commencing its first full assault on the U.S. toy car market with a range of entertaining 1:64 scale models sold under the name of M. C. Toys. While many of the models were obviously inspired by other manufacturers' products, some of the M. C. Toys castings were, for the most part, original. The Nissan 300ZX was one of the Maisto castings that wasn't overtly pirated and, like other members of this series, it was largely a scale model that gave a preview of what this brand would transform into in the not too distant future
Although a copy of Tomica's miniature, Welly's Z31 300ZX somehow still manages to be one of its best, earlier efforts. While a simple model consisting of only a few parts (diecast body, window glazing, interior molding, baseplate, four wheels and two axles), paint quality on most examples is very good, especially considering the low price the miniature sold for. Marketed through the Walgreens drugstore chain, there's a high likelihood that some of these apparently retired models may still be found lurking around on a Walgreens toy department peg.
Possessing limited charm and only a cheap price to recommend it, Zylmex's crude miniature of the Z31 300ZX, while not the worst model to appear under its name, is certainly not one of its best. Still available under the Motor Max trade name, this particularly ugly and lifeless model outlived its welcome long ago and truly deserves to be discontinued for good.
Strangely, no less than three different American-based toy makers also unveiled their own miniature renditions of the Z31. Now recognized for its extensive range of 1:43 scale police cars, Road Champs, during mid-1980s, produced a series of 1:64 scale models that were high on both detail and play value yet low on prototypical paint schemes. Unfortunately, these gaudy and frequently tasteless colors detracted from an otherwise nice line-up of miniature cars. Road Champs did do a rather interesting racing version of the Z31 with Dr. Pepper colors. Now reduced to being merely a name used to market various out-sourced products, Tootsie imported a Chinese-made 300ZX miniature of average quality and accuracy for American consumption.
Finally, the stalwart Ertl augmented the already swelling ranks of 300ZX miniatures with a solid but toyish example. This particular version was part of Ertl's Speed Strips series, featuring viewable cartoons via the base and smoked windows. If the paint was done with good taste, this would have been a decent model.
Z32 miniatures
By the time Matchbox unveiled its new Z32 300ZX, most diecast manufacturers were aiming to eliminate any small parts from their models that could pose a safety threat to children. With this in mind, the handsome new miniature broke a tradition set in motion by its predecessors: it would be Matchbox's first Z-car to delete opening doors. In spite of the fixed doors, the 300ZX made amends by being one of the best Matchbox miniatures of its period. Produced for a number of years, the earliest regular versions are the most accurate; later variants, in an ill-fated attempt to attract attention away from the competition, were sprayed in hideous multiple paint colors and fitted with oversized wheels. Fortunately, a Premier Edition version was also offered during the model's later years with more prototypical and sedate paintwork and chrome wheels outfitted with real rubber tires.
Always the premiere documenter of Nissan's Z cars, Tomica upheld its long tradition by introducing a winning miniature of the celebrated new Z32 platform. A formidable task, Tomica's model captures the reserved and fluid beauty of the actual car admirably. As with all of its previous Z cars, Tomica's latest miniature arrived available in a choice of either civilian or Japanese police versions, both with functional doors. While finding faults with Tomica's exceptional models can be difficult, it should be noted that this one could probably benefit from wheels with a more sporting appearance.
Undoubtedly designed with the same goal as its earlier Z31 model, Hot Wheels new Z32 was likewise fitted with opening doors. Yet where the earlier model had largely succeeded as a well-proportioned scale miniature, the new generation model failed miserably. Sadly, in its desire to ape Tomica, Mattel didn't bother to examine perhaps the most important characteristic of Tomy models: their extreme accuracy. This led to a disappointing model with differing diameter wheels and bizarre paint choices that pleased few collectors on either side of the Pacific.
Proving that being different is often a good thing, the Portuguese model maker of Novacar (owned by Majorette at this time) produced an interesting series of 1:64 scale miniatures that consisted of a molded plastic body mated to a diecast baseplate. Surprisingly diverse, Novacar's range included miniatures of vehicles made in Europe, America and, with the addition of Nissan's Z32 300ZX, Japan. Although featureless and lacking in some of the car's more minute details, the notable attention to scale and accurate shape of the model largely forgives Novacar for their 300ZX's seeming dullness. Some of the plastic-bodied Novacar models like the Honda NSX, were later offered in full diecast by majorette. Unfortunately, the Z32 was not included. The Novacar Z32 was also offered in racing colors. This is quite appropriate as a race-modified Z32 had an amazing overall win at the 24 Hours of Daytona and had much success in other races.
Thus ends our review of Nissan's immortal sports car: the Z-series. Yet, as most are aware, a new chapter in the history of this well-loved car is soon slated to begin with the introduction of a new, fifth generation Z car chassis (presumably this will be assigned the designation of "Z33".) Like the Porsche 911 and Chevrolet Corvette, Nissan has decided the Z-Car name carries great value and with over 30 years of tradition, fans of all ages. Judging from the past, collectors can expect a majority of the current existing and/or remaining diecast manufacturers to continue to document Nissan's latest contribution to the world of sports cars.
Nissan 300ZX (Z31)
---

Matchbox


Tomica


Tomica


Hot Wheels


Siku


Majorette


Yat Ming


Maisto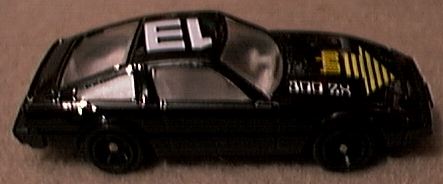 Welly


Zylmex


Road Champs


Road Champs


Tootsietoy


Ertl

Nissan 300ZX (Z32)
---

Matchbox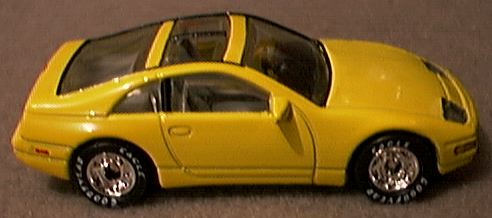 Matchbox Premier Edition


Tomica


Tomica


Hot Wheels


Novacar (Majorette)