FIRST GENERATION CELICA - 1970-77

Tomica - Celica 1600GT #26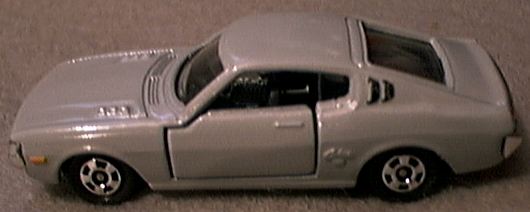 Tomica - Celica LB 2000GT #86


Tomica - Celica Turbo GT racer #65

---
SECOND GENERATION CELICA - 1978-81

Tomica - Celica LB 2000GT #33


Yat Ming - Celica
---
THIRD GENERATION CELICA - 1982-88

Tomica - Celica 2800GT #33


Zylmex - Celica Supra #P384


Hot Wheels - Celica Supra


Yat Ming - Celica Supra #1036


Matchbox - Celica Supra


Tomica - Dome Celica Turbo #35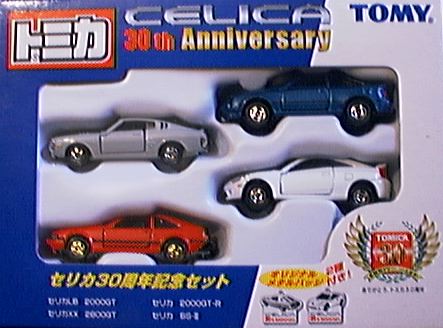 In 2000, the Toyota Celica celebrated birthday number 30. It is clearly appropriate to take a closer look at Toyota's well-loved GT car and as there is a direct family connection, to review the Supra too.

The full story of the Celica and Supra is quite detailed and is given full coverage through several excellent Web sites. One of the best can be found at: <http://www.geocities.com/~yoshi83/story.html>. Our focus will now turn to the small-scale Celica and Supra models produced in 1:64 scale. It comes as no surprise that Tomica of Japan is responsible for the most Celica and Supra models, including the boxed set shown above. Yat Ming of China has also produced a number of models. The Celica and Supra are the second most popular Japanese-made cars to be done in 1:64 scale, bettered only by Nissan's Z-cars.

It is necessary to understand that the Celica and Supra can be separated into consecutive generations of models, Each generation is followed by a description of the models shown here. The inspiration for the original Celica was Toyota's 2000GT sports car of the late 1960's (previously reviewed). While the original 2000Gt was a true 2/seater sports car, the Celica became the GT car for which Toyota would be best known.

1st Generation Celica - 1970 to 1977 (includes the GT Liftback introduced in 1976)
The first generation cars were only done by Tomica. Both the original 1600GT and the 2000GT Liftback were early Tomica models. A Turbo GT racing version of the Celica was also produced. Tomica quality has been amazingly consistent over the years and these early models are as good as the current offerings with opening doors and correct colors.

2nd Generation Celica - 1978 to 1981 (first Supra introduced in 1979 as part of Celica range)
Tomica was again responsible for the next Celica, an LB 2000GT. Yat Ming also did a very nice original casting with opening doors.

3rd Generation Celica - 1982 to 1985
The 3rd generation cars are the most popular however the Supra was the more common car to be done. The Celica was done, again by Tomica as the 2800GT.

3rd Generation Supra - 1982 to 1991 (The Supra was not offered in 1992)
A very clean Hot Wheels Supra is one of best of this period from Mattel. By comparison, the Matchbox Supra, while featuring an opening lift-back and racing colors, appears a bit more toy-like. Both Yat Ming and Zylmex did decent Supra models. Tomica also offered a Dome Celica Turbo model with full racing body-work.

4th Generation Celica - 1986 to 1989 (The Supra becomes a separate model in 1986, retaining the previous generation's design)
Once again, Tomica produces the best 4th generation model with stock and rally versions. Majorette produced a hard-to-find Celica model as well with the novelty of hidden headlights that can be raised.

4th Generation Supra - 1993 to present
The current Supra is a dramatic looking car and both Matchbox and Tomica were quick to produce models in 1994. Matchbox offered both regular issue and premier Edition versions, with detailed paint and rubber tires. Tomica's Supra has an uncharacteristic, black, painted base. Just released is a Supra model from Motor Max. Only the cheap look of the wheels let down this excellent casting.

5th Generation Celica - 1990 to 1993
Somehow, Tomica missed the 5th and 6th generation Celica models. Guisval of Spain did a very nice 4-wheel drive turbo rally version of this model. Yat Ming produced an un-licensed and un-labeled model that is quite basic.

6th Generation Celica - 1994 to 1999
The 6th generation Celica by Maisto is quite good and while it has limited features, the color and shape are authentic. Hot Wheels produced an excellent version of the Pike's Peak winning Celica. This heavily modified car holds the course record of just over 10 minutes.

7th Generation Celica - 2000 to present
Three new Celica models are now available. Hot Wheels is offering a modified street version in it's 2001 line-up. Tomica has returned to producing the Celica with opening doors. Motor Max has also produced the new Celica with another excellent casting over somewhat modest wheels.

It is certain that my collection is missing some other small-scale models for the Celica or Supra. Please let me know if you can identify others (click here).

A new generation Supra is expected and it should not go un-noticed by toy car makers. This popular GT car has proved to be better than many higher-priced sports cars and has developed a strong following.
FOURTH GENERATION CELICA - 1986-1989

Majorette - Celica 2.0 GT #249

Tomica - Celica 2000GT-R #33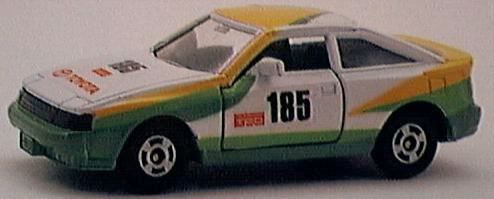 Tomica - Celica Rally #46

---
FIFTH GENERATION CELICA -
1990-1993

Guisval - Celica Turbo 4WD


Yat Ming - Celica #805
---
SIXTH GENERATION CELICA -
1994-1999

Maisto - Celica


Hot Wheels - Celica Pikes Peak

---
CURRENT GENERATION SUPRA -
1993 TO DATE

Matchbox - Supra


Tomica - Supra #33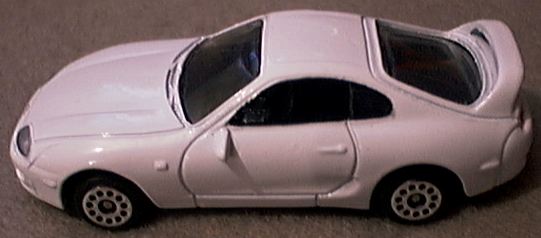 Motor Max - Supra #6012