1954 CORVETTE NOMAD

Johnny Lightning #P171
---
1953 CORVETTE

Johnny Lightning #731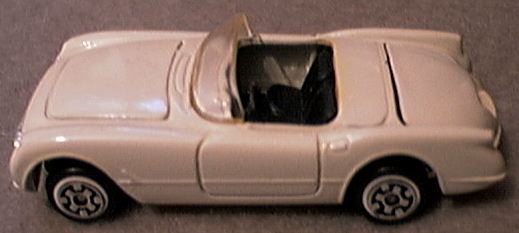 Kidco #151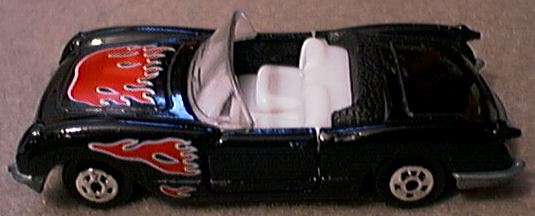 Road Champs
---
1954 CORVETTE

Racing Champions #3

---
1957 CORVETTE

Yat Ming #1079


Road Champs


Johnny Lightning #P166


Racing Champions #173


Welly #2064


Kinsmart


Matchbox
Motorama (1953 - 1954)
Johnny Lightning (JL) is the only known producer of the Corvette Nomad in this scale. It carries casting #171 and was first introduced in the Classic Customs Corvette series in 1996 as a representative model of the 1954 car.
1953
JL also produced the first production roadster #731 in the Corvette Collection in 1999.The engine hood is hinged and the top is removed. Hot Wheels ( HW ) also produced a very exact replica in their enhanced Collectible series about 2 years ago . Another detailed model was the Racing Champions ( RC ) Mint Edition #96 in 1997. This model has the cloth (plastic ) top in the up position and the engine hood is also hinged. Also Road Champs issued a model with a removable plastic roof in the early 90's. For some unknown reason this firm elected to paint the model in black which is incorrect. Kidco, the US distribution company for Universal Products (pre- Matchbox) also issued a 1953 model #151-1 in 1979. The trunk lid is hinged. However the windshield design is incorrect . This distortion is a prominent distraction.
1954
As noted above, there were no styling changes for 1954, however both RC #3 and JL elected to issue 1954 models by using their previously mentioned castings. The JL car uses the same casting number. However the most recent issue in the Art Cars set does have a modification for the year on the base of this model.
1955 - To date no models have been issued.
1956
The only model identified for this year was issued by Universal in 1:50 scale. It is a hardtop coupe and has a hinged engine hood.
1957
Each producer of 1957 models has produced models with special features peculiar to that model. Yat Ming #1079 is a hardtop model with hinged doors. Yat Ming also produced a similar model #1038 but I have no additional information on this second model. Road Champs produced a coupe body over 10 years ago. JL also included a coupe in the Classic Customs Corvette series in 1996 #166. RC issued a roadster with a hinged engine hood #176 and #211 in their Mint Editions series in 1997 or 1998. Welly, at present offers the best model for the money! It is very nicely detailed with the top in the down position. For only 50 cents; model #2064 is a bargain. Kinsmart, a recent diecast producer from the Orient has issued a slightly smaller but quite detailed model of the roadster with the top removed. This model features a pull back motor. Matchbox (MB) issued a very nice model in their regular line and Premiere series in 1999 . Zylmex/ Zeetoy issued model #365 with a hinged hood about 10 years ago . No further information is available. Also FAIE 'Swift Runner', another Oriental producer, issued a 56-57 roadster with the top removed. This was found in some discount toy stores about 10 years ago. The design is somewhat crude. The grille is black plastic. The unusual features of this model is a black continental tire fastened to the rear bumper and a raised engine hood suggesting a special housing for a supercharger. This toy producer has taken major styling liberties; possibly to avoid licensing issues. Another model that can only be considered as a toy was made by Summer. The tampo design has '58' and '8156' on the body. I assume the producer was suggesting the car is a 1958 model with #8156. In fact, the design coincides with the model specifications for style of the 56-57 car. The fender scallops are not well defined but do not have the partial covering of the 58 model. Also the headlight are single units. The dual system was introduced in 1958.
1958
For 1958 Majorette issued model #279 in coupe form a few years ago. The coved scallop is noticeably distorted. HW issued a roadster in 1995 in their regular series. It featured side exhaust pipes and a roll bar behind the drivers seat. When it was first introduced, model # 2015 had a large oversized engine protruding from the engine compartment. Later this monstrosity was eliminated and replaced by a hinged hood and correctly modeled engine. Midgettoy , a now defunct toy company produced a roadster in the 70's. It was similar to the base-less Tootsietoy models and had a one piece body . The axles were attached to 4 open posts extending from the underside of the body. Hubley, also now defunct, produced a roadster in their Real Toy / Real Type lines in the US and Canada respectively in the early 60's.
1959
No companies have as yet introduced any models for this year.
1960
For 1960 Ertl produced a promotional model of an open roadster over 10 years ago. One version contained an oversized occupant with flattened facial features in the cockpit . This model promoted Champion Auto Stores. A much nicer version was done for the TV show Riptide, without the driver. A model was also made by Tootsietoy. It is an open roadster which is crudely designed. It was issued in the mid 90's. Among the noticeable defects are the oversized windshield and undersized wheels. Subway, a sandwich store chain issued a similar model about the same time. However, the base reads Subway and makes no mention of the possible Tootsietoy origins.
1961
JL has just issued a 1961 roadster in their Art Cars set # 167. However the main difference between this casting and the 1962 model is the paint scheme. The 1962 base has been modified to read 1961. If the fins in the coved side fender scallops are examined closely , the grid of twelve fins is visible which was only featured on the full size 1962 model. This casting for 1961 and / or 1962 has an opening hood.

1962
As noted above, by providing different paint schemes, JL has been able to provide 2 separate years from 1 casting! MB produced a coupe model #71G in 1982. This same casting was used to provide enhanced models in their former World Class/Premier Edition sets.
This completes my review of the C-1 phase of the Corvette. I hope to continue with a summary of the C-2 Sting Ray next month. Historical Research material was obtained from Corvette Past- Present- Future by the editors of Consumer Guide (1982).
1958 CORVETTE

Hot Wheels
---
1960 CORVETTE

Ertl #7356


Tootsietoy
---
1962 CORVETTE

Johnny Lightning #P167


Matchbox (regular issue)


Matchbox (Premier Edition)


Matchbox (These racing colors are certainly one of the best looking with the lace-style wheels and the orange/white scheme.)


Matchbox has certainly made use of their '62 Corvette with 16 different color variations shown here. The front row, with one exception, are all Premier Edition/World Class models as is the black, chrome-engined model in the back row. The exception is the red/white 'Animal House' model.


A total of 16 color variations maybe close to a record for small-scale cars. Of course, busses and trucks with different messages or advertising would total many more. If there is a car with more variations, let me know
(click here)

For articles on the Corvette C-3 and C-4 models, please use these links.